At first glance, I wasn't sure what to think of the AeroPress sitting in front of me. However, after using it it, I find out that the device is very capable of brewing an incredible cup of coffee.
The AeroPress is a creative gravity and pressured powered coffee press. The AeroPress is a manual, popular brewing device, especially among travelers and people on the go; it is cheap, easy to use, and very portable.
So if you're interested in a coffee brewer capable of brewing up a great flavored cup of coffee or two, you may want to read this product review. This will help you understand the features of AeroPress and decide whether it is right for you.
PARTS OF THE AEROPRESS included in the package
plunger
the chamber
stirrer
scoop
funnel
filter stand
instruction manual
plunger seal
filter cap
350 paper filters
The chamber and the plunger are made of polypropylene (BPA) free, and the plunger seal is made up of silicon.
About An The Aeropress
Aeropress is a manual coffee maker that makes excellent coffee, and it fits anywhere between a French Press and an Espresso maker. The Aeropress consists of three major elements: a filer cap, a brewing chamber, a plunger and seal. When they are fitted together, these elements act and looks like a powerful syringe, yes you heard me right.
The AeroPress is an interesting coffee maker to experiment with, it's cool to use, and will brew great tasting coffee in record time.
If you are on the search for a coffee maker that's simple to use for outdoor hiking, camping or traveling, the AeroPress is a must have. You can take this coffee maker along with you in transit to work or other short trips. It's well-built, portable, and you can use it with minimum effort. Simplicity is key with this coffee maker.
So if you are that coffee lover thinking to increase your coffee arsenal, then you should check out the inexpensive AeroPress.
Who is an AeroPress Made For?
One of the major strengths of the AeroPress is its size and weight. It's so light in weight that it can fit into your backpack without taking a lot of space, and be carried along whenever you need it.
However, the small size has some limitations. If you want to brew just one to three coffees, there is no problem using AeroPress. But if you need to make coffee for large crowds, you'll need more than one AeroPress, or a larger coffee maker.
Build Quality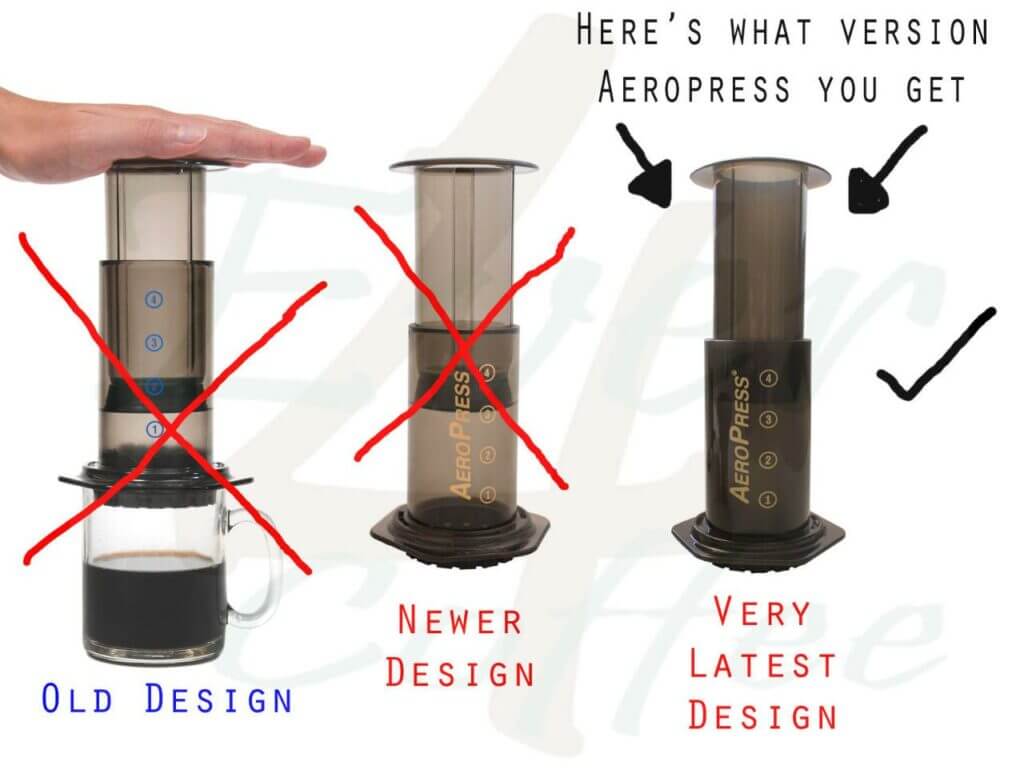 AeroPress consists of PBA free plastic materials. Over the years, the materials have been slightly adjusted. Now, the latest model of AeroPress has a cloud, grayish semi-transparent material. This makes AeroPress look great and also, resistant to wear and tear.
In addition, there's the plunger part that has a removable rubber seal, which makes the AeroPress so easy to clean . I also like that even though AeroPress is all plastic and rubber, it's is built strong, and has a solid feel to it. Even after it's dropped or under extreme pressure, it does not break.
The previous model had some issues with holding together well and scratched easily, but the new and improved material design took care of all these issues.
Design
The man behind AeroPress invention is Alan Alder. And before he created the AeroPress, he invented the Aerobie Frisbee which made him famous.
Now that we have seen that AeroPress is very strong, we're going to check its design and features. Note that AeroPress can brew coffee in two different ways: the inverted, and the normal form.
The first thing is to wash your paper filter thoroughly and then, put it in your plastic disk
Next, you start up your AeroPress coffee maker, add your ground coffee into it, and pour your measured dose of water
Then, you plunge the coffee through.
Now, you enjoy your great cup of Joe!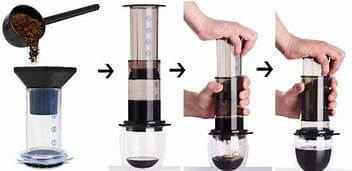 Although there is more to making a great cup of coffee such as grinding your coffee, you can follow these basic steps to get brew your coffee with an AeroPress.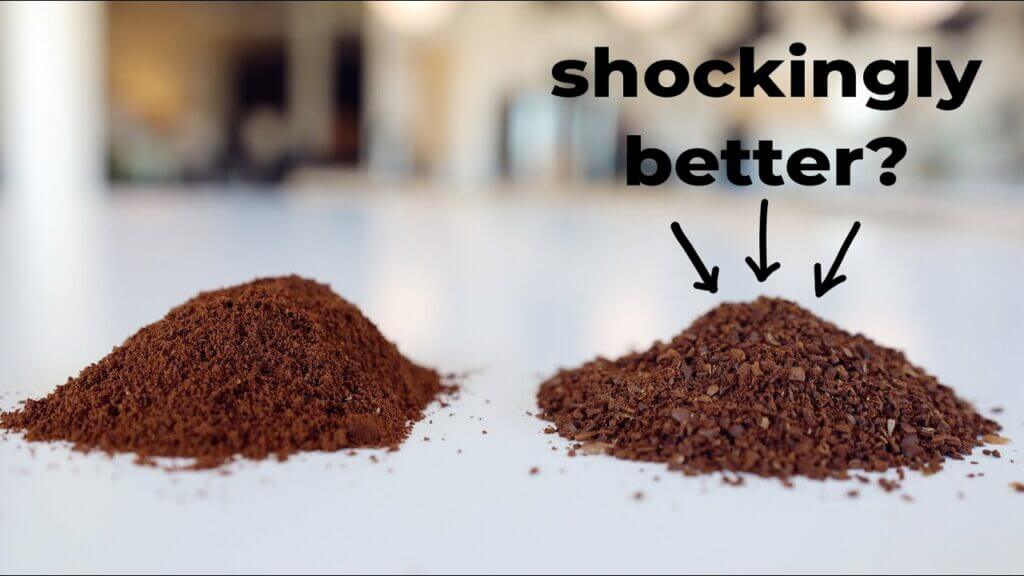 The design of the AeroPress is not only innovative but also, practical in many ways. For example, after you brew your coffee, with AeroPress, you have no leftover grounds or residues to clean up, thanks to the filter paper. While you're brewing with the AeroPress, the brewer will automatically clean itself.
That's great, isn't it?
The AeroPress coffee maker is easy to use and you can begin by applying the beginner's recipes you find online. After that, there are some small tweaks you can use along to perfect your method till you get the perfect cup for you.
To make a good coffee, there are a lot of methods and best practices you can apply. And with the AeroPress it makes it easy for you to trial and error for perfection.
To get the best results use 175°F hot water to get the best results when brewing hot coffee.
Use one scoop of fine grind coffee. Additional scoops of coffee can be added if you want a stronger brew. You can also double or
triple the amount of coffee and water to press 2–3 servings at a time.
American Coffee: Fill the chamber with water to Level 1 Level. Stir 15 seconds, press the plunger slowly, add hot water to make an 8 oz cup of American coffee.
Cold brew coffee: Fill the chamber with water to Level 1. Stir 60 seconds, press the plunger slowly, then add normal temperature or ice water for an 8 oz. cold brew coffee.
Latte: Fill the chamber with water to Level 1. Stir 15 seconds, press the plunger slowly, then add milk to make an 8 oz. of Latte coffee.
Cappuccino: Fill the chamber with water to Level 1. Stir 15 seconds, press the plunger slowly, then add milk equal to the amount of pressed coffee to make a Cappuccino.
CAUTION: Never press plunger if the rubber seal is loose. Never press the plunger hard, or
into a fragile or narrow cup; use a solid cup. If you press the plunger hard, it may result in breakage and spills of hot coffee.
Taste the Brew
There are a lot of different ways to brew coffee and each brewing method has its own effect on its taste. AeroPress coffee taste has more in common with the pour-over method rather than the espresso or French press.
The AeroPress uses a paper filter which prevents the coffee oils from entering the brewed coffee. A lot of people like the coffee filter because it adds to the coffee flavors and no coffee grit enters the brewed coffee.
If you are a coffee drinker that loves the coffee oils for a stronger coffee, you have the option with the AeroPress. You can easily change the paper filter with an available ( illustrated below) metal filter which allows the coffee oils to mix with the brewed coffee. This will change the results of the coffee maker and also, help you get you a deeper tasting coffee.
There are a lot of inexpensive re-usable metal filters disks you can find on-line and will do the job.
Portability
The Aerobie AeroPress has a lot of followers for its portability features. AeroPress is one of the best manual coffee makers on the market for travelers and coffee lovers who participate in outdoors sports activities, or want a good fast brew.
As stated earlier, it is small in size, compact, made of plastic, and resists pressure and drops well, and not likely to break. AeroPress does not need electricity to operate which makes it my favorite for camping and road trips.
Value for Money
AeroPress is certainly worth buying and it will give you many returns on your investment. Unlike most French press models, the price is in the same price range. AeroPress is durable and built to last and I believe it's easier to use and maintain.
The paper filters are cheap and affordable. And if you do not want a paper filter, you can buy a reusable metal filter.
Think Before You Buy if:
You need to make large quantities of coffee
Although AeroPress makes good coffee, because of its small size, it makes a limited amount of coffee for one to three people.
AeroPress is very quick, practical and portable. It is not meant to be placed in the kitchen for decoration. If you want a coffee maker that is aesthetically pleasing to put on your kitchen countertop, you can consider the various coffee makers on the market with a wide range of prices.
What I Don't Like about the AeroPress
As a matter of fact, I've always loved the AeroPress. However, while I have no complaint about it, there are some areas of usage people might dislike.
Requires Attention
Brewing coffee in an AeroPress requires some effort and some people may dislike that. The AeroPress requires your overall attention during the brewing process. You need focused attention while brewing; you cannot just press a button and leave. So for coffee lovers who make their coffee on the go, this may not work for them, it depends on the individual.
Getting the Best Results Requires Experimentation
I would not see it as a negative, but for some people this manual coffee maker is made to experiment a few times till you get the perfect coffee for youAero       . This implies that you will have to invest the effort if you want the best results. Then it becomes simple to use.
A Single Serve Coffee Maker
It's important to know that AeroPress is actually a single serve coffee maker. It's not made to serve large groups. But if it's made for you and maybe one or two more, it makes sense.
The AeroPress can produce coffee for three users at a time, but for more than three people, it requires several batches which take additional effort and time. However, if a large group of people are to be served, you may want to check the French Press.
Pros
One of the best manual and portable coffee makers around
Recognized for fast brew time and ease of use
Makes cold brew and espresso, as well as good brewed coffee
Cons
Only makes 1-2 cups of coffee at a time
Summary of the AeroPress Review
It uses a short brew time to produce a high-quality coffee
It is light in weight and portable, good for travelers and outdoors
It's super easy to clean up
You can brew espresso and pour-over coffee
Conclusion
I really like the AeroPress for its simplicity and the quality coffee it makes and is ideal for any coffee lover searching for a rich and smooth cup of coffee without acidity or bitterness. This coffee maker Brews one to three delicious cups of American or espresso style coffee in about a minute, and the part I also enjoy is that clean up takes only a few seconds. I recommend it!
Happy sipping!
If you have any comments, please leave them below, I'd love to hear from you!