As an Amazon Associate I earn from qualifying purchases.
During 2021, Coca-Cola with Coffee was introduced and is now on sale in the US.
This is an interesting new beverage creates a new type of refreshment drink category with a pioneering presentation like "drink like a Coke and finishes like a cup of coffee" — adding to both Coke, and coffee fans an energetic and uplifting beverage to their daily routine.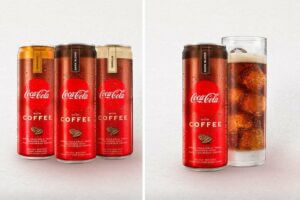 Infused with Brazilian coffee powder, Coca-Cola with Coffee and Coca-Cola with Coffee Zero Sugar is currently available nationwide in three flavors, Dark Blend, Vanilla, and Caramel, and don't worry, Diet Coke obsessives, there's a coffee soda for you too, the zero-sugar beverage comes in Dark Blend and Vanilla flavors.
Each can contain 69 milligrams of caffeine in a 12-ounce can, which is roughly double what's in a normal Coke (34 mg) and a Diet Coke has 46 mg of caffeine and a bit less than a standard cup of coffee (95 mg for eight ounces). They're all also 70 calories
The manufacturer says that a specific recipe is prepared for each country to "satisfy local flavor". This product has been launched on the market over and over again in the past few months. Japan was the first country to have the coffee cola in 2018, while the US is the 50th country to finally have it introduced in its market.
Coca-Cola with Coffee Has Made a Coffee Drink Before
In 2006, Coke launched a coffee-flavored soft drink named Coke Blak in France which penetrated into the international markets, including the US, Canada, and many others.
Though the push for the new product is powerful, it's been tried several times. The product launched was discontinued 2 years later because it was reported for having a poor aftertaste.
Back in September 2017, the Coca-Cola Company launched another coffee drink that could only be found in Japan vending machines.
Coca-Cola with Coffee is a soda beverage that has a large amount of sugar. It also comes with zero calories for those who prefer it. Both have a caffeine increase of a 100% to regular Coke. Now, that's a wake-up call!
People mistakenly regard the coffee in the Cola as the latest spinoff from Coke. That isn't the case. This beverage is still a regular Coke with infused coffee powder. For young kids, this Coffee Cola may be potential nightmare fuel.
Coca-Cola with Coffee is available in 4-packs or in singles cans. If you're really eager to try it, you can start with the singles to see if you like it. Before you fall asleep in a sucrose-crashed heap on the couch, you may find yourself in a state of punching holes in walls.
As an analogy, if Coke is the standard flagship IPA from a giant brewery, Coca-Cola with Coffee is the eccentric, hefty double IPA that results as more of an excessive gimmick produced with different ingredients. Instead of jacking up the alcohol by volume, coke has increased the caffeine amount in the soda.
Coca-Cola with Coffee contains 5.75 mg caffeine per ounce. That is just a bit more than two times the caffeine content of regular coke 2.85 mg per ounce.
Though there is an actual caffeine bump in the Cola beverage, the coffee addition does not raise it into the range of real coffee.
The amount of caffeine that a Dunkin' hot coffee has in a 14 oz medium cup is 210 mg. That's 15 mg per ounce, which equals over two-and-a-half times the caffeine of coke with coffee.
This doesn't mean the coffee Cola will not give you a bit of a punch. It's going to leave you with a short-term caffeine-sucrose buzz and let you move on with your day.
Does it taste good??
After the launch of Coca-Cola with Coffee, there were some negative reviews being published.
Interestingly, most reviewers were not keeping an open mind regarding the new beverage. Why? To some, Coca-Cola and Coffee sound like a terrible mix if you think about it.
Coca-Cola is a cold, carbonated, and sweet beverage. On the other hand, Coffee is served bitter and hot. How could they complement each other in any form, shape, or way?
In my opinion, this is a rare fusion of Coca-Cola with Coffee. I felt the taste is good with a bit of a kick.
Coca-Cola with Coffee is almost two times as sweet as a common Coke, which makes it somewhat sweet to get started with. However, drinking it in a smaller quantity is worth considering.
In as much as the coffee flavor goes, it was there, of course, but more in the aftertaste than in the flavor while drinking it.
So its taste is not like a blend of Coffee and Coca-Cola. As a matter of fact, it is more like taking a drop of Coca-Cola, and then a drop of cold coffee.
Dark Blend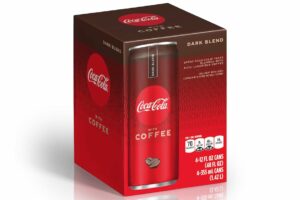 The belief is that Coffee and Cola are a blend of two opposing flavors. But, surprisingly enough they actually mix well together. The Cola starts up with the familiar flavor of mellow buttery sweetness we are used to.
The dark blend comes out with the full-flavored, sweetness of Coca-Cola, and then a bitter-spice flavor of Coffee.It has that specific taste of Coca-Cola. However, the coffee is there. As you take a sip, it's not immediately apparent, but then the coffee will make its presence.
But then it begins to show up across as coffee flavor, completing and blending with both tastes as you keep drinking it. It is eccentric nevertheless. It's a rigorous blend of flavors. However, if you enjoy both Coca-Cola and Coffee, then it's worth giving it a try and see if you like it.
Vanilla
So this soda brings us up to three flavors going on at once. But you'll feel this one has a bit more sucrose added when you drink it, it is sweet.
This version slides into that vanilla coke lane combining the usual coke taste mixed with the cloudy haze of vanilla This coffee infused soda makes it another unusual coke flavor. Even though the coffee is present, you will not taste it as much.
There's a lot of similarities between this soda and a Latte. But I think that the sweet ingredients in this soda  overpowered the coffee flavor a bit. In the aftertaste, you primarily taste it like a roasty vibe
For those who do not like a latte, it makes sense for a vanilla coffee to conceal the coffee flavor. In that case, what's keeping you from getting a Vanilla Coke?
Coca-Cola with Coffee Caramel
If you try this flavor, and you ask yourself "man, how I wish this had more caffeine and sugar", Then, I've got good news for you.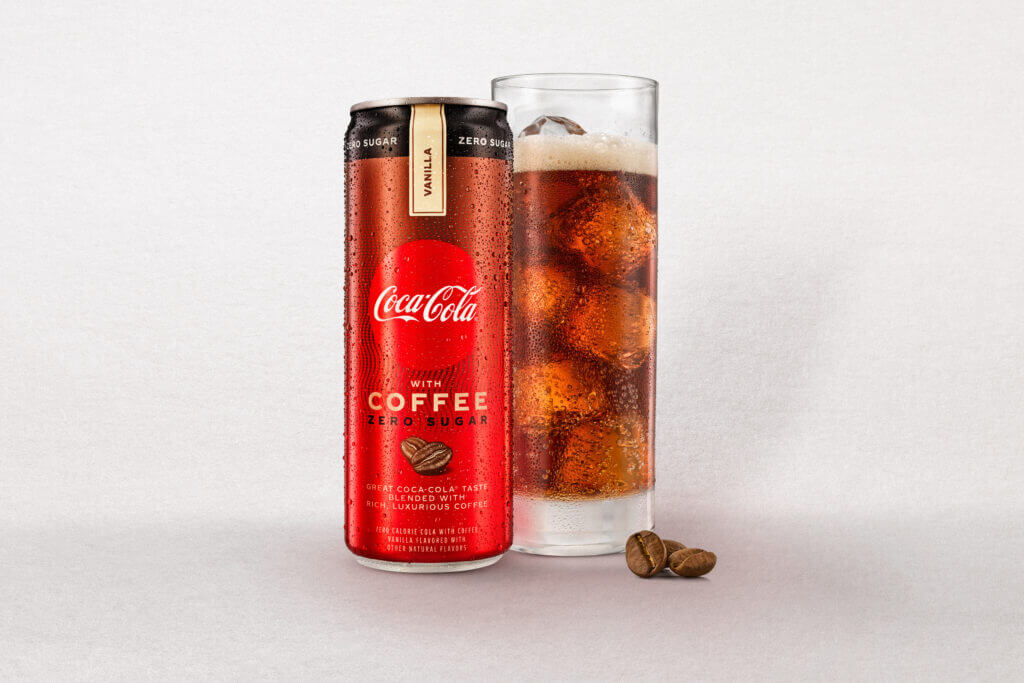 What you taste is an over the top Coca-Cola. You will experience the sweetness, caramelized sucrose components of the Cola. The flavor in this cola feels a bit more syrupy and thick. With that said, it mixes very well, between those caramel vibes to create a fresh Coke experience.
As soon as you taste the caramel flavor, you will not think about Coca-Cola with Coffee. The coffee flavor is not that apparent in this coffee-infused cola
This is a diluted caffeine formula, with the soda equivalent of a caramel macchiato which is more sugar-milk than a latte.
You have to search for the coffee taste as you drink Coca-Cola with Coffee. This entire Coca-Cola new product works very well in my opinion.
Is this New Coffee Cola Good?
Yes, in as much as forward-thinking and different sodas go this is different eccentric and I like it since I like Coke and coffee too. Will I give up my coffee as a replacement with this coffee-infused soda? Probably not!
Personally, I reduced my soda consumption; so every time I drink it now, it tastes pretty much sugary and loud.
Still, this is colorful. It's not dominating, but loud. This is a weird concept, but I believe Coca-Cola really nailed the landing with this product
Coca-Cola and Coffee! Sounds Crazy!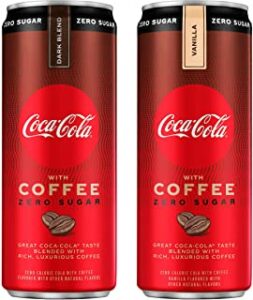 Interestingly enough, the advertising campaign Coca-Cola promotes for the new Coke with Coffee is by claiming that the beverage has half the calories of a standard coke and two times the caffeine. This is why excessive caffeine is a selling success in the Japanese market, whose workforce is excessively over-stressed and always in need of high caffeine beverages.
Also, I can see why lower or no calories claims are important in soda beverages, especially for those who drink a lot of coke without the stress of gaining weight.
The Takeaway
Because more than 50 percent of Coca-Cola drinkers and coffee loyalists enjoy both beverages on a regular basis, now consumers won't have to choose between reaching for a soft drink or a coffee at 3 p.m.  If you have any comments, please leave them below, I'd love to hear from you!

If you have any comments, please leave them below, I'd love to hear from you. If you're a coffee lover and a dog lover check this lovely dog feeder out.