As an Amazon Associate I earn from qualifying purchases.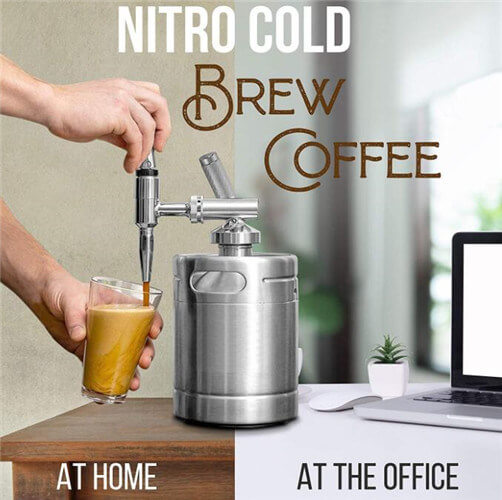 Is the local Starbucks far from your home or any alternative coffee shop, or maybe cold Nitro cold brew is too expensive there? Then, there are solutions for you to make  Nitro Cold Brew at home any time you wish.
Nitro Cold Brew maker has recently invaded the coffee world like a Tornado. It seems that everywhere you go, coffee shops, restaurants, and Grocery stores are offering Nitro Cold Brew coffee.
As I was researching innovative Nitro products, I came across the first integrated nitro cold brew coffee maker and dispenser for the perfect at-home experience. But if you are already familiar with the product, then a couple of scrolls will give you more insight.
But before we go jump in the product info, I want you to take a moment and imagine the cold and creamy sweet cup of coffee – it's simply irresistible and rejuvenating especially on a nice hot day.
Currently, there are a few Nitro Brew Makers in the market, which makes it challenging to pick the right one that will suit your needs.
I researched in-depth top Nitro Brew devices to review and decide the best coffee maker. I have carefully selected the top 4 products with their respective reviews.
Infusing coffee with nitrogen produces a smooth creamy and frothy drink that doesn't even need a creamer. This is the exact working principle behind the nitro cold coffee brew maker.
So, if you enjoy nitro coffee and desire to get a nitro coffee maker, you can narrow down your search to the following nitro coffee maker you can use at home.
No doubt, the device may look pricey, but when you invest in it, you will save significant money than drinking nitro brew coffee at a any coffee shop or restaurant.
uKeg Nitro Brew Maker
This coffee brewer comes as a large-capacity nitro coffee maker in a mini keg. The device has a 1.5 L capability which can serve you with satisfactory nitro brew coffee for a week.
The uKeg Nitro Cold brew Coffee Maker is an all-in-one cold brew coffee maker and dispenser that provides a great brewing experience. That means you can brew, store and pour cold brew coffee right from your home. The uKeg is a bit pricier but for a good reason. It has an attractive
polished stainless steel keg with stainless steel accessories. All the kegs are double-wall insulated for you to take this keg from the fridge for a party, and will keep the Nitro Brew cold till the end of the party and then some.

This product contains a 50 oz.  (10-12 cups of coffee) keg, coffee filter, coffee funnel, a proprietary tool, four nitro gas chargers and the pressure valve to maintain freshness. The controller cap maintains the pressure which aids to retain the freshness of the brew. You're guaranteed to keep cold brew coffee cool for a couple of weeks or more. This Nitro Brewer is one of the highest-rated, but it's a bit pricey.
 Pros:
The Brew can last for weeks
Keeps your nitro coffee cold all-day
Large capacity
1-year warranty and lifetime technical support
Comes with protective bags
It comes with a coffee funnel and a serving mat
Comes with a 4x double filter bag
Cons:
A bit pricey
It can take up space in your fridge
The Verdict
Being a larger vessel, you can have nitro brew coffee for up to seven days or more depending on the frequency of consumption. The uKeg also has a firm handle that makes it suitable for easy handling. This coffee brewing machine is quite impressive as it dispenses out smooth, creamy, and velvety cold coffee without the high carbs.
But buying uKeg, it will pay for itself many times over from savings instead of buying cold brew at a coffee shop. Imagine the money you would spend for a whole year if you were to buy a cup of nitro brew coffee every day. That's just simple math
If you are interested in a large-capacity nitro coffee brewer, then you should probably look into getting the uKeg nitro coffee brewer.
HB Nitro Brew Maker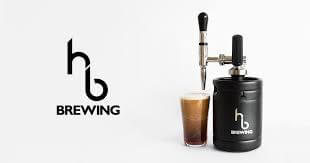 This device, HB brewing nitro brew keg has a 1.9 L capacity, which is big enough to serve your other family members plus a bunch of friends. It is suitable for picnics and social events.
The valve that releases the pressure prevents dripping in addition to its major function of providing a cascade pouring. It has super features;
so no single drop of nitro coffee should ever be wasted. The tap handles as
well as the stainless steel stout faucet does a good job to halt the dripping once the valve is closed.
Upon purchase of this coffee brewer, you'll get two additional pre-cut dispensing hoses of the same length, extra O-rings, and a pair of cleaning brush to clean the faucet and keg. It would have even been better if the device comes with a free N20 charger, but unfortunately, you will have to buy it separately.
Pros:
Comes with some freebies
Has a money-back guarantee
Easy to use and clean
Easy to assemble
Designed to fit inside the fridge
Large capacity keg
Cons:
The plastic charger can be damaged if not careful
The Verdict
The HB cold coffee brewer though is quite big but with a specifically designed vessel that has a compact fit into virtually all fridge door shelves. The appealing appearance of this device can enhance and beautify your kitchen.
Its stainless steel parts contribute to the durability of the device. But the best of all features is that HB cold coffee brewer gives you a flow of frothy and cool coffee with an alluring creaminess without the cream.
That rich, smooth, velvety feel and sweet, non-acidic taste are prevalent in every pour. You would not need a sweetener or any other additives to your cold brew. It makes 4-6 servings per full brew.
This unit is priced moderately, and it provides value for your purchase. The HB Nitro Brew maker is a US family-based run product and the owners take pride in the support they personally provide their customers. If you enjoy coffee with family and friends, then this device would be a good choice.
Royal Nitro Brew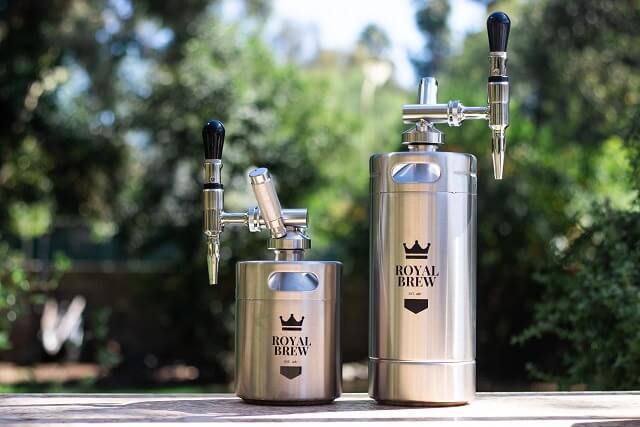 Royal's mission is straightforward: They want to introduce a product that makes nitro coffee at home with ease. The brew maker also makes it easy for occasions such as picnics and social events.
This Nitro Brewer kit is one of our favorites and has one of the best affordable budgets for a nitro brewer, varying size kegs and comes in different colors.
The standard keg is 64 ounces which are normal for mini-kegs, but the Royal Brew also offers a 128-ounce keg that is twice as large, but that can still efficiently fit inside of your

fridge.
One sweet feature about this device is that it works well with both nitrous oxide and nitrogen cartridges. You have the choice to choose any available cartridge based on the type of beverage you prefer to make. Infusing Nitrous Oxide or Nitrogen into the coffee, will makeyour brew taste better and stay fresh MUCH longer!
The stout creamer faucet provides this coffee brewer with the flowing pouring effect that makes the creamy and frothy cold coffee beverage. Dripping is one of the side effects of nitrogen exerting intense pressure. But the pressure valve helps to control the pressure accumulation, by gradually releasing the increased pressure.
 Pros:
It's affordable
Easy to use and maintain
It offers a lifetime warranty
Its huge capacity makes it ideal for a small gathering
Easy to clean and maintain
The great taste of Nitro Brew coffee, without paying the high price at a coffee shop
 Cons:
It takes more space in the refrigerator
You have to steep your brewed coffee from a different carafe.
The Verdict
This Nitro brew is fair priced. Most family and friends will consider this device because it has the size for larger gatherings.
Your coffee is kept fresh for months with the aid of the keg cap. With this feature, you are sure of always getting fresh cold brew coffee.
If you are truly a fan of nitro coffee and have got the appropriate budget, this may be the right product for you. The company stands behind its product by offering a lifetime warranty.
NitroPress Brew Maker
This is a portable nitro coffee maker used by home users and baristas. Nitro Press Coffee Maker was designed and built out of stainless steel, for durability.
I need to clarify the types of cartridges used in these devices. Carbon dioxide(CO2) cartridges are used for frothy carbonated drinks.
Nitrogen is used for virtually all types of beverages and can infuse a whole range of cold brews, while Nitrous oxide(NO2) is used for creams and deserts.
As stated above, this coffee device is highly portable and can be efficiently kept in the fridge

Pros:
Highly portable
Easy to use and maintain
It keeps content fresh
The device is durable
Compact
The Nitro Infusion results in creamy and frothy nitro coffee
Cons:
Designed specially to use their own innovative NitroPress N2 cartridges
It has limited capacity
The Verdict
If you need a portable nitro coffee maker, then NitroPress could be what you've been searching for. It takes less counter space. It's so portable that you can easily slip it inside a traveling bag.
This product has 33 oz capacity and has a lower price. The NitroPress is the most portable solution for various nitro beverages infused to perfection. The NitroPress serves two Coffee or Up to Four Cocktails in One Batch.
My Two Cents
If you're an avid Nitro coffee drinker, know that the average cup of nitro cold brew prepared at home will cost around $1.50/cup, whereas the average price from a cafe shop, or restaurant is steadily climbing upwards in the $5.00+ range.  Below is an illustration that shows that if you drink 4 cups of Nitro Brewed coffee per week you'll spend $80/mos, and you'll spend around $24/mos drinking the Nitro brew at home which saves you around $56/mos.  At this rate after 3 months, or about 30 cups or so, you will already break-even by making the cold Nitro Brew at home.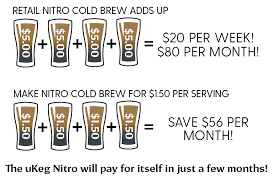 For sure, a nitro cold brewer could be expensive if you go out to drink it, and for this reason, you should consider the following criteria before buying any of the Nitro Brew maker products: Your budget, Serving capacity, compactness, portability, and product warranty.
If you have any comments, please leave them below, I'd love to hear from you!