I constantly hear the question "What's in a Cappuccino"?  Because, we all know that cappuccino is an extremely popular beverage worldwide.
Coffee in general has become a favorite drink as a versatile beverage ideal for mornings, for conversations, for business meetings, and other occasions. Over time, coffee lovers discovered countless ways and reasons to enjoy different variations of that cup of Joe – from simple instant coffee just-add-water mixes to complex, artisan coffee with milk combinations and different flavoring, making for endless variations.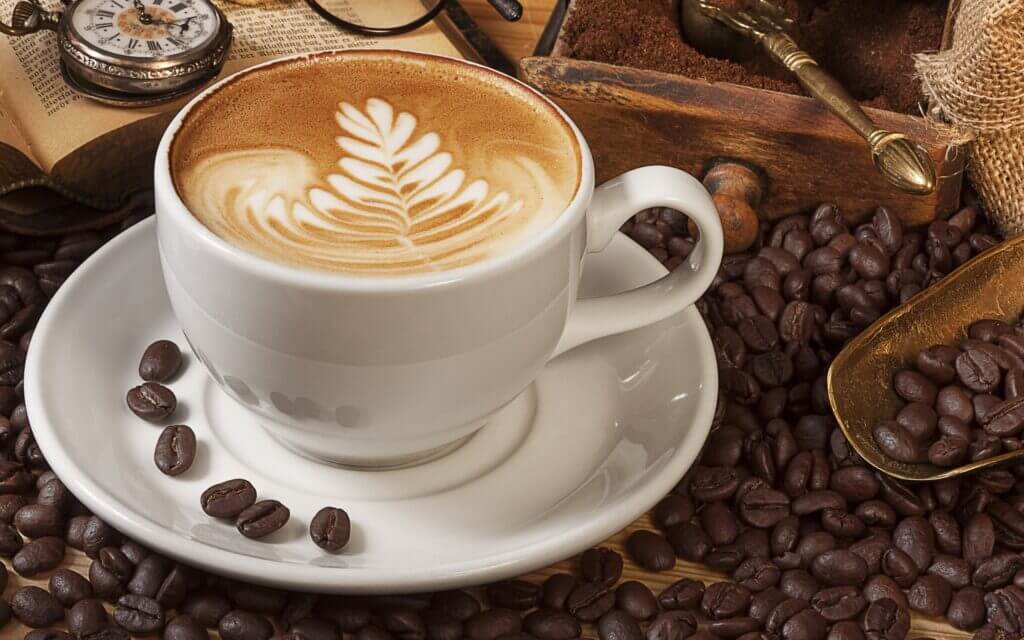 Among the most popular gourmet coffee beverage to date however, calls for the creamy texture of frothy milk and that strong bitterness of a solid coffee brew. Today's popular cappuccino is known today as the best morning nectar for those who want a stronger taste of coffee with that special milk froth on top.
If the barista at your local coffee house make the process of making a cappuccino look easy, it because it is fairly simple, but you need to know the process, and the ingredients. If you own an espresso machine, you're lucky because you can make that perfect cappuccino every time you brew one in your own kitchen.
Cappuccino History
The Cappuccino goes back to Italy as  early as 1930s. However, the name comes from "cappuccio" and it goes back further in time, but no one knows how far. Some historians believe that the word Cappuccino means espresso coffee covered in milk, sounds about right.
Cappuccino is clearly and Italian word, which was also adopted by the Germans around 1790s and was called Capuzinerkaffee, which was a type of coffee where the concoction was a mixture of cream, sugar, spices, and eggs. Later, the Germans's Kapuziner simply meant a coffee with some milk.
Today's Cappuccino beverage, became popular after World War II. The flavorful drink of coffee and foamed milk has gone on to become a popular request on the menu boards
of coffee shops, and restaurants all over the world.
How to Make a Cappuccino with a Coffee Machine
Steps By Steps :

1. Grind Your Favorite Beans
– The first step preparing your cappuccino with the espresso machine begins by grinding your favorite coffee beans to make enough espresso for one shot glass. For one serving of cappuccino, we need to grind enough beans to make a one-ounce shot of coffee, if you grind more you'll have a larger portion to enjoy.
If you're planning on making cappuccino for two or more, simply set up the measurement to make enough for multiple shots.
2. Prepare Your Coffee
–Some coffee machine have different settings, and in order to make your cup of coffee, simply press the brew button and wait for the machine to dispense the coffee into your glass.
Some coffee machine comes equipped with a foamer, wait for the espresso to finish poring the coffee and wait for the next step. But if your cappuccino machine doesn't have the extra function of foaming milk, prepare your milk while your espresso brews the coffee.
3. Get Your Milk Ready
– Frothing your milk can be done through your espresso machine's built-in frother (if available), or by using an external electric milk frother. Either way, you need to froth your milk to create a thick foam. Start by, placing the tip of the frother on the surface of the milk. Move the wand up and away from the center to start the process of thickening the froth.
4. Combine the Coffee and Milk – Once your gourmet coffee has finished brewing, pour it into a mug. The next step is to take your warm, steamed milk and mix the liquid portion into the mug with the coffee. Fill the mug half-way, then take a teaspoon and scoop out the froth left from your milk, and add the froth on top of the coffee and milk mixture.
5. Add Sugar to Taste
– Some folks like the Cappuccino a little bitter, and if that is the case, then your are done and ready to enjoy your wonderful Cappuccino. If you like to sweeten your Cappuccino, then you can add, a few teaspoons of sugar and you're good to go(Sugar is always Optional). If you like to add some exotic flavor to your Cappuccino, you can try various flavors like, chocolate syrup, cinnamon, or other flavors based on your preference.

Always know, that a Cappuccino true beauty lies in its simplicity and in the artful combination of its two major ingredients. From the first time I tested this machine, making a cappuccino was extremely simple for this semi-automatic Capresso Ultima Pro maker.
How to Make a Cappuccino without a Coffee Machine
Not knowing the outcome initially, I started looking for cappuccino recipes that didn't require any machinery or a foaming wand, and after trying out this recipe I could not believe how well it came out.
The cappuccino was good. Really good. Just as good as the ones they serve at coffee bars…well…maybe not that perfect, but close.
Now, your homemade cappuccino won't look as presentable as the one pictured in the video—unless you're one of those artistic types who can draw pretty pictures in their coffee, but this recipe will taste good, quick, inexpensive, and you will not mind how it looks like.
Ingredients
-Milk (I used 2%, whole milk is best, but any type should work.)
-Grind coffee, instant coffee
-Sweetener (optional)
-Flavors (Optional)
Instructions
-Make coffee however you prefer it, but don't use much sugar(Sugar is always optional), since there's so much milk. Make sure you have room for the foam. After experimenting a few times you will know exact amounts.
-Microwave the milk in an open container with a tight lid that won't allow spills, for about 60 seconds. (While the container is in the microwave, the lid is off.)
-Take the container with warm milk out of the microwave. Apply the lid tight and shake it; the longer you shake, the foamier it will be. You can shake it for about 60 seconds.
-Add milk to the espresso first, then add and foam(make designs optional) to the espresso and stir.
-Add Sugar and flavors (optional)
-Enjoy your gourmet cappuccino.
What's in a Cappuccino, and the ratios for Making Cappuccino
Traditionally, a good cappuccino is a mixture of frothiness, milk, and coffee.Cappuccino has a strong coffee flavor and a slight bitterness(optional sugar will sweeten it). The
ratio of the ingredients to make the best cappuccino should be equal thirds of coffee, sugar, and milk.
You should always remember for all Cappuccinos, milk to coffee ratio should be 1/3 espresso, 1/3 steamed milk, 1/3 milk foam.
Since cappuccino is usually made with frothy milk, its considered healthy. You can use whole milk which brings the best flavor, but you can also use, 2%, or 1% as low-fat milk.
Conclusion
Beverages like Cappuccino do offer a surplus exploration opportunity. The drink is incredibly delicious but still, you will automatically realize the taste difference once sipping it against regular coffee. I always believe, that it is pretty vital to be involved in thorough tasting research to determine one's personal choice and preference.
The main objective of coffee sipping is just to figure out your preferences and taste in the type of coffee you like. Cappuccino is but one type of coffee, and there are an infinite amounts of diversified coffee combinations to experiment with. In future posts, I'll go over some more popular ones.
If you have any comments, please leave them below, I'd love to hear from you.