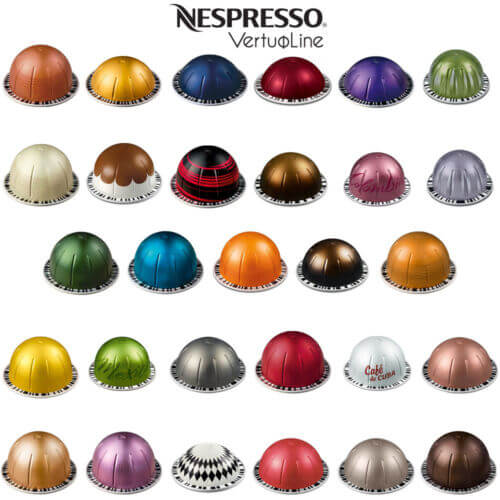 How did it all start?
In today's world of great gourmet coffee choices, people on constant move, and limited time to make breakfast, coffee capsules are becoming more popular, because of rapid and efficient preparation.
It started was in 1986 by Nestle a European coffee company that produced the first all-in-one automated coffee machine using coffee (pods)capsules. Its success started after people started to enjoy barista-style espresso coffee at home in 1988
In the US it was the Keurig brand that started the single-serve capsule coffee process in the 90s. Keurig became a direct competitor of the hugely successful Nespresso brand.
While in 2006 a number of competitors entered the market, Nespresso was the leader in the capsule market till 2012 when many competitors entered the pods coffee market catering to existing capsule machines existing at that time.
Today there are more than 400 capsule and pods competitors and other capsule coffee machine manufacturers. Not all coffee machines are standardized or can process every type of capsule.
Nespresso is investing extensively into its VertuoLine capsules which are constantly improved for freshness, innovation, and extracting better taste, flavor and, aroma from each coffee capsule to rival barista-style coffee.
Are the Nespresso VertuoLine compatible capsules?
The Vertuo coffee capsules are only compatible with the VertuoLine coffee machines from Nespresso. The main reason is that the capsules have a dome-like shape which is different from all the rest of the capsules.
The Nespresso Vertuo machines have a proprietary coffee processing that uses varying high-speed centrifugal methods based on the type of coffee chosen.
Each blend is different in terms of flavor, taste, and aroma due to the way it's brewed. The bar code around the edge of the coffee capsule (illustrated below) is read by the machine to configure the type of coffee each pod contains and then prepares the different brew process for each pod.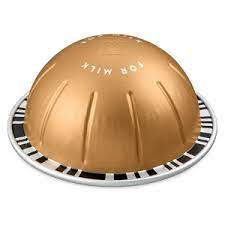 The Vertuo capsules and Vertuo machines are sold only by Nespresso, but they have a wide variety of coffee to choose from.
Are Nespresso VertuoLine capsules sold in stores?
Vertuo pods are available online from Nespresso only. They can be purchased from some third-party big box stores on a limited basis, which means you can only choose a fraction of all the available flavors that Nespresso offer.
Is VertuoLine better than the original?
Both capsules are top-of-the line single-serve coffee in a variety of coffee flavors. There are differences though:
Nespresso original capsules
There are many competitors that are offering discounted Nespresso-compatible original capsules, but, none of these competitors have the capability to sell VertuoLine capsules. Original capsule machines provide for built-in milk frother which is a nice convenience.
VertuoLine capsules
Nespresso's capsule bar code scanning technology made it impossible for the competition to replicate VertuoLine-compatible capsules.
Nespresso VertuoLine capsules have advanced technology and are scientifically engineered to create a perfect brew for each type of coffee chosen by the user. It's a marketing advantage for Nespresso to keep the VertuoLine capsules proprietary till the patents expire.
I have two VertuoLine machines at home, and every time I offer VertuLine coffee pods to my guests, I get the same reaction of appreciation for one of the most incredible-tasting coffee they've ever had. It's as good as any barista-prepared beverage.
The VertuoLine machines can process capsules to make espresso, but if you prefer, you can also make regular coffee on the Vertuo coffee maker, which is a nice option to have.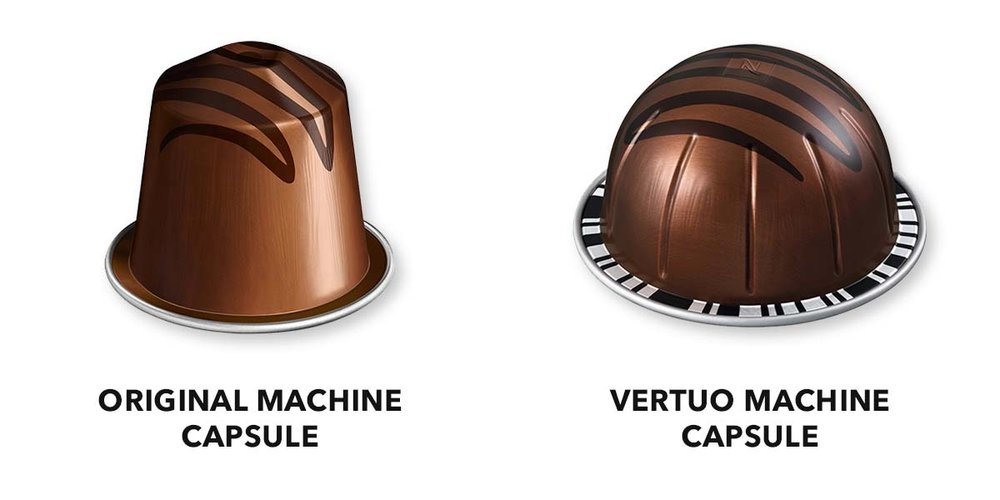 Are Vertuo pods expensive?
This is a good question that requires some comparative analysis
Original Line Capsules Cost per serving $0.62 – $0.81 (Third party capsules less expensive $0.35-$0.50)
VertuoLine Capsules Cost Per Serving   $0.95 – $1.28
Coffee Shop Barista Cost Per Serving    $4.20 – $7.80
Keurig K-Cup Capsule Cost Per Serving $0.32 – $0.58
There is something to be said that you get what you pay for. Most coffee capsules taste good, but some taste better than others and the choice is based on individual taste and the pocketbook.
We can all agree that it's much more expensive to drink coffee at coffee shops than single servings at home. If you would like to save, or are on a budget, you can try capsule coffee and you'll be surprised how authentic some coffee capsules are compared to barista-style coffee.
Is Nespresso Vertuo capsules worth?
Nespresso took coffee brewing from capsules very seriously from the time they invented the process, and they have been committed to creating a quality machine that produces consistent results. I have to credit Nespresso for really trying to hit several markets in one easy-to-use machine.
The technology used to brew each cup is completely different between the nespresso, the Original Line, and all the rest of the coffee capsule machines from other vendors. This is probably one of the biggest differences I can see between all the other coffee machines.
The VertuoLine capsule bar code tells the machine the cup size, the temperature needed for the specific coffee, rotational speed, flow rate, and the time the water is in contact with the coffee in the capsule. (see below)

The VertuoLine spins the coffee pod at 6000 RPM to ensure that all the brewed coffee is removed from the capsule, emptying the pod that can be thrown in the trash. The Centrifusion technology used in the Nespresso VertuoLine seems to extract a much better flavor, is thicker and more Crema and is wonderful for the taste and the aroma.
I gotta give it to Nespresso, they are really trying to hit several markets in one easy-to-use machine.
There are multiple sizes and coffee content in a single-serve capsule format for different types of coffee brews.
– Espresso (1.35 oz)
– Double Espresso (2.7 oz)
– Gran Lungo (5 oz)
– Coffee (8 oz)
– Alto (18 oz)
The coffee is top tier and the resulting coffee is in line with, or better than what you get at most coffee shops, chain or not. So while Nespresso is trying to keep their VertuoLine proprietary tech for as long as the patents allow, they have and will continue to improve it and make it the high-end capsule coffee in the market. Yes, in my opinion, is worth the investment.
Can other brand capsules be used in the Nespresso machine?
Since Nespresso patented their coffee capsules for brewing espresso coffee in 1996, they have tried to keep competition from making capsules for their system. They have only succeeded with the VertuoLine of capsules through-high tech engineering of the coffee brewing process on the Nespresso machines.
Third parties started introducing Nespresso-compatible original line pods to the market, so Nespresso came out with a new patented method that brought the VertuoLine machine and the new
bar-coded coffee capsules.
To increase the American market, where coffee lovers enjoy large cups of filtered coffee, Nespresso introduced a coffee maker and capsules to fill that market void while improving the flavor and taste of the Vertuo capsules.ver
Each intelligent VertuoLine capsule  tells the machine the parameters on how to process that particular capsule, introducing the larger capsules for the travel mug size.
Can you use the Nespresso pod twice?
Coffee Extraction – The VertuoLine machines do not extract all the coffee from the grinds inside the capsule, which means that there is some unprocessed coffee left behind. If someone wishes to brew a second cup of coffee, there should be no problem.
Quantity of Coffee – Vertuo capsules are much larger the all other capsules, and contain between 7-11grams of coffee, compared to the 5grams in other coffee capsules. Obviously, the cost of the VertuoLine capsule drops to half if you brew two cups of coffee from the same capsule
Even though Nespresso does not recommend extracting coffee twice from the same capsule ( cuts into their profits…), it's the easiest to get a second cup of coffee. It's simple to do and you only
sacrifice a bit of flavor and maybe some caffeine.
Once you've poured your first cup of coffee using a Nespresso capsule, simply put the capsule back in the machine and brew the second cup the same as before.

Final Take
The VertuoLine coffee is top tier and the resulting coffee brew is as good or better than what you get at most coffee shops, chain or not. So while Nespresso tries to monetize their proprietary tech for the VertuoLine capsules and coffee machines for as long as the patents allow, they have continuously improved in the coffee taste, aroma, and flavor category. Yes, in my opinion is worth the investment.
All you have to do is give it a try, and you'll see what I mean.