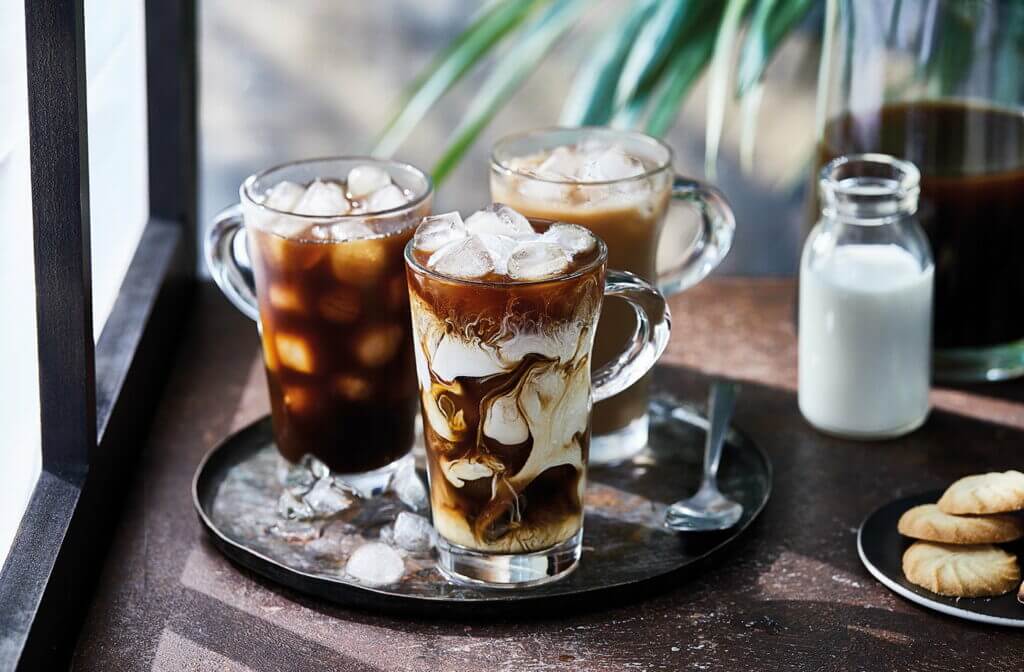 Today, the popular iced coffee beverage is a deliciously flavored drink, and is served at all coffee houses and many restaurants. The costs are relatively higher for these exotic beverages, and there is an increasing number of coffee lovers making their own iced coffee beverage at substantial savings and controlling the calories from the sugar added contents
The Iced coffee beverage is a very popular drink, especially in the summer and is certainly climbing in popularity with 20% of Americans as consumers drinking iced coffee at least once per week. It's refreshing, tastes good, and is healthy if consumed plain, or limited additional sugar toppings.
Currently, the growing list of iced coffee is distinguished by the type of coffee used, coldness, and additional elements used in the coffee drink mixture. It's good to remember that regular coffee can also be substituted with decaf in all the ice coffee beverages.
Is a Macchiato iced coffee?
A caramel macchiato is a delicious iced coffee beverage from your favorite coffee house, or better yet to make at home since it's very simple to make and costs significantly less.
To make this beverage you need four ingredients (plus ice, or coffee ice cubes). While adding vanilla or caramel syrup makes this iced coffee delicious, its optional. Some people use instant espresso to simplify the recipe.
Ingredients – One Serving
1 tablespoon vanilla-flavored syrup
⅓ cup ice cubes
¾ cup milk
Espresso coffee – made with an espresso machine
using medium roast coffee beans, or if you do not have a machine you
can use 1 ounce of hot water and add one teaspoon of instant espresso.
1 tablespoon caramel sauce (optional)
Creamy Iced Coffee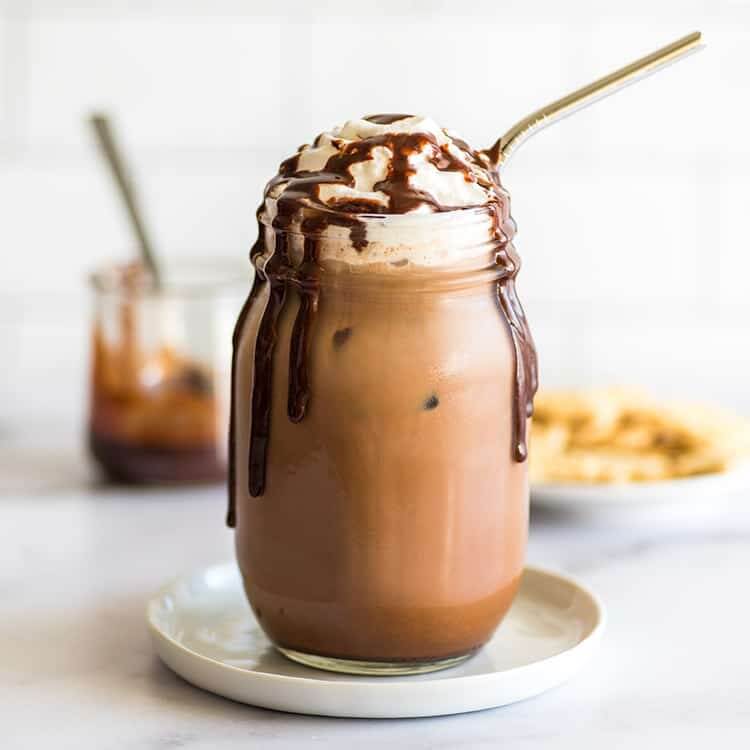 A creamy iced coffee, is not a coffee you would drink every day. This is a cold summer ice brew, refreshing and easy to prepare. I also call it a happy drink, because that's how people call it after they sip on it!
In a small size bowl mix the coffee with sweetened condensed milk. Pour and blend in the half-and-half cream until well blended. Next, pour the beverage into two large ice-filled glasses. You can add various optional toppings like cinnamon, whipped cream, or caramel, or taste each one to see how delicious it can be.
Ingredients – One Serving
Two cups strong brewed coffee
Sweetened condensed milk – 1⁄2 cup
Half-and-half cream – 1⁄2 cup
Chopped ice (coffee ice cubes works well)
Whipped cream, or other toppings (optional)
Cappuccino on Ice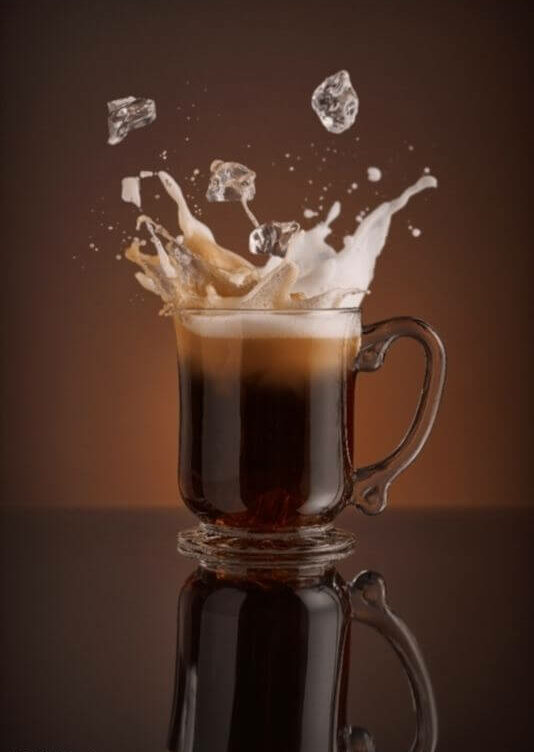 Craving a spicy, calming, delicious and must try cold coffee to beat the summer heat you should definitely try Cappuccino on ice.
An iced cappuccino is an espresso poured over ice and topped with a thick layer of foam. It's very similar to an iced latte, but Cappuccino has more foam on top. This makes the iced Cappuccino physically lighter, and makes the taste of the espresso a bit stronger. That is why many baristas will ask if you want Latte, or a Cappuccino.
Ingredients
Ice cubes or iced coffee cubes
One shot cold brewed espresso, or instant coffee granules
Sweetener or alternative sweetener (optional)
Foamed milk
Ground cinnamon (optional)
Vietnamese Iced Coffee
Vietnamese Iced Coffee is a strong brewed coffee concentrate that pours down into a tall glass with ice cubes and a big spoonful of sweetened
condensed milk. This coffee brew is a great tasting mix of cold brew coffee, condensed milk, vanilla and caramel poured on ice and topped with optional whipped cream.
If you are new to cold brew coffee it's recommended to dilute the brew significantly before you decide to drink a large glass of this beverage. Cold brew coffee extracts high concentrations of coffee while its stored in the fridge over time. So, adding water or milk will help to dilute it and make it less strong.
Ingredients
cold brew coffee ( Vietnamese coffee works well but it's strong flavored)
Sweetened condensed milk
Ice cubes, or coffee ice cubes
Easy Iced Coffee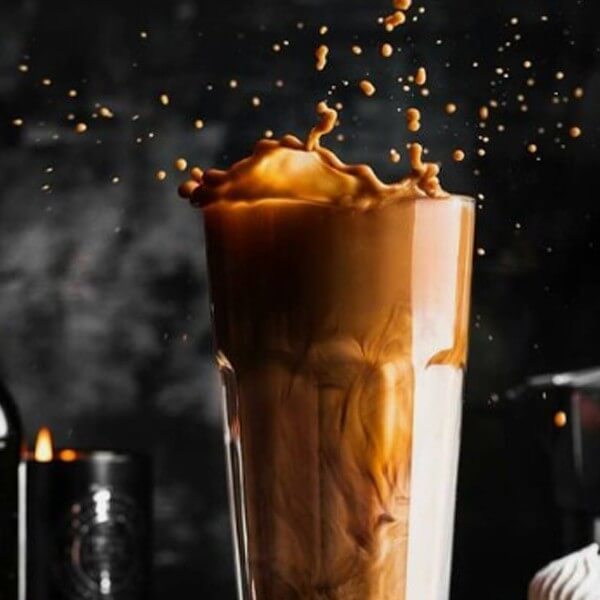 The only thing you need for an iced coffee is enough ice and coffee, but if you want to make more exotic you can add some optional ingredients milk(or milk substitute), cream, melted chocolate. And since you drink the coffee cold, use stronger coffee. As coffee gets colder and the fact that the ice will also dilute the coffee, it may lose some of its strength. In order to get the same taste, you use a bit more intense flavor. An espresso coffee would be a good choice to use.
Ingredients
In your Blender add the room temperature brewed coffee,
Then add the milk, cream, some ice, ( I like to chop it up first) and a little sugar if you want.
Blend for about 30-40 seconds (or until desired consistency is reached).
Optional you can use some melted chocolate in the glasses
Pour in the glasses, add some more chopped ice or cubes( you can also use coffee cubes for more flavor).
If there is some foam on the bottom of the blender, spoon some on top of the coffee in each glass.
Cold brew is not the same beverage as iced coffee, which is hot-brewed and then chilled. It's rather made by steeping coarse-ground coffee beans in room-temperature water for 10 to 24 hours. Making cold brew coffee at home is easy, economical, and healthy.
This is in contrast with other typical coffee that is made by boiling water, this process is made through cold brewing.
Cold brewed coffee has become more popular for its health benefits compared to the more popular hot brewed coffee. Brewed coffee tastes more bitter and it's more acidic because when hot water is used for brewing coffee, hot water extraction breaks down the coffee bean deeper extracting its oils and making it bitter, and acidic.
Cold-brewed coffee is easy to make. You can use a simple French press coffee maker to make the beverage. After using the French Press, I found it easy to make cold brew coffee.
How to make Cold Brew Coffee
1. Grind the Coffee Beans (no grinder, no problem. Grind the coffee coarse at the store when you buy the coffee)
2. Add Water to The Grounds
3. Leave The Brew for 12 Hours or More (use coffee glass jars to store cold brew)
4. Pour through Filter (or use French Press for easy process w/o filter)
5 Store brewed coffee in the fridge for later consumption
6 Enjoy Your Cold Brew
Which is the best coffee to make iced coffee?
Popular opinion and based on flavor, taste, and aroma, medium and dark roast are considered the best coffee beans for iced coffee.
Light Roast: Any brand of light roast can be used, but what's more important, is the size of the grind and the quality of the coffee.
Light roast has more acid flavors and forms a smooth chocolate note in your cup of coffee. The light roast has a slightly more caffeine content than darker roasts.
Medium Roast: This roast is similar to Starbucks medium roast unsweetened iced coffee if you tried it before.
Like light roast, medium roast also brings out the nutty and chocolate flavors, resulting in a flavorful cup of iced coffee.
Dark Roast: If given the option, in my opinion dark roast is the way to go for most iced coffee brew! Since this is an individual preference, there are no rules on which coffee to use as long as the rich taste appeals to you. For many coffee lovers, the dark roast has strong flavor notes and is chosen as the best for iced coffee.
These are some of my recommendations as dark roast options for iced coffee. There are many more than my options.
Medium Colombian
Arabica
Dark roast blends
Medium Sumatra Arabica
Dark roasted South American
Grind Size
It is highly recommended to use Coarse grind coffee as the best option used for iced coffee. The reason is that
when coarse grounds are used, water quickly penetrates and steeps the ground coffee. If the grind is too fine, the steep process results in dry coffee clumps that get over-extracted resulting in a bitter taste.
Bitter iced coffee it's not that enjoyable, so it's best to avoid fine grinds for iced or cold brew coffee.
If you don't have a grinding machine at home, purchase whole beans and have the coffee beans coarse ground at the coffee shop where the coffee was purchased.
Conclusion
There's a reason iced and cold brew coffee popularity is increasing on a yearly basis. It's healthy, taste's great, and is incredibly refreshing during a hot day. It's important to know that iced coffee and cold brew have different brewing processes, but are very easy to make at home with significant savings.
Many coffee brands that has great flavor can make a good iced coffee.
However, make sure to use fresh organic beans so you can enjoy the
flavor and freshness of your coffee.
Some of the best coffee for iced or cold brew coffee based on premium coffee beans used includes: