As an Amazon Associate I earn from qualifying purchases.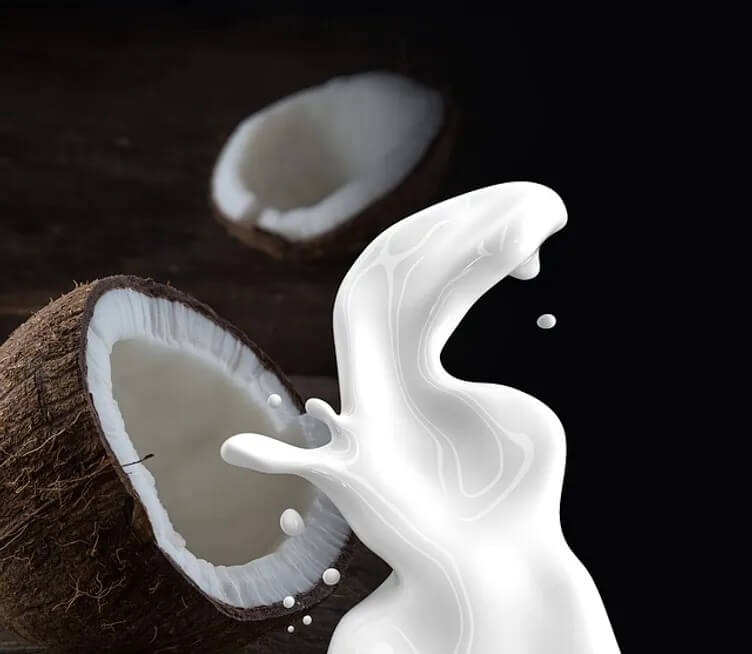 Coffee on its own has many benefits based on several types of research. Research on Healthy, Coffee creamers would be the complete story, or finishing touch for the coffee benefits.
For example, one research from Harvard found that coffee lovers who drink three to four cups of coffee per day enjoy longer lifespans, and the beloved beverage been linked to a reduced risk of diseases like Parkinson's, type 2 diabetes, uterine and liver cancer, gout and possibly many other ailments that are being currently researched.
Many of us understand the coffee benefits, but the creamers we used to complement each cup of Joe may have long-term damaging effects which may not sustain the positive coffee benefits.
Coffee lovers purists are not fans of adding anything to that perfectly roasted and a brewed black cup of coffee, but many coffee lovers that just need that cream in their cup to truly make it an enjoyable experience. Outside of the US, most coffee lovers love their coffee black, and strong.
Adding Milk, or Cream enhances the texture in the coffee, and it masks the bitterness by adding fats from dairy creamers to change the texture of coffee, making it thicker and, smooth out the taste. The dairy creamer proteins soften coffee's bitter taste caused by tannin.
There are various reasons coffee lovers add non-dairy creamer to their cup of Joe. Usually, lactose-intolerant people may choose it, instead of milk.
Pros and Cons of Coffee Creamers
Soften the Bitterness – Coffee Creamers sweetens the coffee, gives it a creamy consistency, and it is delicious to drink that cup of Joe after it masks those bitter tannin…
Enhance Flavor – Most Coffee Creamers come in many regular, and exotic flavors such as, French Vanilla, Peppermint, Mocha, Caramel Macchiato, cheesecake, marshmallow, Reese's, Butter Pecan, just to name a fraction of the diverse flavored creamers in the market today.
Harmful Hydrogenated Oils
Many regular creamers found at the grocery stores are made of Oils, sugar, and thickeners for the most part. However, organic creamers may not contain very few if any
artificial or harmful elements.
Dangers to Health – Continuous consumption of artificial coffee creamers daily could increase the intake of calories and trans fats very quickly, which can be a danger to your health.
The Good
For many coffee lovers, the reason they love their Creamers, is because….it tastes good? oh, yeah, Sweet? Yes! Creamy? Absolutely! The many types of flavors at the grocery store make it simple to stock them in the fridges. It's very addictive to use these creamers after we start using them on an ongoing basis.
If we run out, we scramble to get some sugar and milk, but it's not the same as the creamer….., so we quickly run to the store to get our creamer for our coffee. That used to be my family a while back when none of us could have a coffee without the creamer.
Today we drink our coffee black, or with healthy organic creamers. It's better for my family members that had allergies, and for my milk intolerance, and digestive issues.
For health food fans, it's disappointing to have all these "creamers" that contain no actual cream. Some popular brands are improving their creamers, but it's still critical for all of us to make sure we are reading the ingredient labels for sugar, additives, and other chemicals, that are not healthy for our body.
On the other hand, there are manufacturers of natural brands on the market that offer healthy and organic alternatives, like vegan and sugar-free creamer.
An almond or macadamia nut-based creamer may be free of GMOs, gluten, and other potentially harmful ingredients, but in some of the natural creamers there will be a small sacrifice on creaminess and taste to cut out all the "bad" stuff you put in your body each morning….you will feel much better for the long term!
The creamers I'm recommending later, are delicious and taste great.
The Bad
There are days, we all experience those foggy mornings where that cup Joe is key to starting our day. Many of us understand the bitter taste that dark coffee produces can be tough to sip (although in Europe, black coffee is a standard coffee drinking procedure). That's why we need that coffee creamer, making that cup of Joe taste so good, and sweet.
Currently, there's a diverse amount of options at the grocery store, with flavors like creme brûlée, pumpkin spice, salted caramel, and more. The reason for the wide variety of these popular creamers because of high demand backed by nearly $3 billion in sales, as reported through market research.
There is a growing number of coffee lovers consuming these unhealthy creamers, but are there negative side effects? Based on research, the answer is yes.
We need to understand that if there's no dairy in the creamer, what are the replacement ingredients used by manufacturers? Research and reviews show that milk substitutions include mixtures of oil, sugar, and thickeners. The results are that the oils are the partially hydrogenated kind, which equates to a one-tablespoon serving containing approximately 0.6
grams of this unhealthy trans fat. Sipping these ingredients every morning has a cumulative effect on our health.
Mainstream creamers that are fat-free and sugar-free types are made from the same ingredients of unhealthy oils, thickeners, plus additional chemicals from artificial sweeteners (Source). The negative effects do not justify the 15-30 calorie decrease.
If the creamer has real dairy ingredients, it may still contain thickeners and stabilizers. That is why it's important to read the ingredients label on each product.
We need to understand that most "creamers" contain no actual cream, per the Food Network, and It might be good news for those that are lactose intolerant as me, but the replacement ingredients used by manufacturers is often partially hydrogenated oil, making it a very unhealthy trans fat to consume daily.
The cumulative effects of trans fat may increase your bad cholesterol and possibly developing heart disease or stroke (source). Additional research notes that a one-tablespoon serving contains approx. 0.5 grams of trans fat and cumulative effects of sipping it your cup of Joe each morning is unhealthy.
The solution? Go for the real deal if you can and use milk and sugar instead of these creamers, or, read for some recommended healthy organic creamers.
After learning the above ingredients, why would we take something as simple and pure (not to mention healthy) as coffee and pour in all those unhealthy ingredients? After understanding what's in mainstream traditional creamers, it becomes easier to make choices on the type of creamers you would like to ingest and mix with your favorite daily coffee.  It makes sense, that alternative creamers will provide cumulative positive results over time.
After all the research and reviews, for me, it was a moment of clarity! I replaced all my mainstream popular coffee creamers and started further investigating healthier options to flavor my coffee. which I will share with you.
Looking Deeper into Creamer ingredients
Though some brands advertise their creamers as sugar-free and fat-free, this doesn't always mean a healthy product. In addition to oils and thickeners, popular grocery store creamers can contain chemicals and artificial sweeteners.
As I previously mentioned, even though you may consume fewer calories, the positives do not outweigh the negatives from a health perspective.
How to Choose Healthy and Organic Coffee Creamers
Must be Environment-Friendly – Having a naturally healthy and organic creamer is the preferred option. Its production and consumption can be beneficial to our health and it's also Eco-friendly for the environment.
Must Suit Your Diet – Keto, Paleo-friendly, dairy-free and other such diets have specific requirements. Your coffee creamer must meet, and complement all these strict requirements.
Fulfill Lifestyle Needs – Coffee creamers are marketed in different forms and varieties to meet the demands of all types of people. People who are Vegan, Lactose intolerant (like me), Kosher, or have other such lifestyle needs, can find the vegan-friendly, non-dairy healthy alternatives for their coffee creamers which in many instances taste great!
Healthier Alternatives
There are healthier alternatives if you decide to stop using your current traditional milk, or creamer for your coffee, going forward. There are plenty of coffee creamers that are organic, healthy, fat-free, chemical-free, and some are using traditional milk, either dairy or plant-based, it's still the healthiest route to follow…
Some healthy coffee creamers that I would recommend are included below, as a traditional creamer alternative.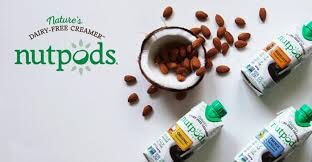 For those who would like to try a healthy and a high consistency creamer (free from Carrageenan a thickening additive), Dairy, Soy & Added Sugars. Certified Vegan, Kosher, Gluten-Free & Non-GMO Project Certified, & Paleo and Keto-Friendly) I highly recommend nutpods creamers.
What is Nutpods? This is a very popular coffee creamer alternative, which is healthy and delicious, dairy-free, and froth-friendly and comes in many flavors. This creamer is made from a wholesome recipe of almonds and coconut cream and not much else.
As coffee lovers themselves, the owners of this company spent years exploring alternatives that could offer the rich taste and consistency of half-and-half cream which means it will froths well.
It was not easy to develop a healthy organic creamer that maintains the great taste of the less healthy competitors. I recommend this product which is very popular for a reason, its very healthy, and it tastes great in every flavor.
Ingredients: Filtered water, coconut milk, almonds, less than 2% acacia gum(natural fiber used as a stabilizing agent), dipotassium phosphate (water-soluble salt used as a stabilizer and texturizer), sunflower lecithin, sea salt, gellan gum (a safe thickener agent used in Vegan foods). Contains tree nuts.

Nutrition (per one tablespoon serving): 10 calories, 1 gram fat, 0 gram carbs, 0 gram fiber, 0 gram sugars, 0 gram protein.





Laird Creamers are delicious tasting products, but most importantly, an all-natural blend of pure, whole-food ingredients. If you're looking for a clean alternative to the chemical-laden coffee creamers on the market, this product is as healthy as it gets!
This organic creamer contains mineral-rich, calcified sea algae that add beneficial natural minerals to your body that you can't get from your food. This coffee creamer has no artificial ingredients… Best of all, I was impressed that it tastes that good in my morning coffee!
Whether you're paleo, plant-based, keto, dairy-free, or gluten-free, this product has a Super-food Creamer flavor that will fit into your morning ritual! Made with real, plant-based ingredients and sweetened with organic coconut sugar, along with a delicious unsweetened option, these creamers are made to work with almost every diet
Ingredients: Coconut milk powder, organic coconut sugar, aquamin (calcium from marine algae), organic extra virgin coconut oil.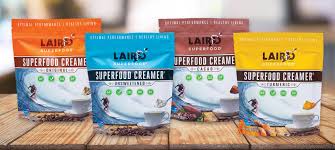 Rising Tide is another popular nutrition brand that blends superfoods and adaptogens (non-toxic plants which are marketed to enhance the body resist stress triggers of all kinds-source) to create powerful plant-based creamer for your cup of Joe, that help you live healthier and more energized every day.
This Creamer is not only a delicious vegan coffee creamer, but it contains brain-boosting ingredients which make it more than just a delicious coffee creamer.
I was impressed with the ingredients list which is overflowing with health benefits that work to improve focus, increase the immune system, and reduce stress, without making you crash in the middle of the day after your morning regular cup of coffee.
This product is a highly rated vegan coffee creamer brand with a rich coconut-like taste. A scoop of this coffee creamer added to your cup of Joe will keep you focused and energized for hours. I would highly recommend this high-end healthy creamer.
Product Description
☕   TAKE YOUR COFFEE TO THE NEXT LEVEL:   This delicious Vegan Coffee Creamer Powder ignites creativity aids concentration and increases mental alertness. This creamer keeps you alert and sustains the energy throughout the day
⚡   FOCUS & DISCOVER:  Brain food blend that doubles as a good tasting organic creamer. This healthy coffee creamer includes MCT powder and Lions Mane Powder which creates a super-food coffee after you add a scoop of this adaptogen powder to your next cup of Joe.
?   GREAT TASTING:   Unlike a typical dairy-free coffee creamer you won't struggle to finish your drink with this non-dairy coffee creamer. The organic mushrooms and MCT oil organic in this coffee booster are flavorless and this powder creamer has no funky after taste!
?   5 INGREDIENTS:   Rising Tide powdered creamer is made of five basic plant-based ingredients: organic coconut powder, organic lions mane mushroom, MCT oil powder, organic acacia fiber, and organic coconut sweetener. This product does not contain any fillers, chemicals, or additives!
?    DIET FRIENDLY:   If your diet is important to you, then this product may compliment your current
diet! Based on all the reviews, and ingredients, this nondairy vegan creamer for coffee is keto and paleo-friendly.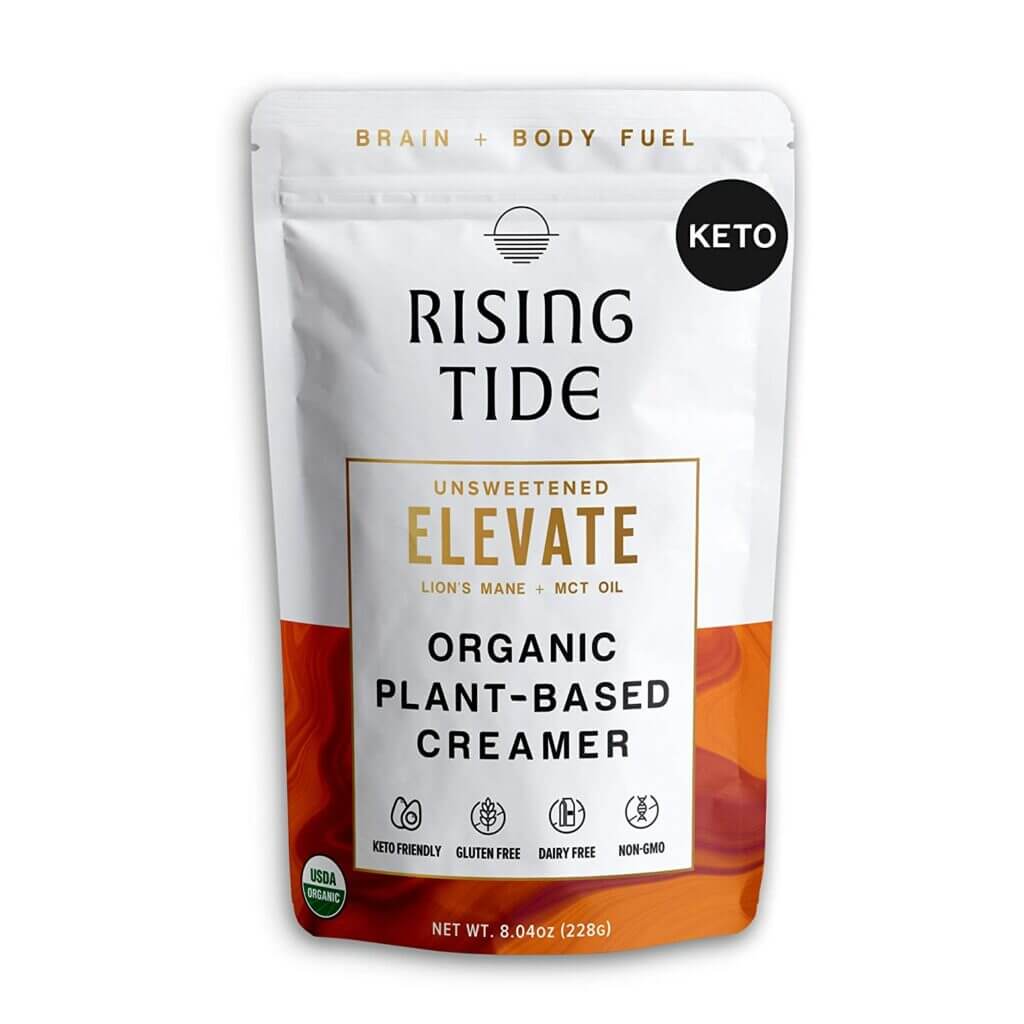 The Takeaway
As we become more health conscious, we need to realign our coffee creamer needs, and replace the artificial ingredients in the creamers, and stick to the healthy, natural flavors provided to us by Mother Nature.  As creatures of habit, it's scary to step outside of our coffee comfort zone, but if you're brave, you might just find a healthier way to take your morning nectar.
Experiment and try out some of products I recommended, and don't underestimate how delicious the Nutpods, Laird, and Rising Tide Brand creamers are!
I investigated, and tasted more than 20 creamers, and the three creamers that came to the top was based on the following categories: quality, ingredients, taste, fitting multiple diets, customer reviews and taste.  These products scored 4-5 stars on a scale from 1-5.
Customer reviews were pleased with the creamers because … Whole 30 approved, keto friendly, paleo friendly, suitable for vegans, vegetarians, lactose-free eaters, and diabetic diets. This zero-sugar dairy free coffee creamers contains no alternative sweeteners, and still gives you that smooth, rich taste.
Happy sipping!
If you have any comments, please leave them below, I'd love to hear from you!