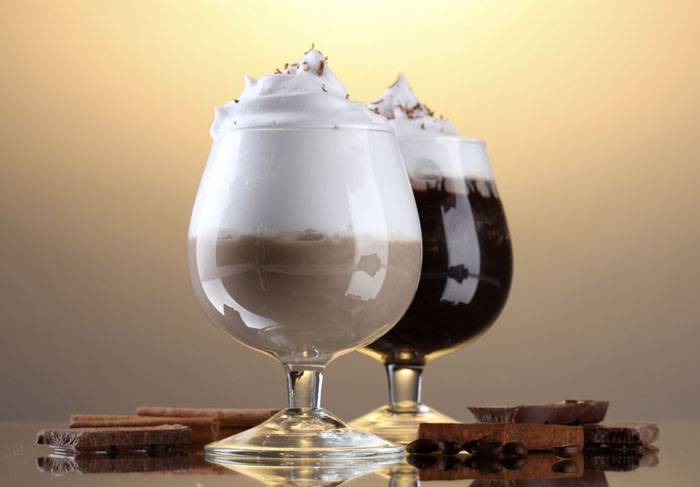 Me personally, I can not live without my morning hot brew to get my day going. But, later in the day if you're thinking of enjoying your nectar of gods with a little kick, you might be trying to figure out which alcohol might go well with coffee, especially if its cold outside, and where I live in the Midwest, and its pretty cold in the winter.
I've tried so many types of coffee beverages with a little alcohol mix, that I decided to share some of these delicious coffee drinks with alcohol for all coffee lovers. One of my favorites during the cold season was the apple cider cocktails.
These hot coffee with alcohol drinks are great for an easy going evening, tailgating at outdoor favorite events, or enjoying in a winter sport like skiing, snowboarding, and skating. The cool thing about these coffee cocktails, is that they can be mixed with a ratio of alcohol based on the activity at the time you're drinking it. Safety always first.
I have used a variety hot coffee in my cocktails, and I've tried many iced coffee drinks with alcohol as refreshing version, the bold
flavor of coffee makes the perfect addition to tons of different beverages. I believe that we all know, combining coffee and alcohol, goes way beyond
that standard Irish coffee that everyone knows about.
There are many diverse, innovative and delicious coffee and alcohol mixtures that will make all the gourmet coffee aficionados fall in love with those exotic nectar of the gods cocktails.
Alcohol won't make up for bad coffee and it will not taste that good.
That said, you cannot assume that anything you add to your coffee will transform the coffee beverage in a more flavorful drink. Most likely, it will actually accentuate the lesser tasting beverage.
Alcohol addition to your coffee will not improve the overall drink, if the coffee is not premium quality. Lower quality coffee will still be OK to drink, but for that gourmet coffee aficionado the taste difference will be evident.
Below I'm reviewing some great coffee and alcohol mixes that you will find very appealing, so be prepared to find your new favorite drink. Because you will discover that coffee and adding a bit of alcohol makes a delicious combination.
1. Vodka Coffee ( Black Russian)
Most individuals, if they were offered a mixture vodka and coffee, they would scratch their head. What kind of coffee drink is that. It actually taste very good!
The White Russian cocktail which is also an incredible beverage, came along sometime later, and is a variation of the Black Russian which includes cream and Kahlua added to the vodka. You might reason that the two drinks are similar in flavor, but the Black Russian has a more bitter flavor, deeper, darker and a somewhat mysterious. Best to try them both and choose your favorite one.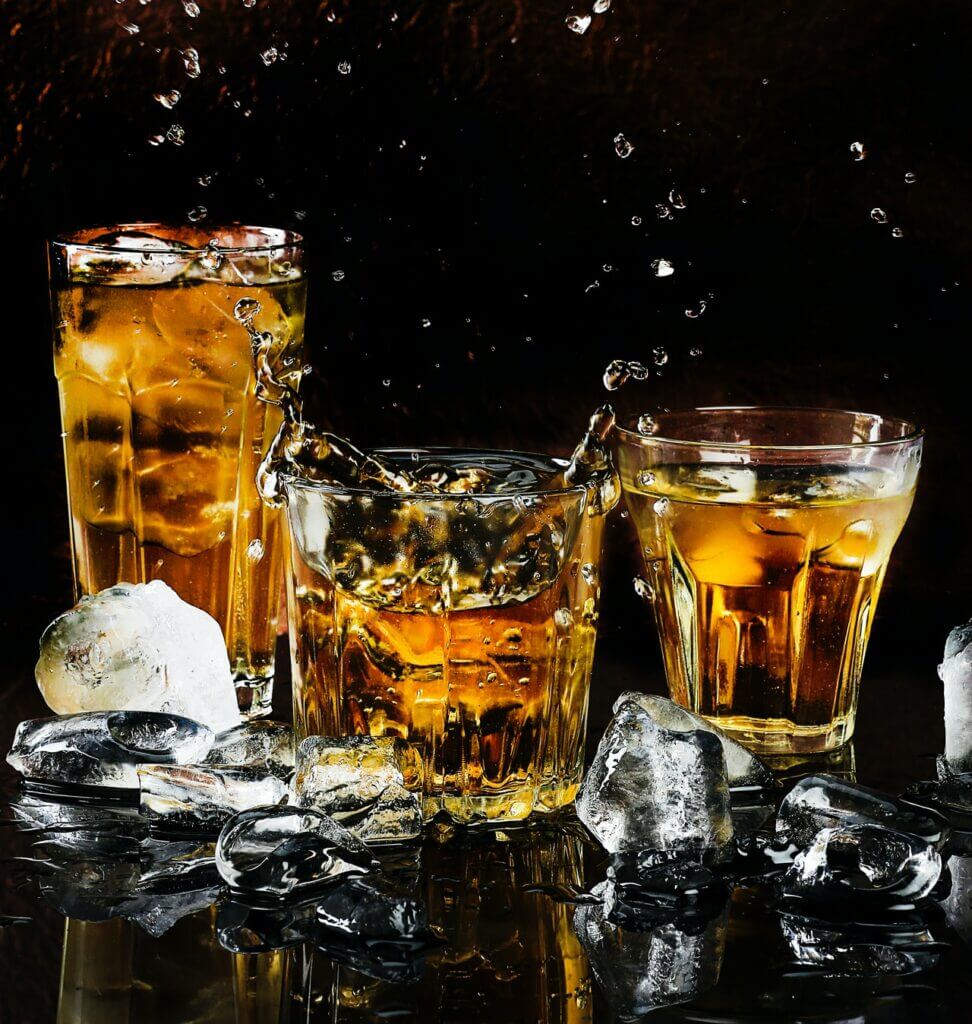 Ingredients
Use 1 1/2 ounces vodka
Pour 3/4 ounce coffee liqueur
Optional: maraschino cherries, or coffee beans on top
2. Rum Coffee
If you like coffee and rum and you mix them together, it sounds amazing. I'm sure you've already heard of this mixture and tantalizing drink. This coffee cocktail is flavorful, and aromatic. Add in some whipped cream and salty grated chocolate and nutmeg, and you will be drooling. Needless to say, this coffee and rum is sure to please.
  Ingredients
 2 cups hot coffee
 1/2 heated cup of half-and-half
 2 1/2 Tbs. Sugar
 1/8 tsp. cardamom
 1/8 tsp. grated nutmeg
 3/4 cup rum
 Grated dark chocolate, or cinnamon for garnish
3. Hazelnut Liqueur coffee(Frangelico Coffee)
Coffee and hazelnut are a perfect pair. This cocktail called Frangelico after you add in some hazelnut liqueur, you're set. So, it's really no surprise that this creamy boozy coffee looks nothing short of delicious. Topped with some whipped cream and some Irish Cream, this drink is positively decadent.
  INGREDIENTS
  1⁄2 cup whipping cream, chilled
  1 tbs. Sugar
  8 tbs. Frangelico, hazelnut liqueur
  8 tbs. Baileys Irish Cream
  2 2⁄3 cups hot coffee, freshly brewed strong
4. Bourbon Coffee (Kentucky Coffee)
Coffee and Bourbon mixes very well into a superb cocktail. The Bourbon often generates strong vanilla
and caramel scents and some accents of cinnamon and spice as well. This
recipe calls for the bold flavor and natural spiciness of a good bourbon and coffee liqueur. This spiked coffee cocktail, celebrates bourbon for its natural flavor and has a wonderful Kentucky flair.
As an option after you first tasted the libation, you can dress it up with some whipped cream, which will soften the flavors a bit. Then you'll know both sides.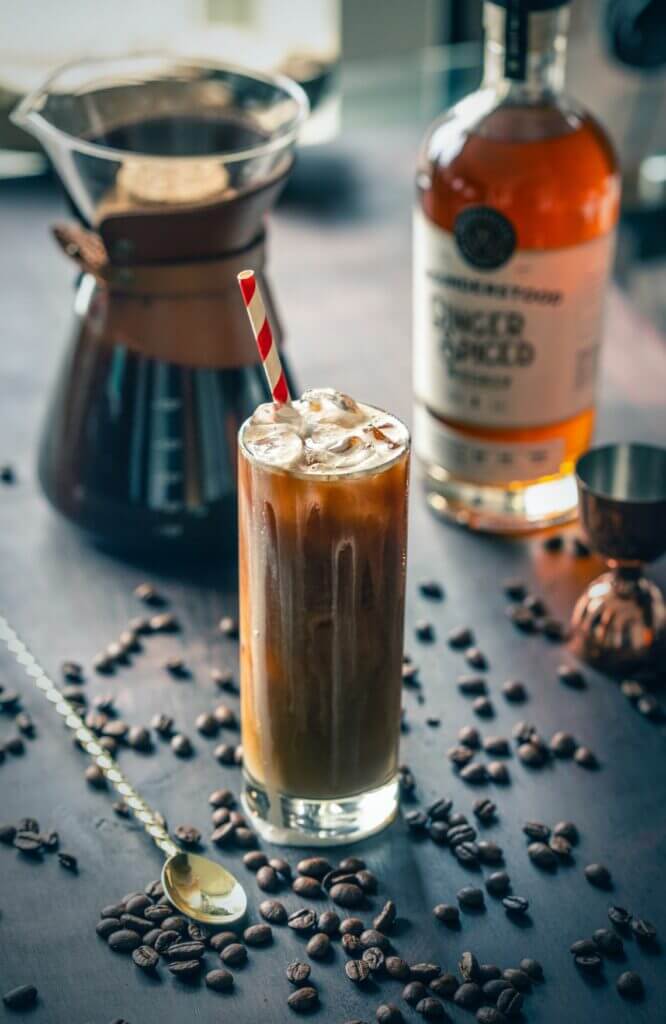 INGREDIENTS
 4-6 oz  hot brewed coffee
 1 oz  Bourbon
 1/2 oz  coffee liqueur
 1 tsp  brown sugar (optional, to sweeten taste)
 1/2 tsp vanilla extract
 1  1/2 oz heavy cream
5. Kahlúa Coffee
You had to know that this amazing coffee flavored liqueur would appear somewhere on the list. After mixing coffee with
more coffee alcohol, like the Kahlua liqueur, it would knock this drink out of the park! This beverage warm, or iced will be darn delicious, and it will definitely provide you that kick you need. If you add a bit of cream to the beverage, its called Kahlúa and Cream. Its aroma and taste is absolutely delicious. Don't take my word for it, try it out, then you'll be hooked.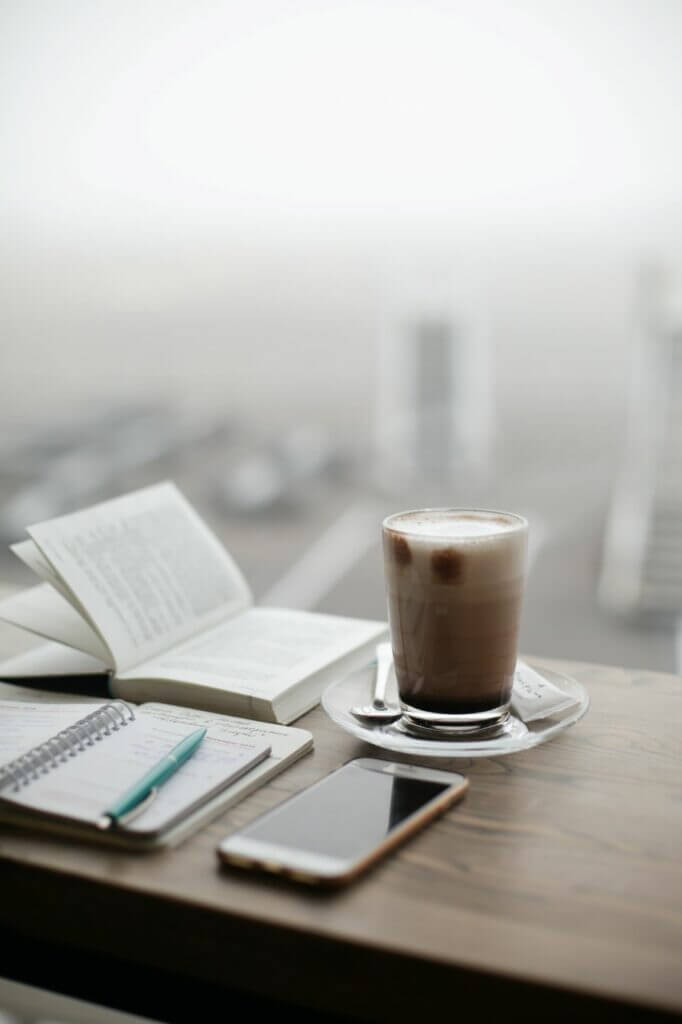 Ingredients
1 and 1/4 cups (300ml) Filter Coffee
2 shots (50ml) Kahlua
Sugar
Whipped Cream
Optional – Dark Chocolate (Grated)
6. Espresso Martini
If you're looking for a delicious post-dinner coffee, the Espresso Martini will do the job, and jolt you awake with its boozy incredible powers. The cold, or warm coffee-flavored cocktail mixes vodka with espresso coffee, coffee liqueur (usually Kahlúa) and simple syrup. Garnish with a few coffee beans, grated dark chocolate or cherries, and it's picture perfect. Once you tried this beverage, you'll savor it again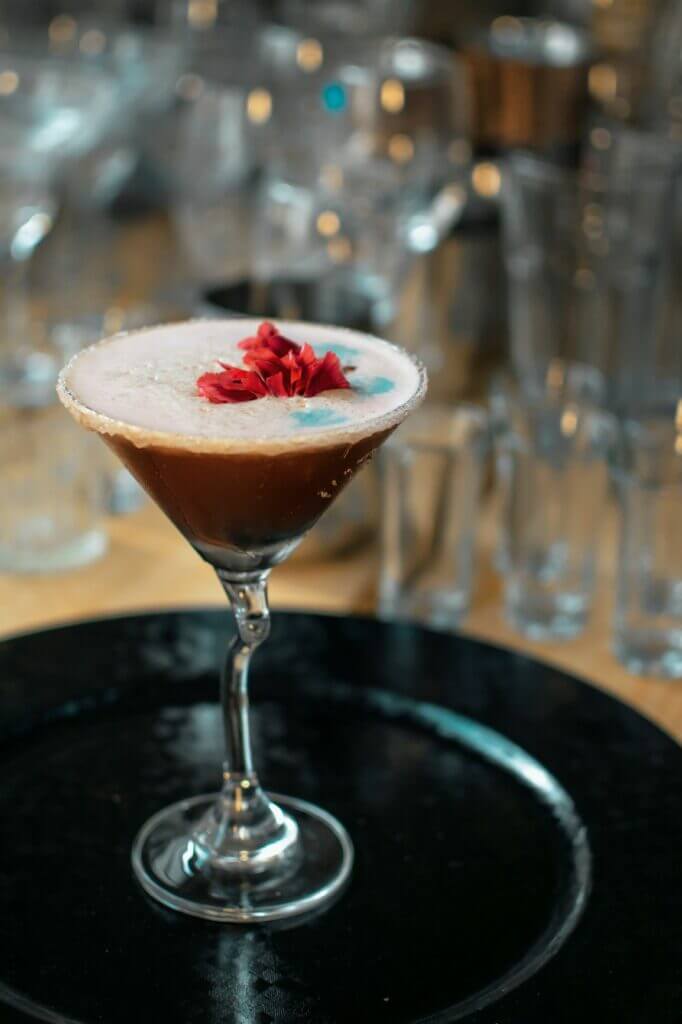 Ingredients
2 oz Vodka
1/2 oz regular syrup
1/2 oz Coffee liqueur
1 oz Freshly brewed espresso
Garnish: Coffee beans, or grated dark chocolate
or maraschino cherries (Optional)
7. Coffee and Cognac (Brandy Alexander)
This Coffee and Cognac recipe which is named Brandy Alexander, creates an elegant and direct creamy cocktail to
savor. A scent of coffee and a bit of dark chocolate generates the silky cream and mellow brandy in this great classic drink.
Many folks wondered what is the meaning of cognac? Well, this wonderful beverage, is a type of exquisite brandy produced only in the Cognac region of France. This Brandy Alexander is a creamy delight and it's pure bliss.
Ingredients
1 ounce Cognac
1 ounce crème de cacao (dark)
1 ounce cream
Garnish: nutmeg (ground- optional)
8. Irish Coffee
Many people tried this traditional beverage. Irish Coffee, is one recipe every coffee lover should try this libation at least once. This drink's history started in the 1940s Ireland, and has
set the standard worldwide for what a great alcoholic coffee cocktail should be.
This cocktail has a simple recipe, and it's very specific The base is rich, strong coffee spiked with a shot of Irish whiskey and sweetened
with brown sugar. Topping it with whipped double cream, would make this libation very authentic, and delicious!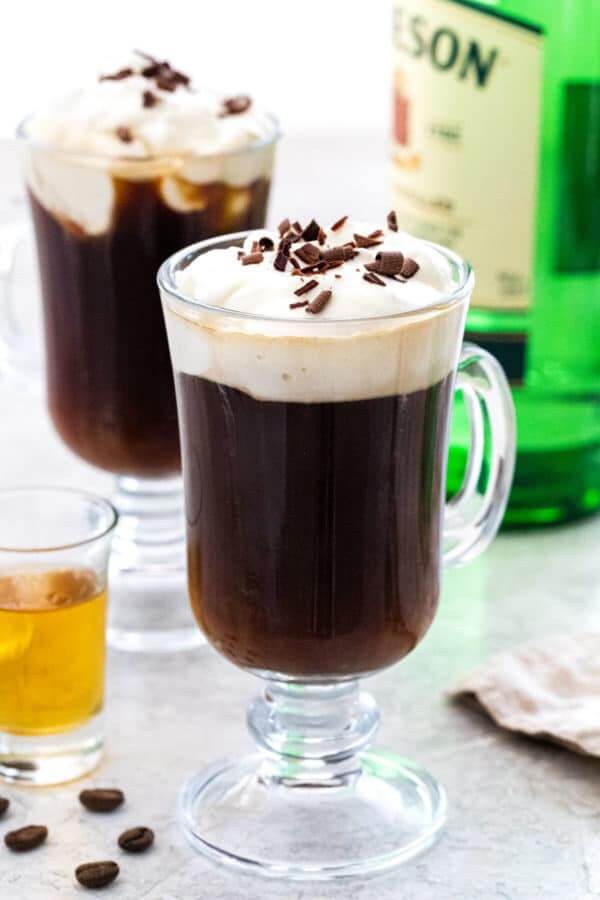 Ingredients:
1 1/3 oz Irish whiskey
1 oz Fresh cream
1 tsp. Brown sugar
2 2/3 oz (4 parts) Hot coffee
9. Amaretto Coffee
This great tasting drink is part of the French connection series of hot coffee cocktails which are made with brandy and amaretto. You will love this smooth combination straight, but most coffee lovers mix it with a cup of strong black coffee, and create the French connection coffee,  which is also known as the café amore.
Based on individual taste, you can adjust the ratio of the two liquors for this recipe. If you increase the amaretto, the sweeter it will be, though many people prefer equal ratios. To make the beverage complete, top it off with whipped cream and shaved almonds . Perfection!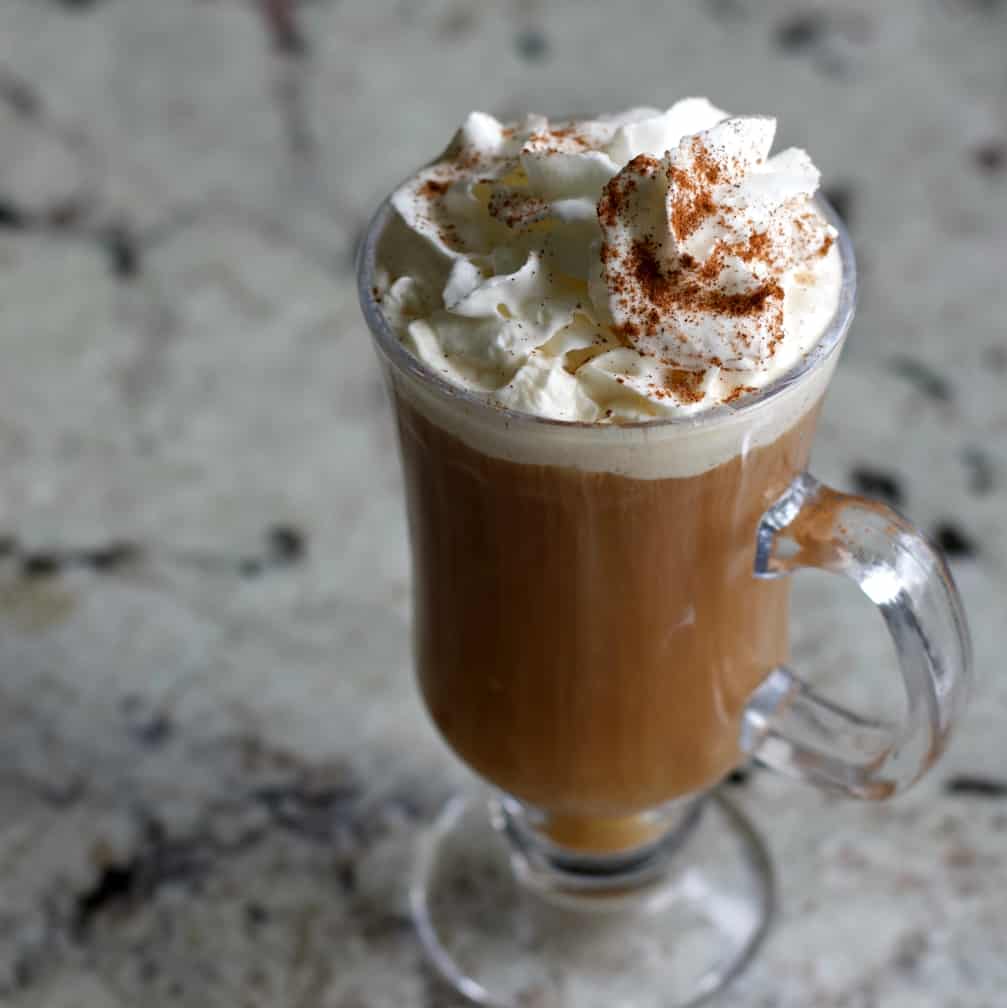 Ingredients
1 oz. Amaretto
1/2 oz. Brandy
6 oz. hot coffee
1/4 Cup whipped cream
1/8 tsp. Cinnamon
Optional – shaved almonds
Which ever great tasting Coffee with alcohol mix you try, it will leave you with a smile on your face. In the future I will post additional delicious coffee mixes for the coffee lovers.
If you have any comments, please leave them below, I'd love to hear from you.