Whipped coffee, also known as TikTok Dalgona coffee, is a TikTok term for this type of coffee because its been trending as a hot and popular coffee on this social media. Many coffee lovers are asking how is Dalgona Coffee? Dalgona coffee  (Korean espresso) was invented by Jung Il-woo, a South Korean actor.
It's been popular for some years, and it is also called Frappe Coffee (Greek), Beaten Coffee (Indian), and many other names in different countries. It seems that many cultures had a taste for this exotic coffee
How to Make Whipped Espresso (Dalgona Coffee)
Iced Dalgona Coffee is a fashionable, fluffy, creamy whipped coffee! This is a delicious way to make your morning cup of coffee, or anytime of the day. It's simple because it takes just 5 minutes using a hand mixer.
In its simplicity it takes 3 ingredients to make the delicious whipped coffee. Making whipped coffee requires that you add 2 tablespoons of sugar, 2 tablespoons of instant coffee, and 2 tablespoons of boiling water in a bowl.
You can whip it together with a hand mixer anywhere between 2 to 5 minutes to achieve the thick froth.
You can make whipped coffee with vegan milk which could be almond milk, soy milk, cashew milk, oat milk, and any other non-lactose product. If you are making iced coffee, add some vegan milk in the glass.
Add the whipped coffee with milk. Stir it with your straw until mixed. Whipped coffee can be kept in the fridge for up to 1 week for freshness.
You can increase the quantity, because the prior ratios in this recipe are only guidelines. You can adjust them if you wish to achieve your own individual flavor, otherwise for the best flavor and taste, keep the ratios constant.
In What Other Ways is Whipped Coffee Used?
Dalgona coffee makes an amazing drink! These are some delicious ways to enjoy it:
• It can be used as a topping on brownies.
• Dip cookies in it and they will taste amazing! It's delicious with maple pecan sugar cookies and snicker doodle cookies.
• You can make it even more indulgent by adding 3-ingredient caramel sauce to it.
• A huge batch (maybe a cup per person) is another great use. You can freeze it for coffee ice cream!
You can let your imagination explore, and find you own recipe!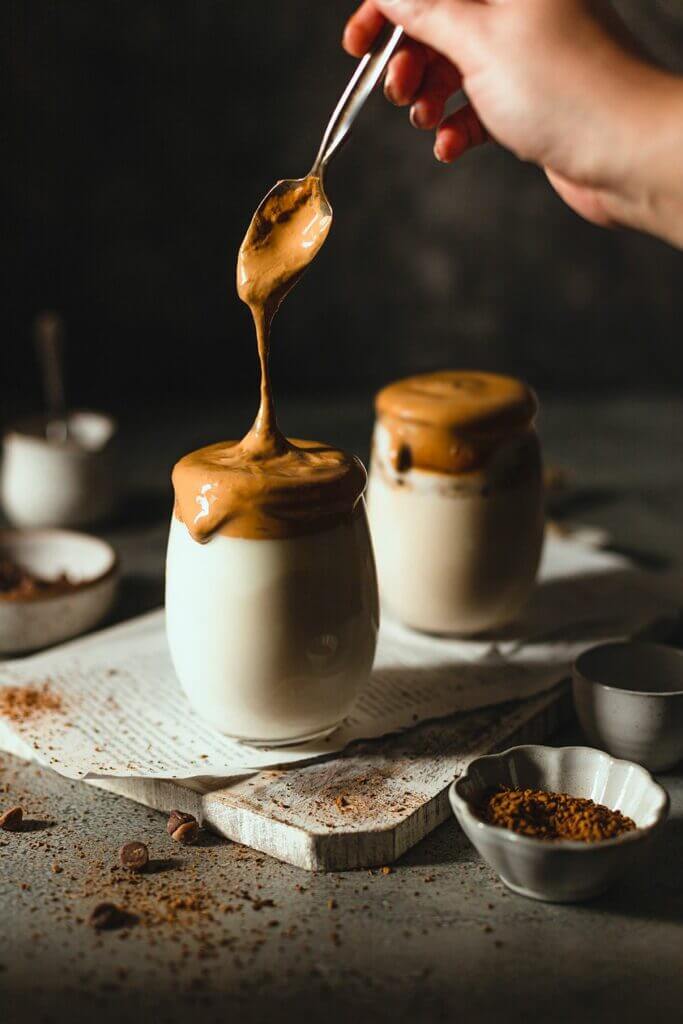 This whipped coffee can also be served with warm banana bread, strawberry banana bread, or pecan banana bread. This recipe is originally from South Korea which requires four ingredients, hot water, instant coffee, sugar, and milk.
Dalgona coffee is a beautiful beverage if coffee could be called beautiful. Although aesthetics is a big reason why whipped coffee is so popular on social media (as at the time of this writing, #dalgona coffee had 172 million views on TikTok), and you can see the way it's made, is quite appealing and went viral.
This recipe is perfect for many coffee lovers who currently live in a holding pattern during the pandemic. It calls for four ingredients most people already have in their kitchen, and the time to make it. But this coffee is good to sip at anytime.
Dalgona coffee tastes like a frappe which gives you a quick hit of energy. You whip the froth for five minutes, instead of the usual 30 seconds. It produces a richer, but labor-intensive drink that is creamier than a frappe.
Although everyone may have their own way of ordering, we all enjoy a good frappe.
The frappe corresponds to the specific Greek word "xalara". Although "laid back", or "take it easy" its the easiest translation of xalara, it doesn't capture the spirit. It's watching the time go by with a cup of whipped coffee in your hand.
Frappes, like Dalgona whipped espresso, are meant to be enjoyed. Drink too quickly and you will either end up with pure foam. The coffee in the foam can settle into the milk and water mixture.
Therefore, people enjoy frappes mostly over the course of a long conversation –frozen, ideally on the beach, but Zoom chats or virtual game nights will do, as well.
Whipping coffee is easy, but it is worth taking a look at how-to videos on YouTube and TikTok.
It turns out that whipped coffee was well-known all over the world for many years. Dalgona, the Korean term for whipped coffee, is also known as Frappe in Greece or Beaten Coffee in India. Dalgona coffee transcends multiple countries and cultures.
Because of its versatility and convenience, Dalgona Whipped Coffee is a common staple in the world. I like the simplicity and the results of this coffee which makes it a convenient way to quickly make the coffee without a coffee maker.
Frozen Dalgona Coffee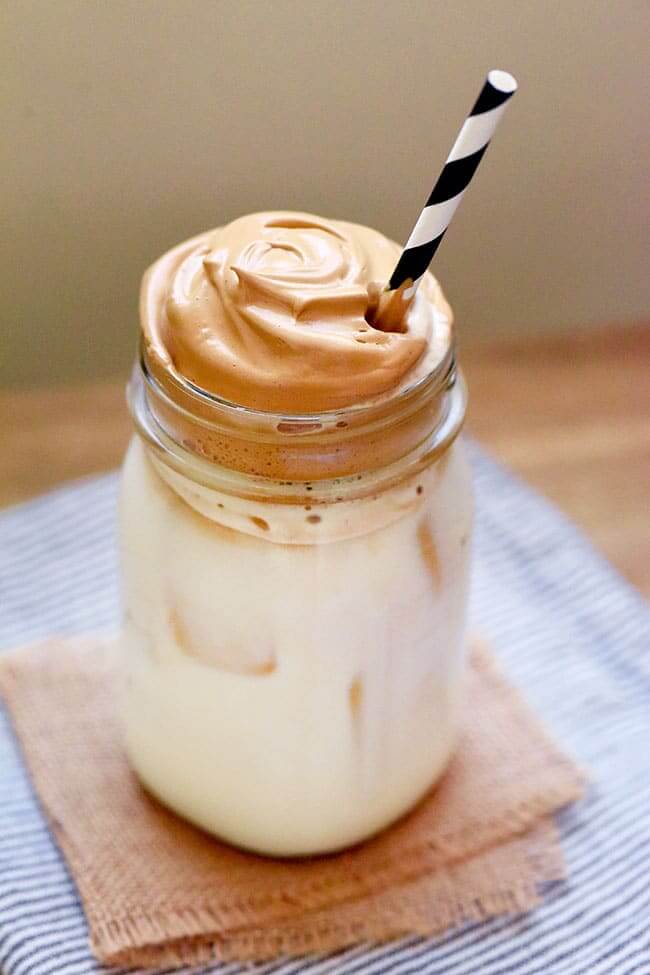 This rich, creamy and bold combination makes the best cappuccino in just minutes. You can also store or freeze it in a refrigerator for later use.
Mix the mixture in a bowl for about 5-7 minutes, or until it's mixed like whipped cream and turns a pale caramel color. It may seem impossible at first but the mixture will surprisingly turn into froth.
Once the coffee is at the right consistency, add 1-2 tablespoons to a 8oz glass with cold or iced milk.
Although the coffee mixture will be strong, it can be diluted with milk. For a stronger flavor, use less milk and additional milk to make a lighter flavor. You can add sugar as needed.
This delicious whipped coffee has become a favorite for many coffee lovers. You can make large batches and can use it throughout the week as a quick cup of coffee in the morning.
For storage: Keep the mixture in an airtight container for up to one week in the refrigerator, or freezer for up 1 month. The mixture should not harden and it will stay creamy and easy to scoop.
How to Make Keto Dalgona Whipped Coffee
This delicious, keto-friendly version of whipped coffee is easy to make and tastes great!
You can make keto whipped coffee by replacing the sugar with 1:3 of your favorite keto sweetener, either granulated or powdered.
Stevia does not work well because whipped coffee requires sugar to create a light fluffy texture.
Can I Use Milk Alternatives?
Yes! Any kind of milk (or water), whole or almond milk, or any other milk substitute will work.
Variations of Whipped Coffee
Chocolate Whipped Coffee is made by adding 1 tablespoon of cocoa powder to the mixture before you start mixing.
Vanilla Whipped Latte can be made by adding 1 tablespoon of good quality vanilla extract before whipping.
1/4 cup of instant coffee Nescafe, instant Espresso or any other instant coffee will work. 1/4 cup of sugar can be sub-keto sweeteners.
Bring the instant coffee, sugar, water, and milk to a boil. Whisk for about 5-7 minutes until it becomes more condensed and pale.
Add 8 oz hot or cold milk to a cup. Top with 1-3 tablespoons of the coffee mix and stir.
You can make stronger coffee by adding more milk to the mixture and whipping it up more often. For lighter coffee, you can use additional milk. Simply use the sugar according to your preference. As you can see, Dalgona coffee can be adjusted based on experimentation to achieve personal preferences.
This recipe is 1:1. If you only have one cup of instant coffee, you can add 1 tablespoon instant espresso, 1 tablespoon of sugar and 1 teaspoon of boiling water. Or adjust the serving size to suit your taste and flavor needs.
This recipe is only compatible with instant coffee, or espresso powder. It is not compatible with traditional ground coffee.
Nutritional Information: Each tablespoon should provide enough nutrition for approximately 6-8 oz water or milk. The milk is not included in the nutritional information.
You can substitute milk with whipped coffee!
Equipment Needed to Make Dalgona Coffee
A electric mixer (unless you want to do an arm workout)
A bowl for mixing
How Is Dalgona Coffee? Is It Healthy?
What does a qualified nutritionist think about the current trendy and viral coffee craze? According to Jenna Hope, although very aesthetically pleasing and deliciously tasting, Dalgona coffee is best enjoyed as a treat, not as a replacement for your everyday morning brew. It's definitely an indulgence, but moderation is healthier in this case.
It's high in sugar and caffeine with 2 tablespoons per cup. The NHS's recommendation is not to exceed 30g of sugar daily. She mentioned that two tablespoons of white sugar in traditional Dalgona coffee is equivalent to 83 percent of your recommended daily allowance. Of course, you can leave the sugar out, or replace it with sugar replacement.
What Are the Calories in Dalgona Coffee?
The most common recipe, which calls for two tbsp instant, two tbsp sugar and one cup of fresh whole milk, would yield the following nutritional breakdown:
374 calories
14g protein
9g of fat
60g Carbohydrates
Are you looking to reduce the sugar content in your creations? Try using other ingredients. She shares that you can use whipped coconut cream (or whipped aquafaba, the water from canned chickpeas), to make a fluffy consistency and not add sugar.
I am sensitive to caffeine and have already decided that this is not a good fit for me so I will make some adjustments to meet my needs. "Matcha" is an alternative because it contains L-theanine. This slows down the caffeine release, so you don't experience a high or low spike.
L-theanine promotes the production GABA, which is a neurotransmitter that leaves you feeling relaxed and calm. The antioxidants in green tea powder help remove free radicals that are naturally produced by digestion, exercise, pollution, smoking, and other chemicals.
The Difference between Whipped Coffee and Dalgona Coffee?
Both coffee types are two different ways and names to describe the same coffee beverage. In India, Pakistan, and China, the coffee, sugar, and water mixture is known as a whipped coffee. It has also been used for many years in Korea where it's gaining the current trending popularity.
The Takeaway
To me the Dalgona coffee trend is not phase, or a temporary trend. This coffee has been around as variations of the whipped cream coffee beverage for a long time before the TikTok phenomenon. Going viral on TikTok brought the great tasting Dalgona coffee to the rest of us who did not know how wonderful this whipped coffee really is.
If you have any comments, please leave them below, I'd love to hear from you. If you're a coffee lover and a dog lover check this lovely dog feeder out.