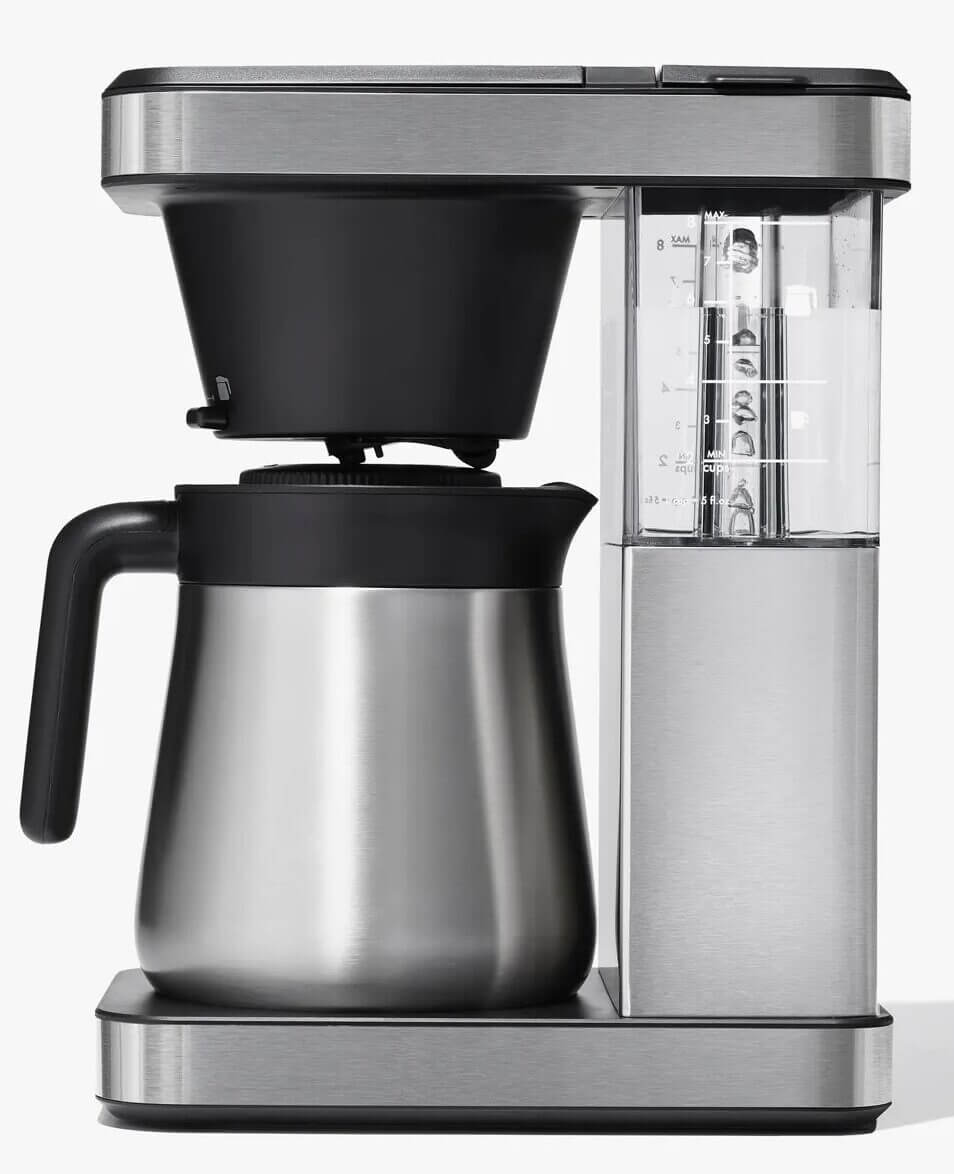 Nearly everyone who loves coffee wants a coffee machine that is as reliable, simple, and, it's good at making coffee. Many coffee makers do not check all the boxes, and there is always a trade-off. The OXO coffee makers reviews will determine if this brand meets coffee lovers demands.
They either lack versatility or reliability far too often. Coffee lovers often sacrifice great-tasting coffee for the coffee brewer versatility. I strongly believe that coffee makers shouldn't compromise on the quality of coffee for any reason at any time.
I checked and reviewed the OXO Brew 8 Cup Coffee Maker which is a popular drip coffee maker which received a lot of positive reviews from users. Is the OXO coffee maker worth the investment? Do you spend your money on a new coffee maker, or do you stick with your old one? This is a personal decision based on a few factors which includes
-simple to use
-old coffee maker condition
-current coffee maker coffee results (flavor, taste, and aroma)
-financial decision
We will review two OXO coffee makers, then based on any, or all of the above factors you can make an informed decision should you try this premium coffee maker.
OXO Brew 8-Cup Coffee Maker

We will review the OXO brewer in detail, and focus on how it grinds and processes coffee beans to create a pot of great coffee. We can also look at the company behind it.
OXO was founded from the ideas of American Sam Farber, and in a lesser degree, John Faber. The company is well-known for making some of the best utensils in the market.
A handmade peeler was the first product that the company had ever included in its catalog. When Sam came up with this product, it made his life easier and also helped his wife who was suffering from arthritis at the time.
OXO has evolved and improved their products significantly since that initial product. OXO currently offers a wide range of products, including:
-food containers
-mix and measure products
-cut slice and chop products
-utensils
-cook and bake products
-tools and gadgets
-beverage machines
-fruit and Vegetables tools
-specialty tools
These products are well-known for their meticulous attention to detail and desire to achieve perfection with every new product. Their durable quality and ergonomic designs are a testament to this.
OXO Brew Design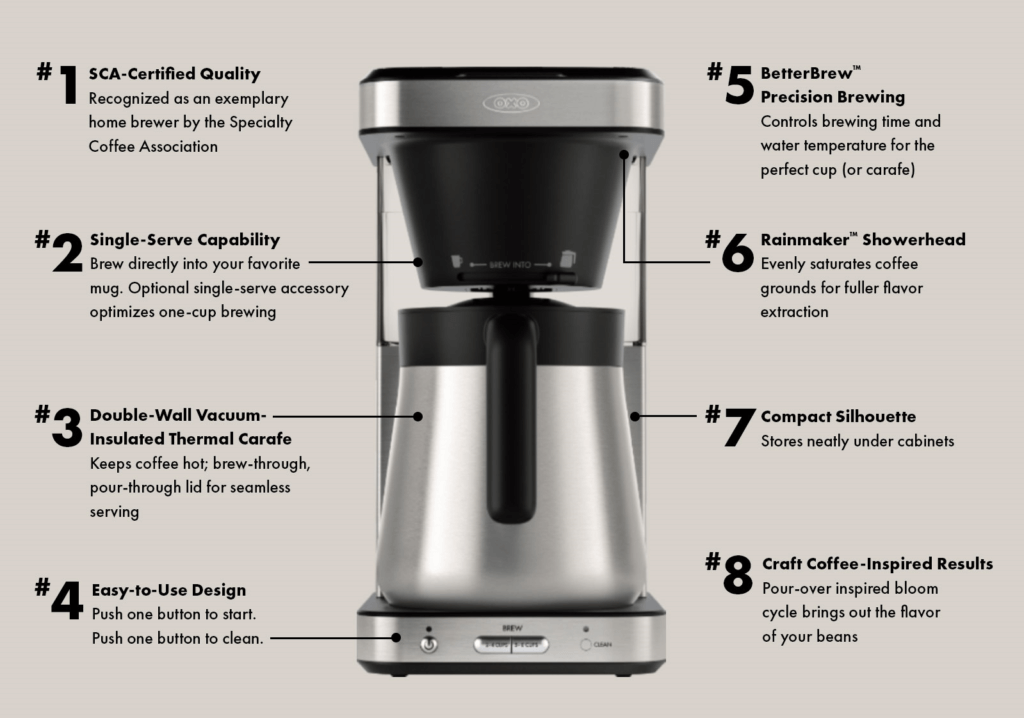 This automatic drip brewer is notable for several reasons. The sleek design is what you will notice when you first see it. Some other companies in the industry have awkwardly placed clumsy buttons and handles which I call attention to detail, or lack of. This Coffee Maker is compact and light at less than 11 pounds. It also features a blend of silver and dark colors, as well as a steel/glass construction.
The OXO Brew drip coffee machines meets the Specialty Coffee Association's (SCA) Golden Cup standard for precision water temperature.
The Specialty Coffee Association (SCA) is a nonprofit trade organization that sets quality standards for the specialty coffee trade products. When a coffee maker meets the requirements of the Specialty Coffee Association for a golden cup, then its awards recognition for the coffee maker process from beginning to the end resulting in a near perfect brewing.
These are just some of the neat features that the product comes with. The mug also has a double thermal carafe wall that keeps your coffee hot until you are ready to drink it. The thermal carafe is designed to keep your entire pot of coffee warm.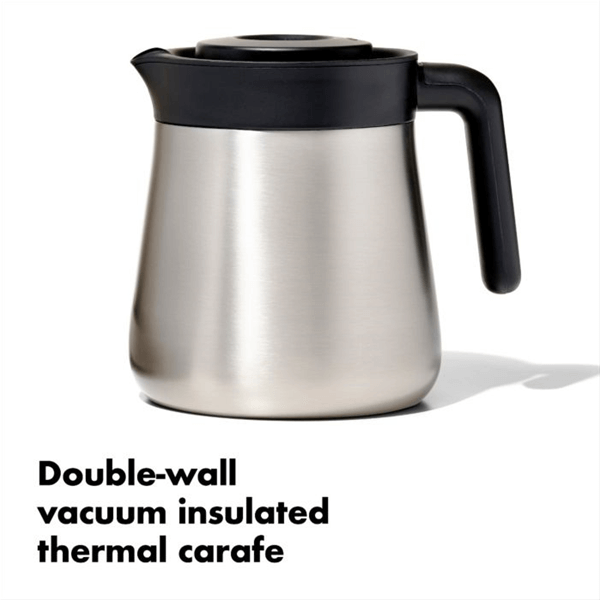 This coffee maker will let you know when it needs to be cleaned. After 90 cycles, the OXO Brew drip coffee maker will light up to let you know. To clean this coffee maker, the thermal café, and the water tank, all you need is mild detergent, an absorbent fabric, and a sponge, simple.
This coffee machine features a rain shower head which ensures that water is evenly distributed across the coffee grounds for a perfect full flavor extraction process.
Technical Specifications
Weight: 10.285 Pounds
Dimensions: 13.5 9x 10.5x 7.0 In
Capacity: 64 Fluid Ounces
Material: Stainless Steel, Glass
Slide switch between single cup and Carafe brewing. Option to use your own travel mug in the single serve option
Pause and pour option lets you grab a quick cup before brewing is finished
The design and components of this Coffee Maker are what make it the best drip coffee machine.
Although 8 cups are not essential for survival, reducing the amount of cups allowed for a more compact and visually appealing coffee machine.
This is a major point of choosing a coffee maker in this model and other models. Although it still makes great coffee and takes up very little space, its design is minimalist which is preferred.
The build quality factor is as important as the size. The coffee maker is made from a mixture of steel, plastic, and glass. All external parts are made of steel. This provides a reasonable level of protection against safety and falls that may result from impact.
The product's aesthetics are enhanced by the steel's calm, techno-silver appearance.
Plastic is used for the rainmaker shower head and other parts of OXO Brew 8 cup coffee maker. It's simple to clean once you finished brewing coffee.
It is also protected by stainless steel material and it is contained within the machine, so you don't have to worry about any damage. The carafe, made from glass, allows you to see the quantity of your brew at any time.
The buttons are easily accessible and the machine's ergonomic design makes it easy to use. The OXO Brew 8 Cup Coffee Maker has become a popular drip coffee maker.
OXO Brew 9-Cup Coffee Maker

A coffee maker's ability to make great coffee with the right amount of dissolved solids is a key indicator of its performance. With its many special features, the OXO Brew 9 Cup Coffee Maker makes great coffee.
You will be most impressed by the BetterBrew Precision Brewing function which gives you great control over the precise brewing of your coffee.
BetterBrew Precision, a feature found in OXO Brew 9 Cup Coffee Makers which allows users to control almost every aspect of the brewing process. You can, for example, control the amount of water that goes into your coffee, the brewing cycles, and the brewing temperature.
You can adjust the OXO 9-cup coffee maker's settings to suit your preferences. Rest assured that the taste of your coffee will not change between single-serve brewing cycles, so you can be sure to get maximum performance.
This OXO 9-cup coffeemaker comes with a bloom cycle. It works in the same way as the pour-over method of coffee brewing, which ensures the best extraction of flavor.
These attributes combine to make great coffee, no matter how much coffee you make.
This is possible thanks to the single-serve function, which allows you to make just a small amount of coffee if that's all you need. It doesn't have a water filter system, which is the downside to its performance, but most pour systems are like that. If you only want one cup of coffee, you will need to pour filtered water.
Technical Specifications
Weight: 11.4 Pounds
Dimensions: 15 x 8.3 x 17.2 In.
Capacity: 45 Fluid Ounces
Material: Stainless Steel, Glass
BetterBrew Precision Brewing controls water temperature and optimizes brew cycles for rich, flavorful coffee – whether you're making two cups or a full pot
Temperature-controlled brewing maintains the water between 197.6–204.8°F /92-96°C – the perfect temp for drip coffee
Pause and pour option lets you grab a quick cup before brewing is finished
Space efficient
Features
OXO Coffee Makers has a few unique features. These include:
1. Simple User Interface
The OXO Coffee Maker's user interface consists of simple buttons that you can use to give instructions for brewing. The machine has only three strategic placed buttons: the power button, the 2-4 cups button, and there are 6-8 cups. Each button serves its designated function.
The buttons are placed for simplicity and easy use. You don't need to know anything about the 2-4 cup button or its counterpart, because it's very intuitive.
2. Simple Setup
OXO coffee makers are quick and easy to set up, unlike other machines that have many steps to get the machine ready. You can wash the removable parts as you would for all consumables. These include the thermal cup and lid, filter baskets, and coffee scoop.
After it is clean, run some water through the machine according to the instructions. This will help for better rinsing. Dry the device using a microfiber cloth. Follow the instructions for assembly.
These unique features make it all the more attractive, no matter how you look at it.
The Takeaway
As I previously mentioned, the OXO Coffee Makers are popular machines for the reasons I mentioned in this article. It's an affordable drip coffee maker that is sleek, and easy to use. I noticed after having many cups of coffee from both coffee makers, that it maintained a consistent  flavor and taste each time without any manual adjustments.
My findings about the OXO machines is that they make a good option if you expect a great cup of coffee every morning.
Pros:
Great packaging and presentation! Also, included is a complete manual guide.
It allows for a wide range of customization in the brewing process, as well as an optional single-serve function.
Confirmation using the Specialty Coffee Association's Golden Cup Standard
For space management, compact size and weight are key.
Great packaging and presentation! Also, included is a complete manual guide.
It allows for a wide range of customization in the brewing process, as well as an optional single-serve function.
Confirmation using the Specialty Coffee Association's Golden Cup Standard
For space management, compact size and weight are key.
Cons:
Though there are many amazing things about this product, there are still some things that could be improved.
Cleaning an unmovable water tank/water reservoir can pose a challenge
It would be useful for the water filtration system installed in the product's water tank/reservoir.
Overall , this is a Specialty Coffee Association (SCA) approved coffee maker based on the BetterBrew Precision Brewing which includes water temperature and grinding  precision to brew that great cup of Joe.