As an Amazon Associate I earn from qualifying purchases.
The market has many filter coffee makers of different shapes and sizes. The Ratio Six coffee maker answered the question "What is the best pour over coffee maker". This new coffee maker promises to deliver a contemporary brewing method with simplicity in mind.
Let's look at Ratio Six holistically and see if it can keep its promise.
Ratio is a small company that has very high standards and attention to detail. The production company has been in existence since 2012 and has managed to answer the long-standing question of "why hasn't the automated coffee brewer evolved? and what can we do about it?"
Ratio did answer this not-so-simple question in 2013 with an automated brewing machine known as Ratio Eight, perhaps the world's most stunning automated coffee brewing machine. Made of distinct components like borosilicate blown glass, stainless steel, and hardwood.
Ratio Eight distinguishes itself from other coffee makers in design and functionality.
An Alternative Solution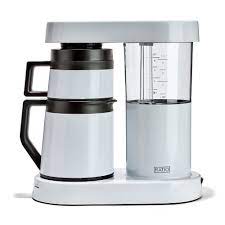 Just recently, Ratio announced another version of its home coffee device – the Ratio Six coffee brewing device. The founder of Ratio, Mark Hellwig, described Ratio Six as an "attempt to offer an incredible, easy-to-use, beautiful-to-behold, pleasure-to-own coffee maker at a point that more coffee lovers can afford".
Similar to Ratio Eight, Ratio Six has a solid built out of borosilicate glass, high-end BPA-free copolymers, and stainless steel. All these materials are fully backed up by a 5-year warranty, which further proves that Ratio Six was designed to last.
This brilliant design does not only help for durability, but also has beautiful aesthetics. The beautiful design of this coffee brewing device can't go unnoticed by your guest. Ratio Six can comfortably sit under your cupboard, on your counter and will also fit most kitchens and it has a small footprint.
Sure it looks good, feels good and fits good, but does it make good coffee?. We tested the higher priced model and the coffee good flavor with a deep aroma. The Ratio six has the same underpinning of the larger brother and will have identical taste and flavor.
Its one button simplifies the whole process of brewing coffee. With just a touch of the button, the device begins the brewing which of course runs in sequence with precision. Ration six exceeds what a coffee lover would expect from a coffee brewer
Flavored Coffee, Made Simple
One of the strongest beliefs of Ratio as a company is that "everyone should be able to enjoy world-class coffee without the fuss". To this end, Ratio was able to come up with a coffee brewing device with simplicity and precision.
Included with Ratio Six!

Ratio Six coffee brewer
Power cord
Basket paper filter
Ratio Six thermal carafe
Operation guide
Ratio microfiber towel
Design
The Ratio Six coffee brewer has a single button. This is aimed at keeping the brewing device simple and eliminating nearly all complicated programming; so you don't have to worry about variables like time, temperature, for a precise brew.
Without any shred of doubt; Ratio Six looks exquisite. I love its simple design, particularly the white version. Ratio Six comprises three distinct colors; stainless steel, white and black. Another thing I love about Ratio Six is how firmly built it is, plus how its different body parts sync together.
Ratio Six is fundamentally made up of three parts; first is the brewer, then a dripper that accommodates both the ground coffee and filter paper, and finally, a thermos where the coffee is collected.
With the thermos, you don't have to worry if you put on the coffee brewer and you forgot the coffee for say 30 minutes; your coffee will still be waiting for you fresh and hot. As you know, a glass pot and hot plate would, in most instances, make the coffee go bad or bitter and you should either be left with the choice of drinking a bad coffee or just throw it away and make a new one.
Above the power button (on-off button) are three lights that indicate which brewing phase is going on. This phase includes bloom, brew, or ready. So easy and nice!!
Ratio Six put some thought in the practical aspect and thus: provided an extra "plate" to place the dripper on immediately after your brew is ready. This is to prevent coffee from wetting the countertop. Very thoughtful, I must say.
Details
Weight: 8 lb
5-year warranty
Dimensions: 6.75" width x 13.5" deep x 14.25" tall
Brew up to 40oZ
BPA-free co polymer tank of water, marked from 2 to 8 cups that is within 1-ounce accuracy. The full mark of the tank is built to hold 44 ounces/1.3 liters of water; it absorbs around 10% of the volume into the coffee grounds. Pouring 44 ounces into the water tank would produce about 40 ounces of brewed coffee
It was designed in Portland, Oregon
The ideal heat shield wholly surrounds the shower head throughout the brewing process, which helps to intensify the extraction of more coffee, while adhering to the acceptable standard for brewing coffee. After the brewing course is completed, the coffee is usually shy of 200 degrees F. The heat shield is indeed a great brewing fixture especially for those that love their coffee hot.
How Ratio Six Coffeemaker Brews Delicious Coffee
Both Ratio brewers are arguably intelligent in brewing and yet, simple in operation. You are only required to simply press one button to initiate the whole process of brewing coffee. So simple!
I think two major factors make this coffee brewer brew exceptional coffee; the shower head and the blooming function. Let's look intimately at these two highlighted functions.

Virtually all filter coffee makers have a shower head with either one or few holes that distribute the water to the brewed coffee. This means that the water is only distributed to the middle of the coffee bed, which creates a big hole in the middle of the coffee bed, resulting in a record amount of brewing water running through the middle.
Simply put, in the above cases, a significant amount of brewing water and the center of the coffee bed will be extracted, leaving the sides less extracted.
Just like Ratio Eight, Six also has a die-cast heating element. Ratio Six's shower head has multiple holes; it evenly distributes water through the shower head and throughout the ground at the optimum extraction temperature, which in turn, produces a delicious coffee.
Flourishing or Thriving
Whenever ground coffee comes in contact with water for the very first time, it usually releases carbon dioxide, creates bubbles, foam, and often enlarges. The fresher the roast, the more likely this reaction will happen.
So, let's look a little deeper into how it will affect your brew. When the coffee grounds bubble, channels are created to the coffee beds which allow water to pass freely. But this water does not extract flavors as desired from the coffee ground.
So when you start your coffee brewing with blooming, it will help to give your cup more flavor as it extracts more from the coffee.
For the blooming process, the brewer wets all the coffee grounds and lets them bubble for about 30-60 seconds, and then dispenses the rest of the hot water slowly on the coffee bed.
Brew Cycle of Ratio Six Coffee maker
The brew cycle is one of the distinctive features that make the Ratio series of brewers unique from others. Upon pressing the brew button, it makes hot water rise to the hand-blown glass hose almost immediately.
I'm not certain how this happens almost instantly, so let's leave the argument to science. As the hot water comes out through the shower head, it gets distributed evenly across the bed of grounds and blooms.
Ratio Six carries out automatically, the same blooming process we manually do if we make our coffee by hand, but Ratio six allows the bed of coffee to rest in order to get fully saturated before it continues the brewing cycle.
After a couple of minutes, 200F water is released from the shower head in what seems like a continuous rhythm, which ensures an even extraction that produces a delicious cup of coffee.
This coffee brewing device is fortified with a flat bottomed basket which, in my opinion, favors the extraction when brewing more than one cup. The bottom line is that a more precise extracted coffee gives you a more amazing cup of Joe.
Ratio Six is capable of making up to 40 ounces of coffee; nonetheless, you can also make smaller volumes of coffee by using a lesser amount of water.
Adjusting your grind
| | Baratza Encore | | |
| --- | --- | --- | --- |
| Starting Setting | 20 | | |
| Half-batch (20 oz) Dose | 35 grams | | |
| Full-batch (40 oz) Dose | 70 grams | | |
| Is coffee sour | Adjust to finer | | |
| Is coffee bitter | Adjust to coarser | | |
If you use a different grinder, your ground coffee size should be the same size as raw sugar. The setting will fall in the middle range. If the coffee tastes sour, adjust to a finer setting. If it's tasting dry or astringent, adjust the grind to a coarser setting.
Does Ratio Six Brew Enjoyable Coffee?
The answer is a short one; Ratio Six does brew flavorful, and aromatic-tasting coffee.
Ratio Six has, to a large extent, solved problems associated with many traditional filter coffee makers. And on top of that, brewing delicious coffee is much easier. This implies that Ratio Six is one of the best filter coffee makers you can think of.
Would I recommend you buy this coffee brewer? I certainly would, especially for a coffee fan like me.
Pros:
It has a thermostat pot
It looks great in the kitchen
High standards design with attention to detail
Extremely precise coffee brewer
It doesn't take much space in the kitchen
It covers 5 years warranty
Cons:
The Takeaway
Ratio Six Brewer is a gorgeous and amazing product. It has the precise process to brew a delicious coffee and yet, maintains a simple and easy-to-use design. This device has been able to put to rest the herculean task of making a good coffee because you don't have to think about too many tasks in the process of making yourself a cup of delicious coffee with Ratio Six.
It's a remarkable device, and I loved the smooth coffee it brews.
Though Ratio Six seems pricier to purchase; if you are a coffee lover, you will love the coffee brew it produces, and it would pay for itself in a short time from savings making coffee at home rather than buying coffee from coffee shops.
If you have any comments, please leave them below, I'd love to hear from you!

If you have any comments, please leave them below, I'd love to hear from you. If you're a coffee lover and a dog lover check this lovely dog feeder out.