As an Amazon Associate I earn from qualifying purchases.

What is espresso coffee?
Best Rated Espresso Makers have advanced technologies which make it convenient and inexpensive to buy a variety of espresso machines that make coffee, lattes, cappuccinos, mochas, and macchiatos at home just as well as your favorite barista. We will look at two highly rated machines that make great cappuccino without breaking the bank.
First, what is Espresso? Espresso coffee is a delicious Italian drink that has been shared with coffee lovers worldwide. Its brewing method is forcing out a precise amount of boiling water under pressure through finely-ground coffee beans.
This creates a 'shot' with a rich and creamy flavor. It can be consumed as it is or it can be used as the basis for other types of coffee such as cappuccino, latte, macchiato, and many others.
Espresso coffee has always been important to me, and my family. It has always been that steady comfort zone, as well as a sign of all that is cool and elegant in the world. I grew up drinking coffee at home and in coffee shops, but now, I drink more coffee at home, even though I continue to visit coffee shops, but less now because it's expensive, and I can brew a great tasting coffee at home.
I love a good coffee on the weekends, a cappuccino in the mornings, or the occasional afternoon latte. I'm that person who enjoyed a walk to the local coffee shop, to get some coffee, to sit with a good book, or work on my laptop.
I learned, and I'm sure you did too, that espresso drinks purchased daily from your local coffee establishment
can really add up my expenses over time. But just how much do your expenses go up without breaking the bank? The answer lies in your home countertop espresso machine. It makes sense.
Espresso vs coffee
For those who want to know the difference between the two, it's the preparation of espresso that sets it apart. The different processes of brewing, take time because they rely on the slow filtering of hot water through your grounds. For all of us that need that quick fix in the morning, the espresso process means several minutes between you and a fresh cup of coffee.
Espresso machines brew coffee by pressurized boiling water through fine ground coffee beans. This coffee brewing process gives you a complex, flavorful, and aromatic caffeine-packed shot of coffee in under twenty seconds. The interesting point is that, you don't need a high cost espresso machine to get a great tasting espresso. It's an easy process, and I love it!
There are many coffee lovers who know that espresso machines make a richer, creamier coffee experience. An espresso machine provides you options to select various types of coffee based on your mood, taste, or desired strength.
In comparison, coffee makers are usually a single function machine and will produce less rich and creamier coffee. If you are a gourmet coffee enthusiast, you will appreciate the end product delivered by an espresso machine.
Is Espresso Good For You?
The short answer is YES, as I wrote on many of my posts regarding the benefits of coffee. Espresso, like regular coffee, actually has a lot more health benefits than disadvantages.
Drinking espresso every day is healthy as long as you don't overdo it! Espresso, like coffee in general, is high in antioxidants and low in calories, which present some pretty obvious benefits.
Based on research, Espresso coffee has been shown to improve long-term memory, concentration, mood, among other health benefits. Studies have suggested that espresso can reduce your risk of stroke and diabetes. Some active people actually use espresso to increase their workout performance.
While caffeine is responsible for wakefulness and turning tiredness into energy, there is actually 3-5 cups of coffee max you should be drinking coffee in order to limit the caffeine consumption.

Capresso
The Capresso EC100 machine has a thermoblock heating system and 15 bars of pressure to produce high-pressure brewed espresso. Pressurized portafilter sieves make delicious crema, even if you haven't quite yet mastered the ideal tamping water pressure or the coffee grind size.
This beginner-friendly machine also has a swivel frother along with a single sieve that accepts your favorite ground coffee or prepackaged espresso pods. This machine is efficient, as its two sieves can make two espressos at once.
This machine is not designed for espresso drinkers only. Unlimited steam output means you can use your milk steaming or frothing technique for lattes and cappuccinos as well. Indicator lights track the machine's progress and the coffee and steam functions. A warming mug holder holds your drinks at just the right temperature for that later coffee drink.
coffee maker

Capresso EC100 Espresso Machine
Capresso EC100 Features
1. Dual Frother – The Capresso EC100 includes a dual frother, with two frothing positions for steamed milk (latte) and frothed milk (Cappuccino). The frothing sleeve allows you to mix steam and air into your milk, resulting in a rich layer of foam on top of your cappuccino.
If you prepare to make lattes, you will have to replace the frothing sleeve with the underlying steam tube to inject only hot steam into the milk, to create a latte.
2. Thermoblock Heating System – Capresso is using Jura's (Capresso's parent company) proprietary thermoblock mechanism lined with Stainless Steel, to make sure the coffee is served hot while extracting the best taste and aroma flavors from the coffee beans.
3. 15-bar Pump – Capresso EC100 uses a 15-bar pump based on top industry standards to extract the deepest flavor and aroma out of the coffee beans. You have the option to use finely ground coffee or prepackaged espresso coffee pods to brew a cup of espresso in this coffee maker
4. 46 oz Water Tank – The 46 oz water tank provides sufficient water to brewing several cups of coffee. It's easy to see the water level through its clear transparent container. The water tank is easily removed to be cleaned manually, not in a dishwasher.
5. Removable Drip Tray & Warming Tray– The Capresso EC100 has a removable drip tray for easy and thorough cleaning. The cup warming tray made of stainless steel and will keep your coffee warm.
6. Additional Safety features – The short electrical cord is designed to stays out of the reach of kids and keep your counter neat. Their indicator lights will let you know if the machine is on and off, and there is a two-hour automatic shutoff safety feature.
Things I Liked about this Coffee Maker
Dual Frother
Thermoblock Heating system
Easy cleanup
Large water tank
Great value for money
The Capresso EC100 includes two sieves: one for two espressos, one for a single espresso, or for use with espresso pods.
The Capresso has safety features that make it a dependable machine and a solid stainless steel build for durability
This machine host innovative features, a unique system, and easy to use at a very affordable price in its class for beginners as well as experienced coffee lovers, makes this popular espresso machine a great buy.
Experience freshly-brewed Coffee and authentic Espresso like never before with the Nespresso Vertuoline System.
Espresso or coffee with a thick, generous crema produced by pressing a button and thanks to the new Centrifusion technology, where the capsule spins at 7,000 rounds per minute to brew the coffee, by reading the code technology.
A capsule-style Nespresso Evoluo is a smart coffee maker which extracts coffee differently according to the bar code of the various coffee capsules. It's quick to heat up and prepares your coffee in as fast as 10 seconds, wow!. This Espresso maker brews the best coffee you've ever had.
I have this machine at my house, and the espresso is incredible! My entire family loves its rich crema espresso. You will feel the same way once you one and you will be an espresso coffee lover if you are not one yet.
The quick to heat up and smart Nespresso Vertuo Evoluo is an ideal home coffee maker not just for those who are always in a rush and have limited time to prepare their coffee. This coffee maker is simple to use and has a modern and user-friendly design. Although, you have the choice of a variety of flavors, and coffee strength from Nespresso capsules, it would suffice your coffee addiction or needs.
The machine delivers the optimal in-cup results for each blend using capsule-specific brewing based on the barcode reading.  Below are a large variety of Vertuo Capsules specifically for the Nespresso coffee maker. I would recommend the variety pack to try and see which would be the most delicious and perfect espresso for you.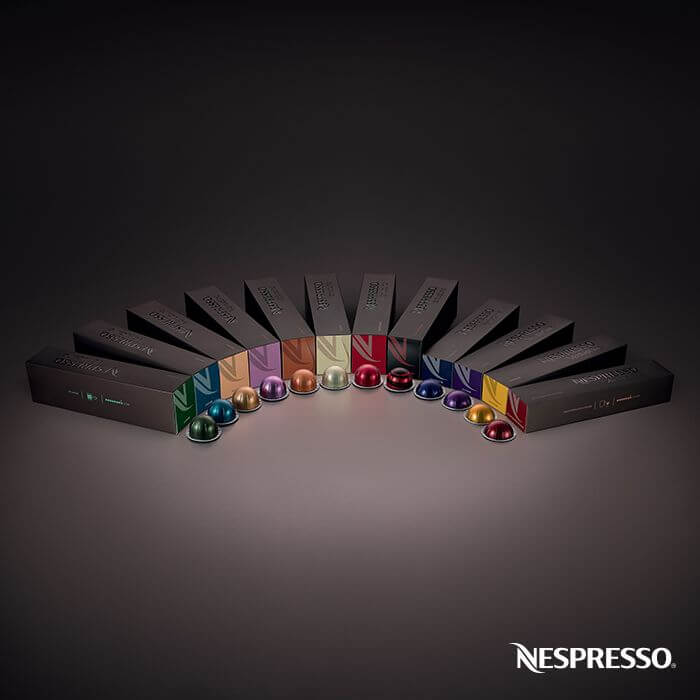 Features of Vertuo Next Espresso Machine:
Brews a wide range of coffees at the touch of a button – espresso, double espresso, coffee (5oz, 8oz, 14oz), Carafe (18oz)
Automatically adapts brewing parameters to each capsule – cup size, pressure, temperature, brewing time
The first Nespresso machine made from 54% recycled plastic, without sacrificing style
Available in a variety of colors and finishes. Premium models feature chrome or rose gold accents. Deluxe models feature a chrome and dark chrome finish.
Measuring only 5.5″ wide, its slim fit design makes it the perfect addition to any kitchen or countertop.
Comes with an Aeroccino3 milk frother so you can prepare your favorite cappuccinos and lattes.
Details Nespresso Vertuo Evoluo

Weight: 11 Pounds
Removable water tank: 54 Ounces
Dimensions (WxDxH): 9.0in x 12.2in x 12.3in
Cable Length: 29.13 Inches
Warranty: 1 Year
Turns Off Automatically After 9 min.
Used capsule container capacity: 17 large
Single button Operation
Things I Like
No-fuss functionality
Ridiculously easy to use
Produces rich, full-bodied coffee every time
Delivers thick crema
Offers more possibilities for coffee variants than similar models
Large Water reservoir
Takeaway
I reviewed the above coffee brewers, because they meet the requirements for today's competitive coffee machines market. The Best Rated Espresso Makers has advanced technologies, are convenient and inexpensive to buy. These advanced espresso machines make incredible coffee, Latte, Cappuccino, and other coffee Barista style in the comfort of your own home. In today's busy environments where more people work from home through hybrid, or every day schedules, the bar has been set higher, and the coffee expectation is to have quick, simple coffee makers that can rival coffee houses, or barista style coffee quality.

If you have any comments, please leave them below, I'd love to hear from you. If you are a coffee lover and also a dog lover check this dog feeder out.