As an Amazon Associate I earn from qualifying purchases.

Product: LifeBoost Healthy Organic Coffee
The Bag weighs 12oz – whether bean or ground!
Organic – Yes
Gluten-Free Coffee – Yes
Single Origin – Yes
Kosher – Yes
Country Of Origin – Nicaragua
Orders processed – 4-5 business days
Product Rating – 9.8
Guarantee – 30 days Money Back
Why Is Organic Coffee So Popular?
Healthy, and Organic coffee is gaining tremendous popularity because the healthy way it's grown and harvested without chemical additives.
According to Johns Hopkins Medicine, it was recently reported that according to the Dietary Guidelines for Americans, "it's ok for most people to drink three to six cups of coffee a day or a maximum dosage of 400 milligrams of caffeine." (source)
They reported multiple benefits from drinking coffee, including the following
– Coffee drinkers are less likely to die from some leading causes of death.
– you less likely to develop Parkinson disease
– your body may be able to process glucose better
– There are many reports that show that Coffee contains a high amount of antioxidants that are very efficient at neutralizing free radicals that form oxidation which in turn may reduce internal       inflammation and protect against disease.
– Dark roast coffee helps by decreasing breakage in DNA strands,
which occur naturally and can lead to possible cancer or tumors if not repaired by your cells.
– Coffee drinkers benefits from decaf or regular get some protection and has a 26% less likely tendency to develop colorectal cancer.
– Coffee is full of substances that may help guard against… Alzheimer's disease and heart disease.
Conventional coffee vs. Organic Coffee
To put it in perspective, coffee is one of the highest use commodity in the world and continues to grow in consumption. Meeting such high demands, new farming methods had to be formed or developed to maximize production in order to keep up with the increasing demand. These new farming developments had benefits for the business perspective but at the expense of the human environment and health.
With all the great coffee benefits we mentioned earlier, there are also some risks in drinking coffee such as pesticides, herbicides, fungicides used in the agricultural process, and also mycotoxins, and molds. A research study discovered that 92% of the coffee samples they tested contained molds. (source)
Mycotoxins are shown to be present in a large percentage of coffee beans and make it into our cup of coffee. It may be in small doses but it is cumulative over time (source)
So what do you do? Prevent the risks from conventional coffee by buying healthy organic coffee. After intensive research, I found a coffee that is safe and without the risks posed by conventional coffee that most of us buy at our local stores.
This coffee contains only one, simple, pure ingredient. This coffee product is providing us the cleanest coffee available directly from the highest quality farms located in a nationally-protected area of Central America. The coffee beans are carefully roasted based on exact specifications to produce only the highest quality and delicious, low-acid coffee you'll love.
I find this coffee clean, healthy, non-GMO, pesticide-free, and as pure as you can get with just one simple ingredient. This all means that coffee lovers would drink this smooth tasting home-grown beans without any harmful additives of any kind.
Here are a Few Qualities of This Coffee:
ONE PURE INGREDIENT – Organic Coffee
Coffee is delicious, but poor quality coffee can be toxic. You want coffee that's clean and pure to ensure there are never any pesticides and molds.
SINGLE ORIGIN
Most of the coffee we buy in retail stores and coffee shops is a mix-match of beans from various plants and countries around
the world(normal procedure). With blended coffee beans, you might get beans mixed with pesticide-soaked beans. There is always the possibility that you can get premium dark roast beans mixed with under-dried, toxin-filled lighter roast beans. This is becoming the new normal.  It's just the way it is, and there is no way to know.
Single Origin coffee ensures your getting what you pay for, and nothing you don't want in you coffee. Every bag of this coffee, from this producer, is guaranteed a single origin. Each bag is filled with beans from the same farm, the same plant, and the same roast profile, and no exceptions made.
MYCOTOXIN-FREE
Mycotoxins are mold toxins that can occur in many products. That means they can grow inside coffee beans also.
(Not surprising, this is a common occurrence.) Mycotoxins can cause painful, full-body-inflammation to severe Chronic Fatigue Syndrome. Several research have also
linked mycotoxins with causing kidney diseases.
SHADE GROWN
By growing coffee plants under a sun filtering canopy improves the
quality of the coffee bean for a number of reasons.  It makes sense that the trees provide needed shelter for the coffee plants from the sun. This allows the beans to have a slower maturity. This allows them to become higher nutrient content, denser, and harder than coffee beans that are  grown in the sun without any shade.  The final coffee beans will become nutrient-rich and  better flavor product. The trees that shade the coffee have their  leaves falling from the branches of the trees which also provides a naturally occurring source of nutrients for the coffee plants. After decomposing, they become part of the soil which the coffee plants used to grow. This helps to improve the nutrient density, protection for the coffee plants from weed growth, and acts as a "mulch" , so , no other plants will grow. This increases the nutrients in the soil for the coffee plants to use to improve the nutrient richness of the coffee beans when they are fully developed.
STOMACH FRIENDLY
Some  coffee side effects is the digestive discomfort from some brews, specially if you have GERD or reflux. As you may of heard
yourself… the heartburn, indigestion, bathroom trips, and other issues. Sometimes you just don't know what a given coffee is going to do to your stomach! If you have Reflux as I do, you always have to be careful picking out coffee that does not affect you as heartburn, yet it tastes great! It's a tall order. Coffee was on the list of foods for me to avoid because it triggered my reflux, but not with this coffee.
Studies specify that discomfort is based on the acid in your stomach. The discomfort could result on the type of roast you drink. (For Example, Medium and Dark Roasts do not affect the stomach as much!) So it can be a gamble as to how your stomach will handle a new coffee you pick up at the store.
But because of the steps you've just read above, Lifeboost Coffee  won't bother your stomach! I drank it, and I had no issues, especially since I have Reflux. To me, this fact is a big deal. The coffee is pure and will not trigger excess stomach acid or affect digestion. Light, medium, dark, or espresso, you choose your beans and your stomach is happy.
HIGH ELEVATION GROWN
Premium Arabica coffee is grown at higher altitudes (at least 5,700ft above sea level), it has a number of beneficial effects on the beans. Growing coffee at a higher altitude, it slows the development and ripening of the coffee beans. That's due to the lower temperature of the environment, which causes the beans to develop at a slower pace. Slowing the growth of the coffee beans allows them to absorb more nutrients and become denser and harder than coffee growing at lower elevations. This premium coffee accumulates more antioxidants in the beans, resulting in getting more out of the coffee you are drinking. So, the coffee becomes much more nutrient-dense, and it's superior in taste and flavor. Highest quality coffees are harvested at higher elevations to maximize their flavor.
SUN DRIED
After they are washed, the beans are sun-dried until they've
achieved a specific moisture content of 11.5%. (If the moisture is too high there is a of risk mold; and if it's too dry the flavor of the coffee might be lost. (This is definitely a science for perfection) At the end of the process, the coffee beans are stored for a 30-day shelf period to allows the flavor of the beans to deepen in richness, complexity, and taste.
FAIR TRADED
This coffee product is grown in a sustainable environment.
Farmers grow and harvest their coffee in an environmentally and Eco system-friendly way of producing crops. This type of farming is always good for the environment, but it is also better for coffee quality. More importantly, by employing farming methods, the fairly traded coffee is grown by farmers who are paid a fair wage for doing so.
SPECIALTY BEAN
This may sound redundant, but specialty coffee represents the very best of the world's coffee yield or the TOP 3% of global production. These largest beans are hand-picked out because of their highest quality and perfection with no defects. They have to be the very best. This coffee is truly made for the gourmet coffee lover.
NON-GMO
The coffee beans process starts with one source, meaning that they are grown from single-origin plants that have not been genetically modified. This producer believes in keeping their coffee as clean and pure as possible not just for health reasons, but to protect the environment and the delicate flavor profile that you get with every perfect cup of Joe.
CERTIFIED KOSHER
This coffee producer has taken steps to certify this coffee to Orthodox standards by reputable organizations to ensure Kosher law adherence for the entire product and plant.
Lifeboost Organic Premium Coffee:
Medium Roast

Hazelnut Decaf
Decaffeinated Swiss Water Process
Dark Chocolate Coconut Truffle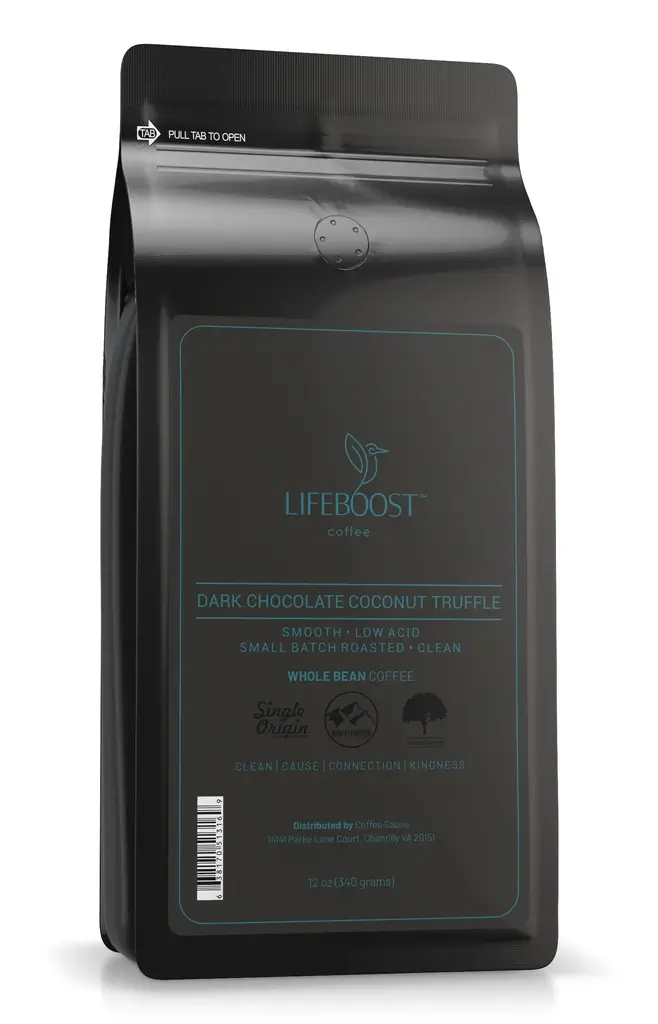 Light Roast
Hazelnut Premium Coffee
Cherry Mocha Truffle Coffee

Espresso Roast Coffee
Luxe Rare & Exotic Coffee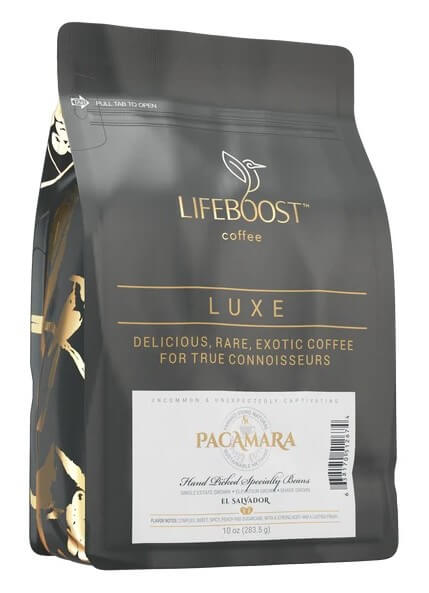 The Takeaway
Since I found this coffee product, I'm now able to drink coffee guilt-free. I love the smooth and delicious taste which is free of all those harmful chemicals, additives, and pesticides in so many brands found in stores and coffee shops.
This great-tasting, pure coffee is called Lifeboost, and its for your health and superior tasting. If this maybe your first time as a Lifeboost customer, I recommend you try a coffee so pure, clean, and delicious.
If you're going to love this coffee after one try, you'll never go back to mass-produced toxin-loaded "generic" coffee.
On top of low acidity, Lifeboost Coffee is clean compared to most coffees that aggravate you stomach. That means no pesticides, chemicals, GMO, or mycotoxins.
That means a lot because this is not about profit-hungry manufacturers used to get their brews out the door fast. It's about flavor, health, and the Ecosystem. I recommend this coffee because you will not go back to generic coffee. For your health.
If you have any comments, please leave them below, I'd love to hear from you. If you are a coffee lover and also a dog lover check this dog feeder out.