As an Amazon Associate I earn from qualifying purchases.
Without a doubt, the Moka pot is a stovetop popular appliance used across the world; it's well-known and many coffee lovers believe in the effectiveness of the appliance.  The Moka pot has its own unique features and produces great coffee, so the current demand is high, and it's been increasing over time.
As time goes on, more people will learn the uniqueness of the Moka pot, it's taste, strong flavor, and aroma of the coffee produced and they will try one.
You probably know that the Moka traditional methods give the coffee a natural taste. And because of this, you don't want to miss out on the unique taste that the stovetop coffee has. Often times, getting the best stovetop espresso maker can be a very difficult task because you might not find the right information.
However, you don't need to worry, because I have done the research part of the work for you and I have picked some of the best Moka coffee makers that you can buy.
Moka pots are made of metal and have three-chambers. The stovetop pots have various sizes in 2, 4, 6, and some have  9-cup capacity.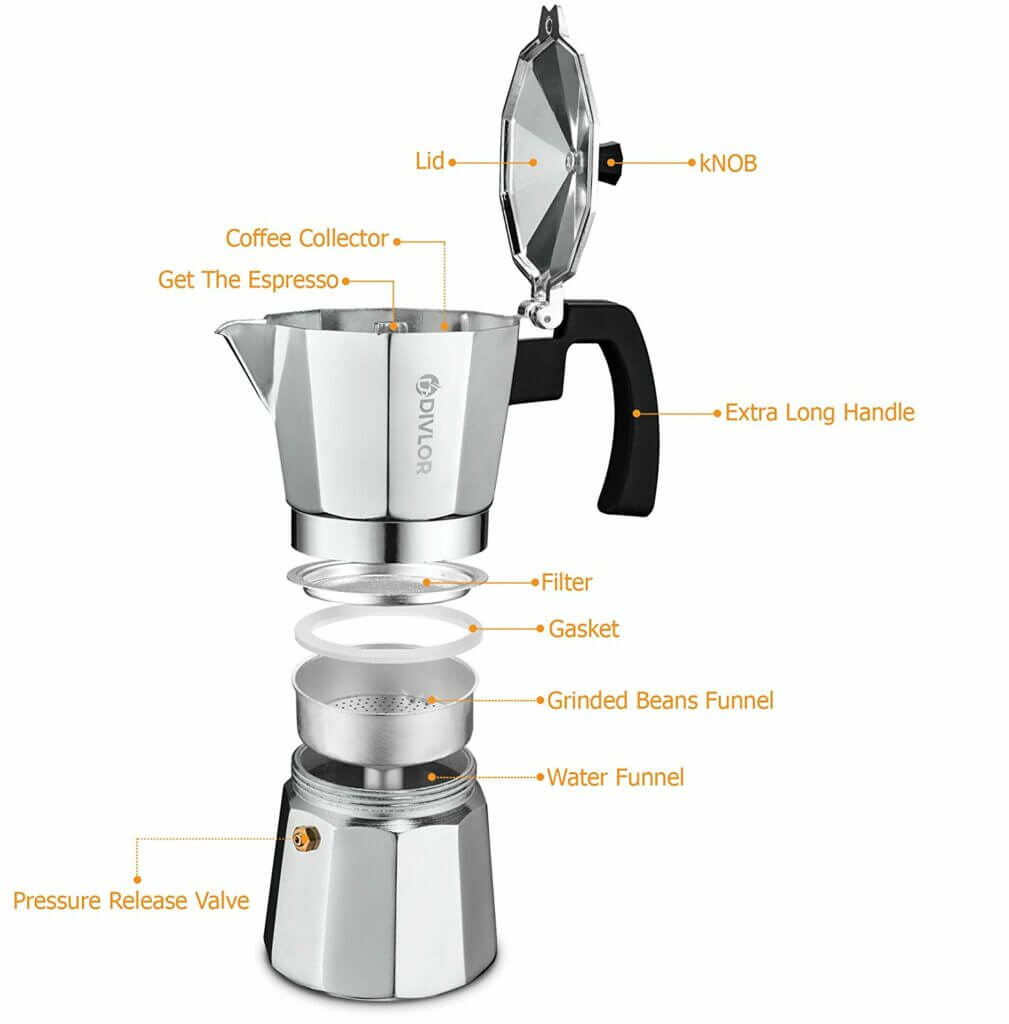 The bottom part of the chamber is for fresh water and usually has a pressure valve.
The middle is a perforated chamber and holds the grounds, which should be sparingly packed.
The top chamber is where the final great-tasting brewed coffee ends up.
Top Stovetop Espresso Makers
1. Bialetti Moka Espresso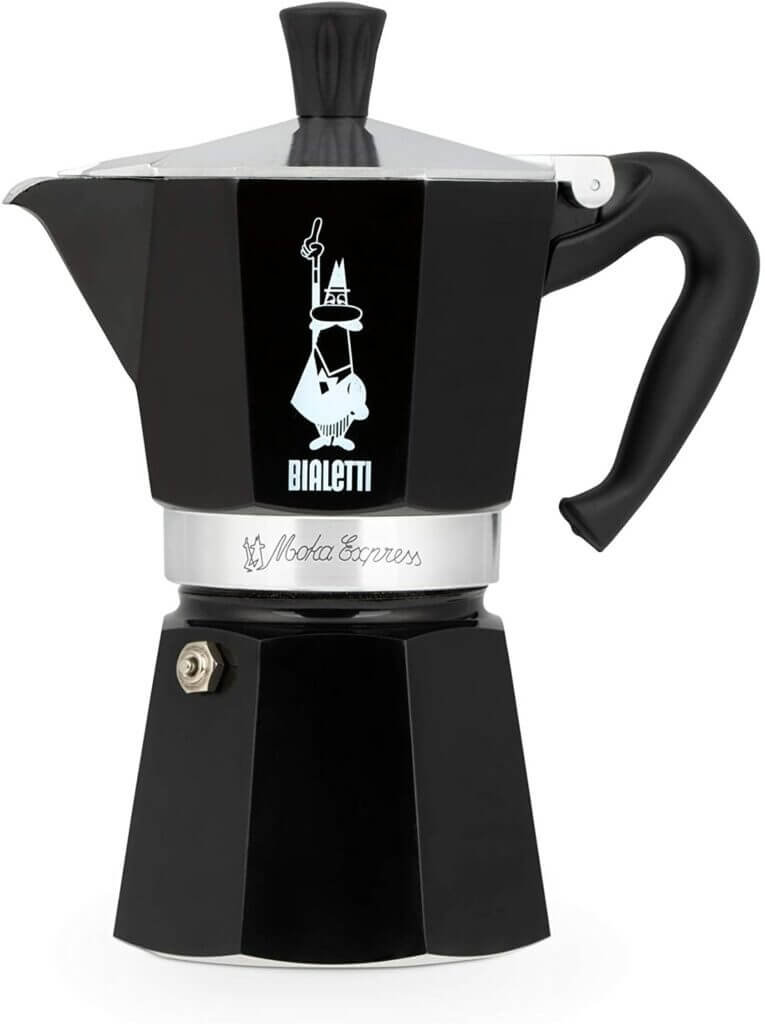 If you are looking for the Moka pot that has been ranked as one of the best coffee maker, then you should be looking at the Bialetti Moka Pot. This Italian Moka brand has made Moka pots for over 100 years, and its workmanship is high end, and highly effective for making great tasting espresso.
This is because the Moka brand has been making this product for a long time and uses high quality parts and results in beating its competitors in the marketplace.
As you look closer at this Moka pot, you will love the Italian beauty of this appliance. It is made of Aluminum and has an octagon shape. If you want to brew coffee with this pot, you must follow two steps. The first step is to pour cold water inside the lower part of the pot, and then fill the upper part with your coffee grounds.
The pot will do the rest of the work and your coffee is always going to be great. The Bialetti Espresso maker is capable of making consistent, silky smooth, and delicious coffee in a few minutes. Apart from the advantages the pot has, this Moka pot is not dishwasher friendly, and also it cannot be used on an induction stovetop, but it's still one of the favorite Moka pot on the market.
Pros of Bialetti Moka Pot
Robust and durable
Brews an incredible espresso
Elegantly designed
Highest-quality craftsmanship
Very fast and saves time
Cons of Bialetti Moka Pot
It cannot be washed with a dishwasher
It cannot be used on an induction stovetop
2. Cuisinox Pot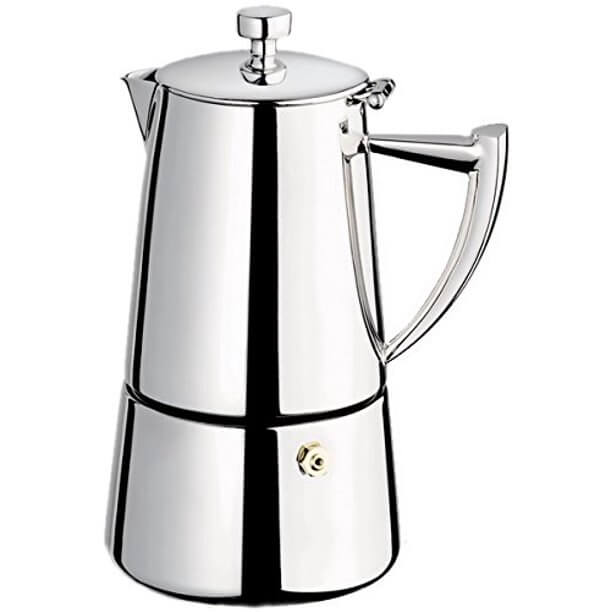 The coffee lover understands the need for a coffee maker that is durable. If you are looking for a Moka pot that will last for a long time, then you should consider the Cuisinox coffee maker. The pot is made with 18/10 stainless steel and it looks very attractive because it's polished and clean lines.
One of the biggest selling points of the coffee maker is the speed with which it brews excellent coffee. You won't have to wait for long, no more than 4 to 5 minutes, and your cup of Joe is good to go! The coffee maker comes in different sizes; we have the 4, 6, 10 cups sized variant.
One of the major advantages of this coffee maker is that this Moka Pot can be used on an induction stovetop, electric cook stovetop, ceramic, and halogen stovetop without any issues. The manufacturer of this coffee maker must have high confidence in the quality and durability of the product; this is why they have given their customers a 25 years warranty.
The coffee maker is also dishwasher friendly; this makes the cleaning of this pot easier. The Cuisinox pot is priced well within the range for all the features it provides.
Pros of Cuisinox
It can brew good coffee faster
It's made with durable stainless steel
It has a 25 years warranty
It can be used on an induction, gas, or electric stovetop
It is made with 18/10 stainless steel
It has an induction base
Cons of the Cuisinox
The pot conducts a lot of heat
It is pricier
3. Alessi Pulcina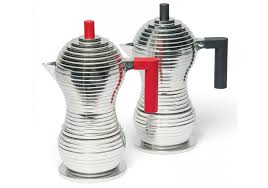 A revolutionary Moka stovetop that combines the technology designed and developed in Italy. This design encapsulates a small but substantial design innovation that stops dispensing the drink at the right time before the coffee gets a bitter after-taste. This stovetop's new process makes a
very good tasting and flavorful aroma coffee drink. The spout, which looks like a chick's beak(pulcina) allows it to perfectly stop the drop.
It is easy to use and has a short learning curve. You should note that you can't over-boil the coffee maker or fill it with too many grounds. This coffee pot does not work with induction stovetops.
This beautiful and stylish Moka pot is like a piece of art and is the result of close partnerships with some of the world's best designers of unique and modern kitchen accessories.
The pot is made with aluminum casting and it brews flavorful coffee, fast…
Features:
High quality
Durable with a good construction
Construction materials, aluminum casting
Hand wash suggested
Doesn't work on induction stovetops
Dimensions: 61/2″ x 3″ Cons of Top Rapid Brews
4. Bialetti Venus Moka Pot
The Bialetti Moka pots has been around for more than 100 years and it's been successful in making good coffee stovetops for its users. The Venus 6 cups Moka pot are made of high-grade stainless steel; the pot comes with a filter plate and a funnel.
The coffee pot is built to last longer. It has the capacity to brew about 6 cups of coffee at once. It uses the traditional Italian style to brew coffee. The Venus pot can only be clean by hand. However, this should be fine because you can easily disassemble the parts and clean them.
The Bialetti pot will brew excellent tasting coffee with a good flavor and aroma in a few minutes. You need to follow the simple instructions that come with the pot; this stovetop is easy to use. The handles of the pot are insulated and you don't have to worry about handling it. The pot is in the low price range and it is very affordable.
Pros of Bialetti Venus
The design of the pot has a beautiful design
It works on all types of stovetops
It is very easy to clean
It is durable and affordable
Cons of Bialetti Venus
It's not dishwasher friendly, hand wash only
5. Grosche Milano Stovetop Espresso Maker

This stovetop espresso maker is another classic Italian Moka pot. As we can see the Italians have perfected the Moka pot for coffee making since they have been using it for a long time. They have used to perfection for the coffee lovers who love the taste of a strong shot or double shot of espresso.
I've always compared the Moka pot to filter coffee makers and found out that this brewing process extracts more caffeine and flavors. This Moka pot will provide you with a much stronger brew. I like this stovetop espresso maker because it provides a good coffee-making experience.
The Italian craftsmanship is shown in the design of this Moka pot which is made from food-safe aluminum with a non-toxic silicon gasket seal. You can use it on all gas and electric stovetops, it can not be used for induction stovetops. The Grosche is one of the few Moka pots that provides a burn guard on the grip for safety and protection of the hot surfaces, and a certified safety valve that prevents internal pressure increases to a dangerous level.
Pros – Grosche Milano
This stovetop can be used for gas, electric stovetop
Perfect for camping
Soft-touch handle
Food grade Aluminum
Italian Safety Valve
Cons
can not be used with induction stoves
Not Dishwasher friendly
6. Grosche Milano Stainless Steel Stovetop Espresso Maker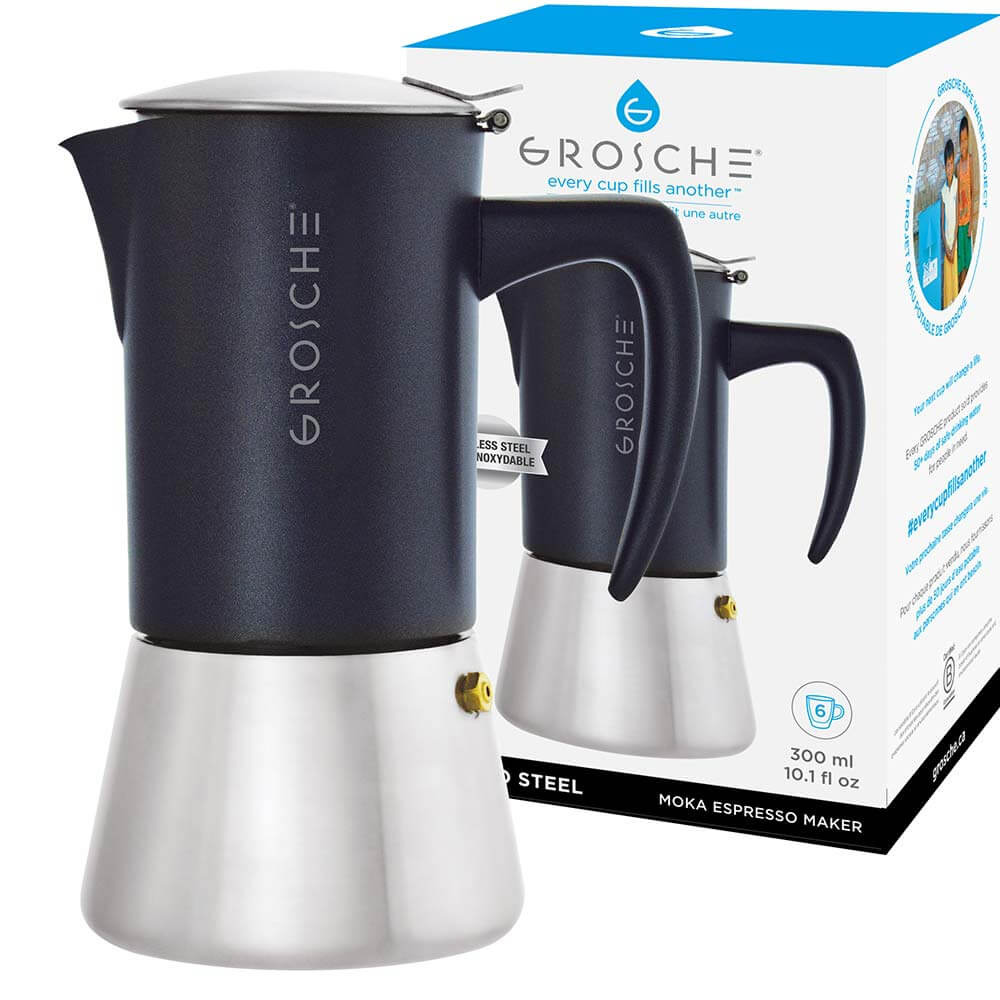 During my research, its become clear to me that the Grosche Moka pots  espresso makers are very popular and have a high demand.
I noticed the attention to detail for this stovetop pot, and also the Milano components are made of heavy duty stainless steel and you feel it as soon as you hold this coffee maker . Once I picked up the pot I felt the quality and workmanship designed into this Moka pot.
The Satin finish, the subtle curves of the handle, and the matte black powder coating make this a classic and stylish way to make stovetop espresso in a stainless steel Moka pot. One great advantage for this stovetop espresso maker from Grosche is that it works with Glass Induction stovetops, gas stove tops, camping set ups or electric coil stoves.
This Moka pot coffee maker will make a thicker, richer and stronger coffee than a normal electric coffee maker.
Features
The Grosche Moka pot works with all stoves including, Glass Induction stovetops, gas, camping, or electric coil stoves.

Made with heavy duty durable Stainless Steel with

premium matte speckle black or

silver

top.

Grosche includes a Stainless Steel

handle and Italian Safety Valve

Available in 6 cup/9.3 oz and our largest 10 cup/16.9 oz
Aluminum vs. Stainless Steel
Most times, when people want to buy a coffee pot, they get confused about the type of material to buy. Both types of materials are good for brewing good coffee, be it aluminum or stainless steel.
Many people prefer the stainless steel type because it is durable and non-porous. However, some of the stainless steel types easily corrode. The aluminum heats faster and is cheaper. It has an efficient heat transfer mechanism that makes brews quick. However, the aluminum type is porous and particles can get stuck in it.
Stovetop Compatibility
Moka ensures that most of its products are compatible with any stovetop. Before you buy a pot, confirm that it's stovetop compatible.
Capacity
Most manufacturers do not follow the standard cup measurement, so it is advisable not to make decisions based on what they are advertising. It's similar to clothing, where not all large or medium sizes are the same across all garments.
Country of Origin
The performance and quality of a coffee maker are what most people consider when they are choosing makers. Most coffee makers that come from Italy are almost always high quality and made with best grade materials because coffee was always a way of life in Italy.
Cleaning
Before you buy a coffee maker, make sure you check the compatibility with a dishwasher or its only hand washable. The coffee pot must be washed after every use so not to compromise the flavor and aroma from the next batch of coffee.
The Takeaway
I have highlighted, in this review, some of the best coffee makers you can buy on the market that will give you a natural coffee taste. You now can discover the effectiveness of making great tasting coffee with a Moka pot. To brew your coffee, the right way, choose the best type of Moka coffee that fit your needs and budget, and enjoy that great cup of Joe.
The Bialetti, and Grosche classic Moka pots are the two best stove tops that I have found in a crowded market. These classic Moka pots have been successfully used for a long time by coffee lovers and you cannot go wrong with these two choices.
The other new designed state of the art Moka pots have been beautifully redesigned and have some new improvements such as stainless steel. These new Moka pots also make great flavored coffee and are relatively inexpensive.
If you have any comments, please leave them below, I'd love to hear from you. If you're a coffee lover and a dog lover check this lovely dog feeder out.
Amazon and the Amazon logo are trademarks of Amazon.com, Inc, or its affiliates.