As an Amazon Associate I earn from qualifying purchases.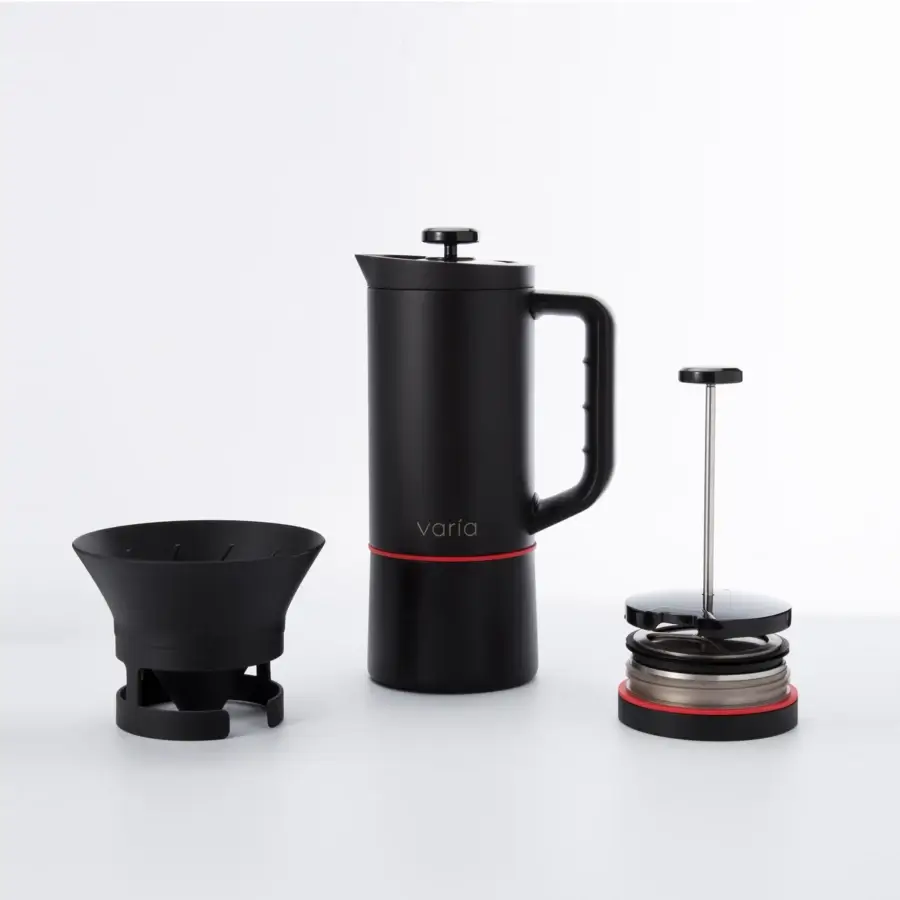 Are you looking for a new coffee brewer? Maybe you are shopping for coffee gear for the first time, or perhaps you want to de-clutter your existing kit? Whatever your focus or reasoning may be, you will have a deeper interest into the Varia Multi Brewer by the time you review this article. You could also make an informed decision whether you should go for it or not.
If you order this package, it will only take less than a week to receive it. But let's define this device first before we get into the nitty-gritty of it.
Varia multi brewer is a 6-in-1, multi brew-approach coffee maker, multi-purpose, or multi function to be precise. You can use it as a kettle; brew as a Moka Pot,  to brew tea, stovetop, pour-over, cold brew, and French Press.
For that coffee lover, you'll never be bored changing the coffee process every other day and experiencing a different flavor with each change. That's what this machine can do for you.
You can now find a variety of multi brewers on the market, some awesome and some just average. The awesome ones are really good but pricey, and the lesser ones lack quality or precision. Let's find out about Varia and have a look at its integrated features.
Varia Configurations
1. Moka Pot
Is Varia Multi Brewer good for you? Stovetop (Moka type) coffee isn't espresso, but very similar – It is midway between drip-style coffee and espresso and the awesome news is; you can use Varia to brew stovetop coffee. It was designed for simplicity once you know all the parts.
Once you are certain about the attachments, and learn every configuration, it's extremely simple to convert this device into 6 different coffee makers quickly.
2. Pour-Over Filter Coffee Method
It isn't feasible to dispute the fact that pour-over coffee isn't the most popular brew technique when it comes to coffee enthusiasts. If you aren't sure what pour-over coffee is, it's a form of drip filtration coffee that requires transferring boiled water into coffee grounds manually and making the content run through a filtering process.
It enables you to brew pour-over coffee with its dripper attachment. This method is quite simple and you will successfully brew a heap of gourmet coffee. We tried a bit finer coffee grind setting and the results were excellent, with nice rich crema on top.
The shape of the dripper attachment is conical; it is composed of plastic that's BPA-free and also features much like the V60 (spiraled ribs). This shape is effective for retaining heat longer. It maintains its position perfectly and there's nothing to adjust.
With Varia, you can rest assured to get excellent results; it brews fairly swift, perfectly consistent with a draw-down that's free of clog.
3. French Press coffee brewer method
How many coffee lovers enjoys pressed coffee, or French press coffee? Of course, most of you know about French Press, but if you don't, it's a simple way of making incredible coffee. It's a form of immersion-making that requires basic equipment, method, or intervention. All you really need is a French press hot water and coarsely ground coffee, and a coffee plunger.
With Varia, it's a simple process. All you need to do is screw the base cap, insert the available plunger attachment, and you're ready to brew.
A good design is the plunger attachment which contains a rubber seal around the mesh's circumference. The seal blocks any coffee grounds from ending up in your cup. The design of the brewer parts will extend its longevity.
4. Tea maker method
If you love various brew processes and types of coffee, chances are, you will also love a good cup of tea. So, it is good news that Varia coffee brewer manufacturer has forward-thinking, and prepared its multi brewer for this task.
It's a simple process to set it up with Varia multi brewer. Start by using the filter basket attachment, then get the French Press plunger to connect to the basket. The result of this is a small infusion basket.
You can then pour water into the Varia Kettle and boil it. The next step is plunging the filter basket down to the preferred brewing time. This process works well.
However, if this isn't a preferred method, you can use the French press immersion method to brew your tea. Both methods are accurate and work well. All you have to do is make your own choice. This coffee brewer versatility and flexibility provides many simple options.
5. Cold or Ice Brew method
Cold-brew beverage is great to cool-off during the hotter seasons, although I enjoy it year-round. You can try it in a cocktail with ice, add some milk, or drink it black.
There are numerous ways to make cold brew naturally. All you need is the simplest approach that will bring powerful results. Varia is loved by many people and there's nothing difficult about it, and it gives you many options to brew.
Put the coffee measured dose in a jug, attach the base cap attachment, add some water, and store it in the refrigerator. After brewing, use the French press filter basket to plunge down. It's that simple. The plunger will push the coffee grounds to the bottom leaving the brew to be poured.
6. Kettle-Multi heating
Aside from making different styles of tea and coffee, you can also use Varia Multi Brewer as a kettle. It's interesting that it can boil around 800 grams of water on a wide range of heating components such as induction, electric, or stove. It's a non-electric small and yet flexible kettle that incorporates multi-function brewing methods.
You can't brew your Varia pour-over with it. To do just that, you will need a separate kettle. All the information is described in the user manual.
Easy to Use Varia Multi Brewer

Varia can be used for a wide range of coffee-making methods. Eventually, though, it gets more involved to explore than some single-function brewing devices. Different configurations are required for different brew methods, but the manual explains each individual brewing process in detail.
Though you're acquainted with the normal configuration for any Varia brew method, it has similar ease of use as any other piece of identical device.
Varia brewer Design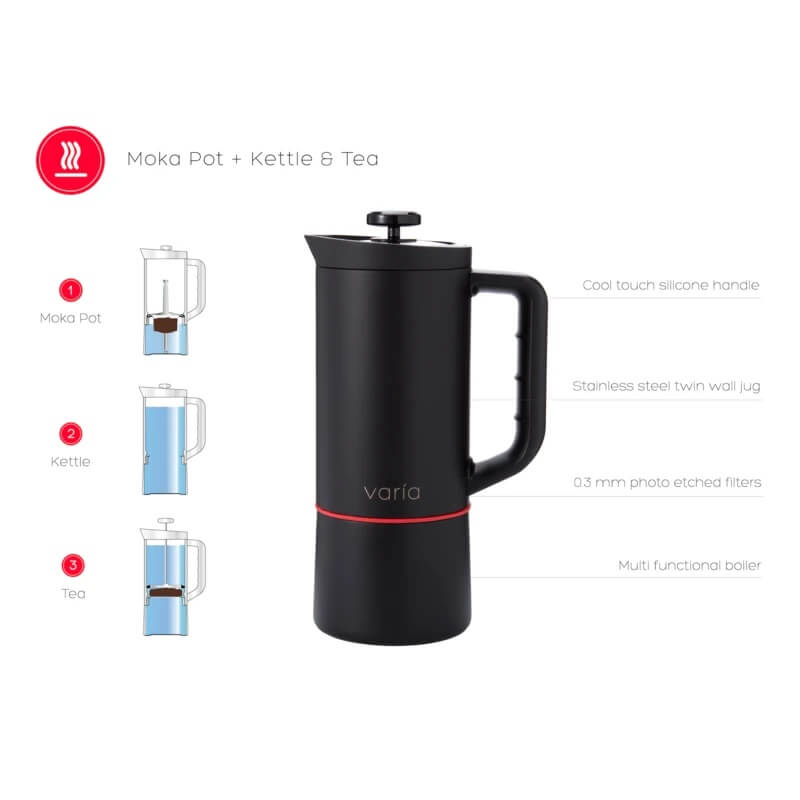 Now, we have discussed and covered the features of Varia Multi Brewer in clear terms!! What about its design? Is it a practical design? Is it durable? Is it worth the cost?
To answer these questions, we established some criteria: Build, Practicality, Functionality, and Aesthetic.
Multi Brewer Quality
When something works well, it's certain that people using it will appreciate it for a very long time, and Varia Multi Brewer has built a high-quality design.
Aside from the handle, coffee dripper, and some other parts, Varia is mostly made out of stainless steel. It has a solid built and can withstand any small accidents from handling or from an unexpected fall.
It's completely free of BPA, so there are no issues with harmful chemicals or plastics as you brew. Also, every Varia is re-supplied with gaskets and seals. It was deliberately designed to stand the test of time. With on-time servicing and care, Varia brewer can last for a long time.
Is it Practical?
The brewing flexibility and practicality of Varia is the most amazing thing about it. It's impressive and incredibly easy to have 6 methods in a single product. It was an innovative design with total flexibility in mind. The transition from one method to another is easy to do once you read the manual. It is compact and lightweight and is very mobile if you travel or spend time outdoors.
Before you start using the brewer, make sure you read the instruction manual first. Besides that, the brewing process is simple and straightforward.
Brewer Functional Usability
When it comes to functionality, Varia Multi Brewer performs excellently. Its features are working normally and conveniently. You can rest assured never to experience difficulty in the course of brewing your cup of Joe.
Depending on the device, you can get a better result when it comes to output. To incorporate the variety of methods that Varia Multi Brewer presents, you'll experiment in the beginning till you perfect your process for each method.
Fine Device Aesthetics
Aesthetics are important when it comes to user experience. If you love how something looks, it is highly likely you will enjoy using it every time. The design made for Varia is well-thought-out and captivating. It has a nice blend of colors, simple shapes, and cool accents (blue/white/red).
However, there is a need to improve in some areas. For example, the matte finish isn't absolutely perfect across the design, and for specific reasons, the Moka pot jug is slightly broader. But overall, it is an awesome piece of equipment and many coffee lovers appreciate it for the multi brews capability.
What's the Value?
So, what's the value for Varia? From personal research, I did some quick calculations for the average figures below.
The Average Cost per Product:
Stovetop(Moka): $60
Pour-over: $35
Cold-brew: $65
French press: $42
Kettle: $32
Tea infuser: $38
Total: $272
The Average Cost for Varia:  $80

Lower than all the above devices added together
The average product costs are for illustration, but you get the idea of the savings with Varia. Those average figures were recently derived from single products on the market which are all integrated into Varia integrated multi brewer.
Varia Precision Grinder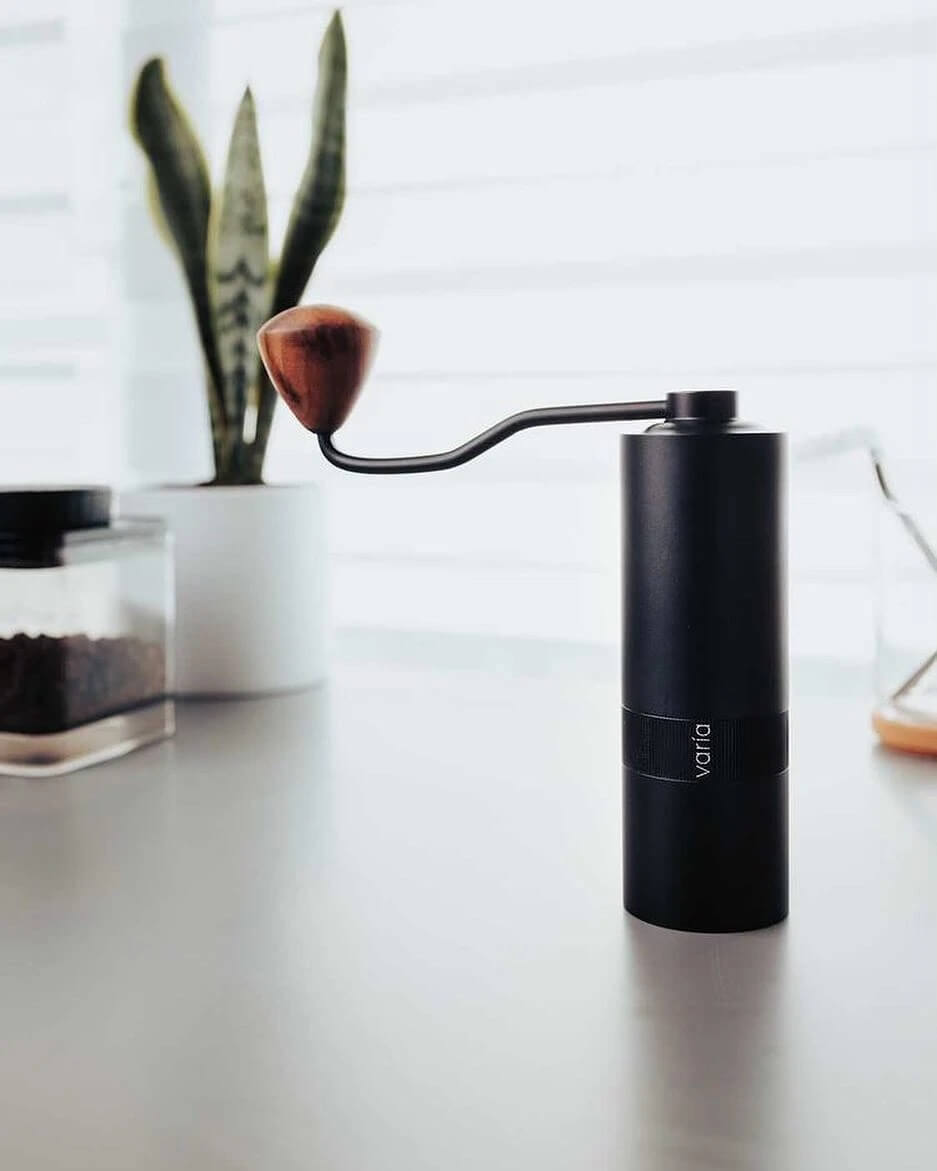 This grinder was made for coffee lovers and gourmet coffee connoisseurs, the Varia Burr Grinder is a solid high-performance manual grinder with an innovative burr design and lightweight aluminum parts running a silky-smooth drive mechanism.
Varia burr set is constructed using a nitrogen stainless steel(high-steel strengthener and improves pitting corrosion resistance, and also is the optimum material for an ultra-hard and sharp edge surface with maximum longevity and resistance.
T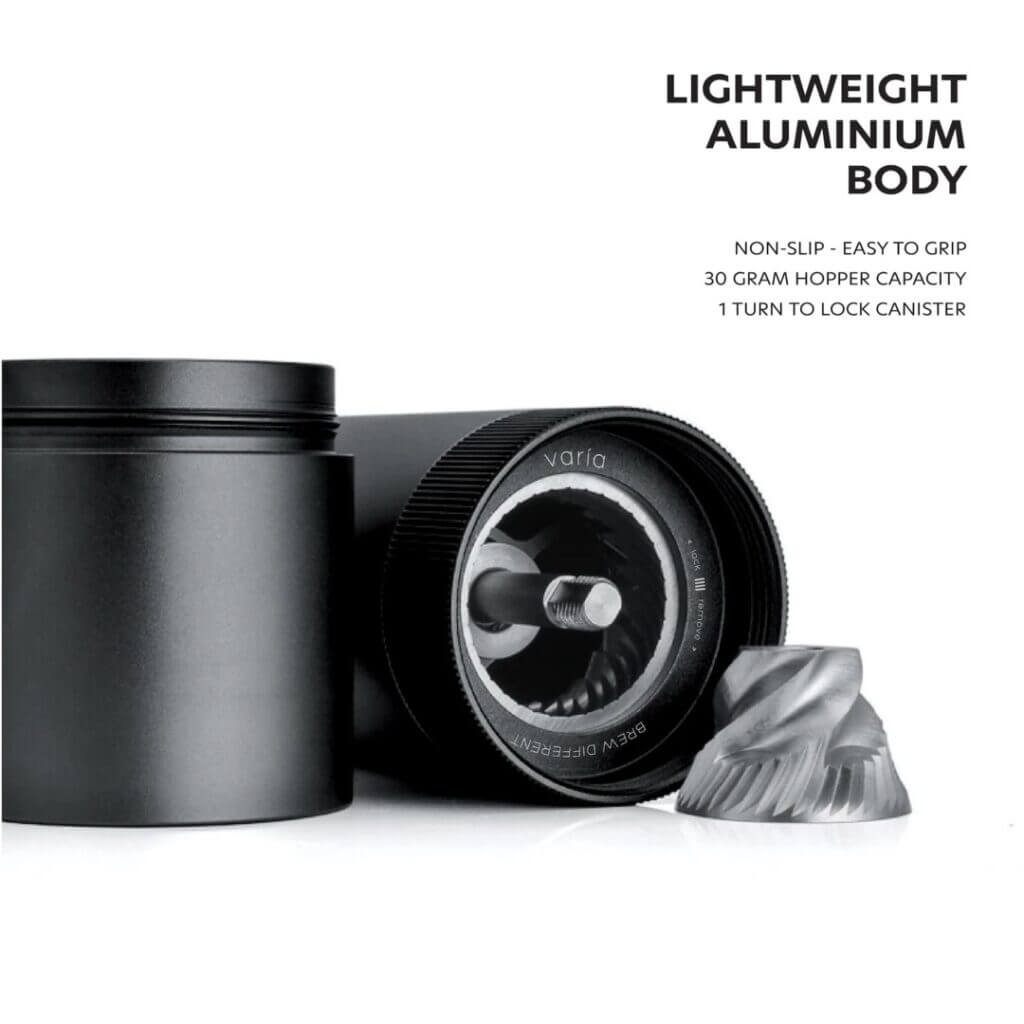 his product has a precision design to achieve consistent performance. The conical burr engineering utilizes advanced geometry and tolerances
providing an extremely consistent grind result of a highly refined particle distribution from coarse grind sizes for manual brewing such as French press, to fine grind size used for espresso coffee.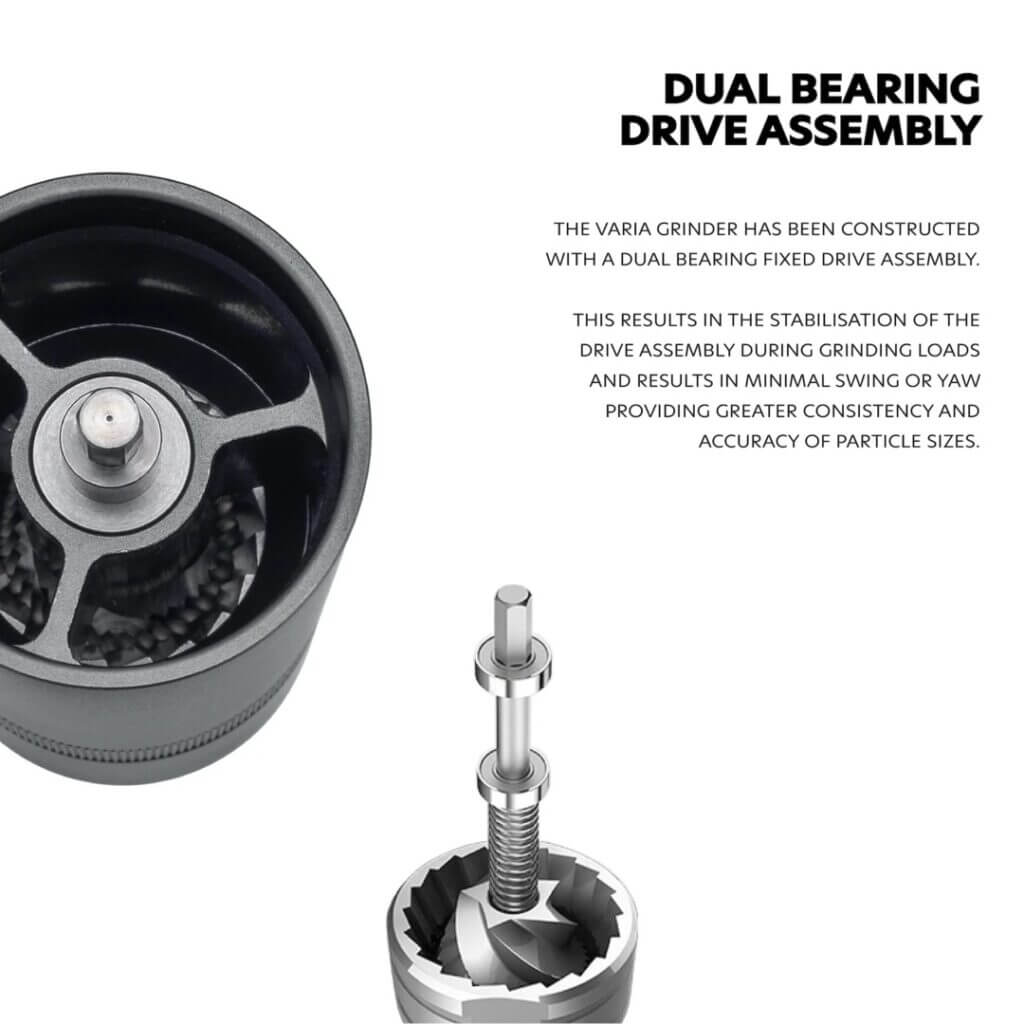 Varia grinder has a dual ball bearing drive mechanism which ensures a silky smooth and continuous function. The design uses an all-aluminum body construction to achieve the highest strength and rigidity through the torque crank.
The grinder is very portable and packaged in a handy zipper travel case to take with you on your outdoor trips, or travels!
KEY Points:
• Lightweight Aluminum Parts
• Dual Bearing Drive Assembly
• Precision 5 Axis CNC'd 38mm Stainless Steel Burr (Hardness: HRC58)
• 24 Point Precision Grind Adjustment
• 26g – 28g Capacity
Varia Digital LED Scale for Coffee Brewing – Available Soon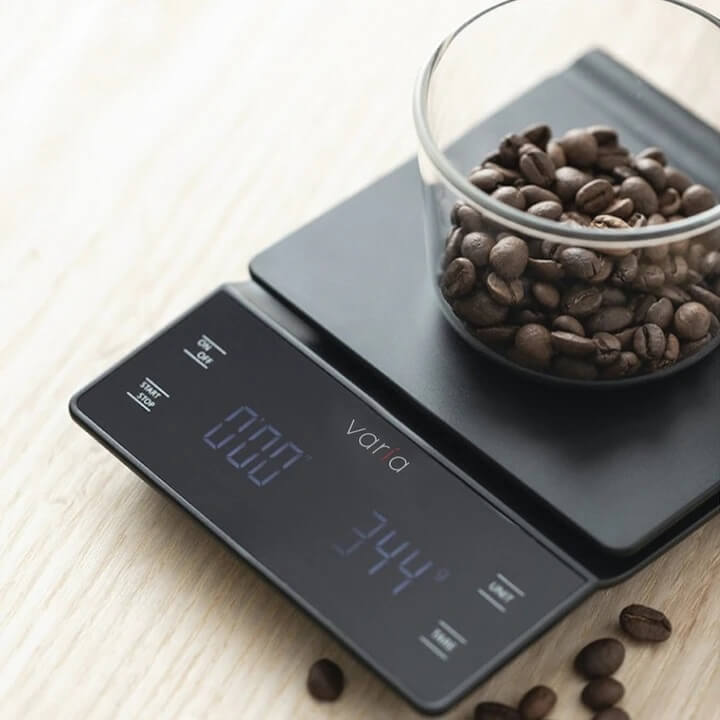 The Varia scale is an essential product for coffee brewing which helps your efficiency and precision in extracting better grind quality for every type and method of coffee you brew! The Varia scale is designed for many functions and it has an ultra clear LED Display to help you measure precise amounts of coffee to grind before brewing.
Varia Scale is used to measure every coffee dose, water weight, and extraction time. Precision coffee measurements are important in making various coffees and attaining the coffee extraction and flavor.
FEATURES:
• 0.1g/3kg Precision Load Cell
• 4 Bit HD LED Display with Timer
• Automatic Power Off
• Various Units of Measurement
• 4 x AAA Battery Required
The Takeaway
I hope I've been able to provide you some detailed info about the Varia Multi Brewer and guide you on what you need to know with this review! It's easy to use, incredibly flexible which can be used with gas, electric, or induction, and is the best multi brewer one of the best in the market.
The Varia burr grinder is a high tech coffee accessory which compliments the Varia Multi Brewer in grinding precise fresh coffee prior to the brewing process.
The precise LED coffee scale is also a must have accessory for the Varia Multi Brewer to attain precise measurement of each coffee grind dose to be added to the brewer. Each type or method of coffee made requires different and specific coffee dose.
If you have any comments, please leave them below, I'd love to hear from you!