As an Amazon Associate I earn from qualifying purchases.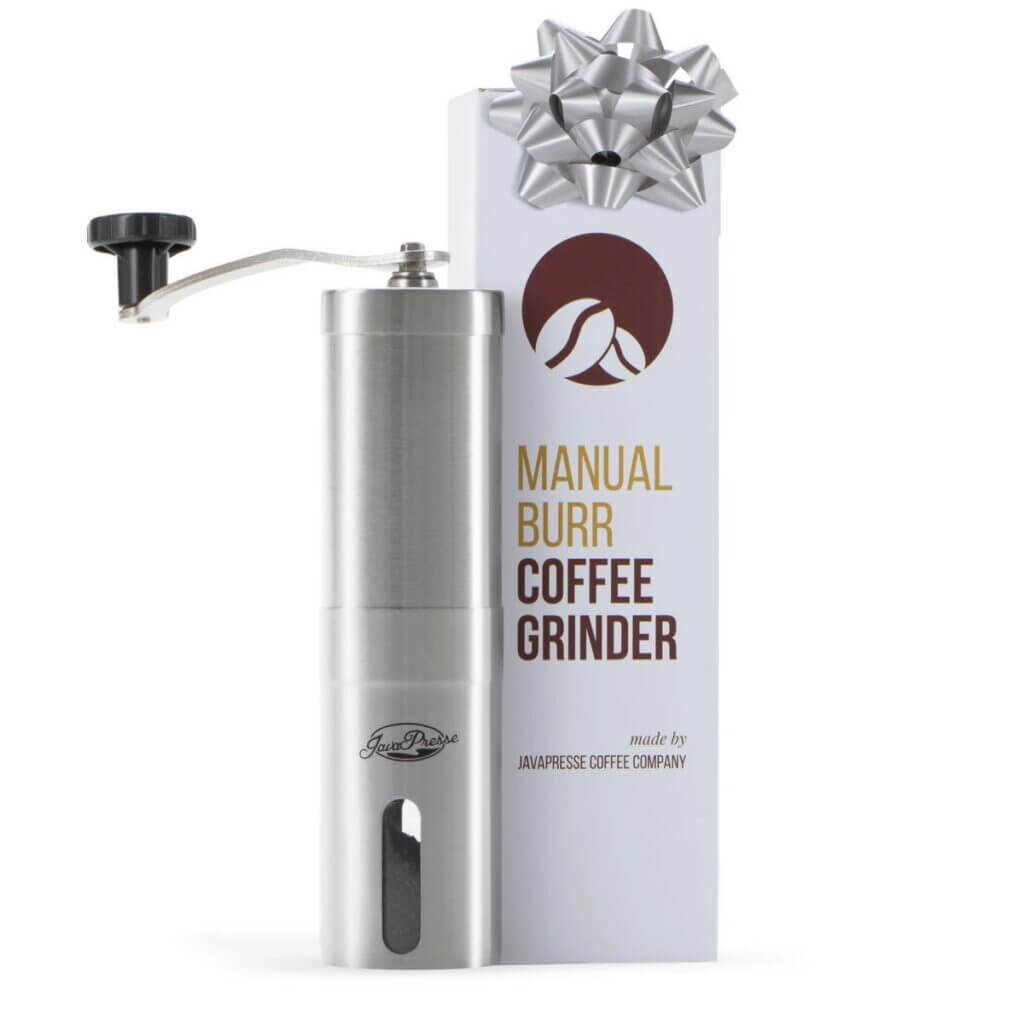 I know many people do not believe that owning a coffee grinder is critical part in excellent coffee making and much more rewarding in the coffee-making process. On the other hand, the majority of coffee lovers understand the need for a coffee grinder, and that is why we'll go over the JavaPresse manual burr coffee grinder.
A great grinder will increase your coffee experience as it completes the the perfect coffee grind that results in that great tasting cup of coffee. That nectar of Gods will be more flavorful and aromatic. Trust me, I do it every morning. You'll be in control of your coffee flavor and strength. The results will be a brew of coffee that will be on a level to any coffee shops around.
Would anyone purchase stale coffee? Not on purpose, but many people do that without realizing it. Today many people purchase a bag of post-ground coffee from the grocery store. As soon as the coffee beans are pushed through the grinder, it takes only about a week before it starts to oxidize and starts to loose flavor, taste, and aroma over time.
So most of us have no idea how long since the coffee we purchased sat in warehouses, and store shelves. In order to make sure the coffee is fresh, you need to buy fresh coffee beans and grind yourself the amount of coffee that you would like to drink in the next few days to get the most flavor out of our coffee.
Freshly ground coffee will bring incredible and diverse flavors. Strawberries, cinnamon, agave, tangerine, are only a few coffee flavors you can taste when the coffee beans is ground just before brewing.
What is JavaPresse Grinder All About?
In a nutshell, JavaPresse Grinder is a high-quality manual grinder that can be used instead of an electric grinder.
Quick Summary of Its Key Features
The body and the hand crank is made of stainless steel
It's light, portable, and compact
Adjustable grind selector to produce from coarse to a fine range of coffee grounds
It's less nosy compared to most grinders
It has a ceramic Burr with a lock to ensure grind consistency
Who favors this Grinder?
Being a manual coffee grinder, it requires more time to complete the grind. Most likely, it's not made for people in a rush. It's specifically made for coffee lovers who are eager to turn their coffee routine into a good experience at the start of their day.
If you can spare five minutes of your time, and you are willing to do a manual exercise, you would enjoy using the manual  and superior JavaPresse Grinder with great results.
The JavaPresse Grinder is made  with precision and high quality materials with an up-to-date design and a detailed user guide.
 JavaPresse Grinder Components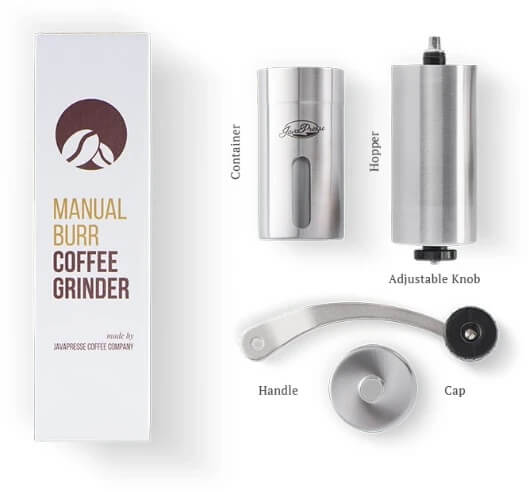 The JavaPresse Coffee Grinder comes with a removable crank handle that powers it. As stated above, you also have the manual attached to it; this provides help on how to grind your coffee and what grind level, or coarseness for each type of coffee.
Main Features
The hand grinder
The JavaPresse hand grinder has a small crank handle that can fit into any hand size hold for a perfect feel that creates an easy crank and ultimately an easy grind.
Unlike other coffee grinders that easily break, or crack when dropped due to the material composition, the JavaPresse is made of steel.
In addition, the JavaPresse Coffee Grinder weighs almost nine ounces. It makes it very portable, and easy to stow away.
The JavaPresse grinder consists of four parts. First, we have the bottom section that gathers your coffee grind. Second, the part with a slim glass that allows you to see through the amount of coffee you have collected.
We have the main body which is the third. This part serves as the housing mechanism for the grinder. This part fits perfectly to the bottom section. Note that unlike other coffee grinders, JavaPresse does not screw together.
Instead, they push together to form a tight seal. And lastly, in the top part, you attach the lid and the arm of the manual crank.
Adjusting the grind & how to Use JavaPresse
According to JavaPresse, this grinder has eighteen different settings you can select from to ensure you have the precise grind size required for your coffee. The optimal grind size is important for each type of coffee and affects the flavor. In the case that anything goes wrong with the crank or the body, it's easy to call customer service for replacements.
Back to the grind, no pun intended, this grinder has been designed to be used on the go. It is portable and flexible for vacations, camping, or any other outdoor activities.
Just lock-in your preferred grind settings and with a few clicks on the adjustment knob, you are set. Each click from the starting position has a coffee designation for example one click may be an Espresso, and five clicks may be the grind for a Cappuccino. It is a bit of trial and error and you will get your grind settings for your coffee.
First, tighten your knob well and make sure it is at zero. Then, start to loosen the knob by turning it to your left; with each click, you go a grind setting further.
You can check the Along with the JavaPresse manual guide to see a quick guide or you can use the settings below as a guideline.
You can use these settings as a guideline:
My recommendation is that you experiment with the dial clicks you prefer the most. Once you have your optimal configuration notate your preferred clicks to remember them!
Below are some popular coffee types, paired to its recommended grind sizes.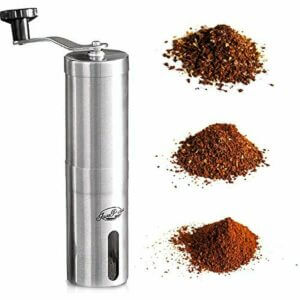 Turkish Black Coffee – Super Fine
Espresso – Extra Fine

Stove Top (Moka Pot)

– Fine
Drip – Fine
Pour-Over – Coarse to Fine
Aeropress coffee maker – Medium to Fine
French Press coffee maker – Coarse
Ice and Cold Brew Coffee – Coarse
Speed for Grinding
Although the JavaPresse Manual Grinder is not the fastest, it is apparently not slow compared to other manual grinders. In terms of its speed and performance, it falls in the upper-middle category.
According to several tests, for JavaPresse, to grind twenty grams of coffee, it takes:
46 seconds for a coarse grind
70 seconds for a fine grind
All in all, the JavaPresse grinder performed well in all the tests.
Size Consistency of JavaPresse Grinder
The size consistency of the grind exceeded the expectation. It's definitely acceptable. To get these results, click 2 to 3 times on the dial of the setting. There you have it.
Ceramic conical burr
As a grinding mechanism, JavaPresse houses a set of ceramic Burr driven by an internal axle and powered by you. The ceramic burrs generally are stronger and last longer than the stainless steel burrs and that makes them durable and consistent.
But note that although ceramic burrs may be stronger, it is more brittle than steel. So when it comes in contact with small stones or solid objects in the coffee beans, it is prone to chip the burr. If the Burr is cracked or chipped it will result in uneven grinding and inconsistency.
In terms of heat conduction, ceramic burrs can withstand overheating. Due to this property, they can avoid burning your coffee and passing the burnt taste.
Design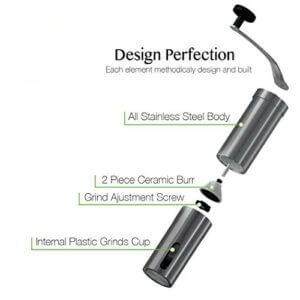 The dimensions of the JavaPresse coffee grinder are 1.8×1.8×7.5 inches, which implies its portability as a coffee grinder. It can fit easily into your backpack for camping or road trips.
With the grinder made of stainless steel, you can be sure that it will last long. And its durability gives room for you to use it anyhow you like.
Another impressive feature is its removable hand crank arm. You can easily detach it from the axel, which makes the grinder easy to store. Also, the bottom part is removable, allowing the user to throw away used grounds and clean it.
The grinder has a storage chamber for forty grams of coffee beans storage. This makes it enough to brew for two to three cups in one full grind!
Overall Performance
Considering its size and price, JavaPresse really does a good job and is top in its class.
Unlike other manual and electric coffee grinders that produce a crunching and cracking noise while grinding, the JavaPresse Manual Grinder is really quiet. This is due to the conical ceramic grinding burrs that serve as soundproof to lessen the noise while grinding.
During several tests, it shows that JavaPresse is ten to twenty-five percent quieter than other grinders.
Testing the arm of JavaPresse, it's different from that of other manual grinders. This is because of the dual plate system that holds one burr in place and the other spinning with the crank.
According to JavaPresse, this leads to superior grinding consistency; and on usage, the system is really efficient and produces a precise grind every time.
Cleaning the Grinder
After grinding, coffee oils, dirt and used grounds will be accumulating in your grinder. And if the grinder is not cleaned, it can spoil the taste and flavor of your coffee.
So, you have to disassemble and separate the parts of the grinder before washing them. To do this, you disassemble the whole unit till you have the main shell and blade left. Then, unwind the adjustment knob and pull out the blades. Pull out, one by one, the remaining parts of the grinder.
To wash the grinder, you wash the hopper, ground chamber, handles, burrs with soapy water. If necessary, scrub to remove oils and residues. Then, rinse these parts well, and dry them off. Before you reassemble the parts, make sure that it is well dried.
Pros
It has good grind consistency
It does not make noise, unlike other grinders
It's made of materials that are solid and durable
It is lightweight and portable
It is affordable
Good customer service at JavaPresse
Cons
For fine grinds, it is slow
Metal cranks can detach while grinding if not properly used
It is not possible to grind large quantity of coffee quickly
The Takeaway
Looking for a manual grinder with a mix of performance and also, utility? If you try JavaPresse Grinder you will like it, and there is a high demand for it. The JavaPresse Grinder is user-friendly and gives you full control over the grinding process. It also provides many grind settings you can easily choose to prepare various types of that gold nectar and it's a very portable grinder for those outdoors coffee lovers.
If you are a coffee lover, you will surely love it!!
If you have any comments, please leave them below, I'd love to hear from you!