For the coffee fan who loves taking coffee on the go, getting the right coffee travel mug that keeps that golden nectar hot and feels good holding it, is important. There are over 18,000 listings for insulated tumblers. YETI Coffee mug and tumbler are definitely the product leader in its space, with the tumbler that's now getting more publicity and popularity than their super-strong and solid coolers. I mean, look at this thing, it's a mug with an attitude
As Yeti grows in popularity and sales, so are the number of competitors that are trying to compete with the YETI's monster brand and profit numbers. Yeti's growing popularity, brings the coffee travel mug and tumblers stellar reviews on the market.
Although some of the individual components of the cups resemble those of their competitors, YETI simply goes the extra mile or more in the design and construction of their products. The end result shows that Yeti can outperform similar models hands down. Here's why:
Stainless Steel Core
Many coffee mugs use stainless steel; so, what. Even if other coffee mug makers deploy the superb 18 percent chromium/8 percent nickel food grade steel, most use a much thinner sheet to keep it lightweight (and cheaper). Light is fine if you're an infant. But thicker, stronger steel allows us to be a big, clumsy kids and not destroy our coffee mugs.
YETI Rambler Stainless Steel Mug
If you enjoy and like drinking instant coffee, probably you must have looked into travel mugs before.
There are a lot of travel mugs on the market with each claiming to retain the heat or cold of the liquid inside and also, without leaking.
Despite these claims, few people have attention directed to the YETI Rambler Stainless Steel Mug. Now in order to see whether these claims were true, I decided to pick up a travel mug and see how it works every day.
In this article, I am going to review the YETI Rambler Stainless Steel Mug, its mug design, material, insulation performance, price, and so on.
Design – Modern, Attractive
The Yeti travel cup has a pretty contemporary design that captivates your attention at a glance.
Looking at the YETI Rambler Stainless Steel Mug at first glance, the design of the mug is attractive. The handle is design perfectly so it won cause handle fatigue. It comes in a variety of cool colors to pick from and for this review; I chose the sea foam green color for my daughter and she has been drinking coffee only from this mug. She told me she like the feel of holding this mug
This reusable coffee mug is beautiful, modern, and more durable; it's the most identical in shape to the standard coffee mug. This is what makes it stand out in the market.
The mug has a plastic lid along with a rubber gasket, which ensures that the mug is tight. Unlike other travel mugs, the lid of the YETI Rambler is designs where it does not close fully.
If you want to cover the lid fully, you just have to buy a YETI MagSlider lid separately from the mug for ten dollars. I would have included both lids for the consumer, but the tumbler includes the MagSlider lid standard.
One thing I liked about the mug is its handle. The handle of the mug helps the hand not to get tired of holding it (as the mug is four inches in diameter). But this particular Yeti mug does not fit into the standard car cup holder, but you can buy the Yeti travel mug that does the trick. The rambler is made more for home use
YETI Rambler 30 oz Tumbler
This tumbler holds 30oz of your favorite hot coffee beverage and keep it worm for 2-3 hours. The Yeti MagLock sliding cover on the lid is easy to use, but even some people who leave five-star reviews admit it's not full leak-proof all the time. But, never the less this popular tumbler has a 4.8-star average rating from more than 18,000 owner comments. This is a testament to the popularity of the Yeti brand.
These Tumblers come standard with our YETI MagSlider Lid, the only drink lid to keep your that hot coffee beverage from spilling, or leaking.
The Yeti Ramblers are BPA-free, dishwasher safe, and have a No Sweat Design outer shell design to make sure your hands stay dry.
DuraCoat is a durable coat of color that won't fade, peel, or crack through extended field test and use, and also provides additional grip.
Material: Solid and Durable
As previously mentioned, the Yeti coffee tumbler and mug is manufactured using the puncture-and-rust-resistant 18/8 stainless steel which places this coffee holder above the rest. It presents a brushed stainless resolution that makes the cup blemish-free and flawlessly-smooth.
The durability of the mug is a main priority at Yeti as the tumblers and mugs held up well when dropped from heights of 15 feet and 30 feet respectively. YETI is a brand that loves making high end and quality products.
The Yeti mugs are made and primed with DuraCoat factory paint to stop chipping. The cup isn't resistant to scratches but built to be strong. To keep the cup in excellent cosmetic condition, keep it away from materials that can scratch it.
When accidentally dropped, you will find out that it will have the faintest of marks. But if you care much about the faint marks it might cause over time, you can simply buy the plain stainless steel mug.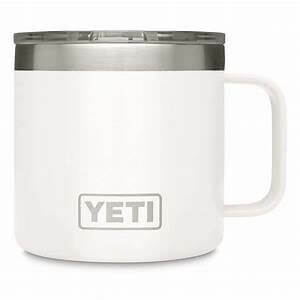 The Yeti cup keeps your coffee warm for about 1.5 hours based on the double-wall vacuum insulation; this is excellent if you are going to drink your coffee in less than 2 hours (I drink mine in less than 20 min.), but compared to eight minutes for an open-cover ceramic mug for most coffee lovers this is exactly what they're looking for. The body of the double-wall vacuum insulation keeps your drink well-insulated and safely protects your hands from cold or hot contents.
Yeti uses a simple, good-looking design for its mugs; this makes the external temperature of the mugs warm and comfortable to grip no matter what's inside. The cup is dishwasher secure, and with that, cleaning becomes a breeze.
As much as the YETI Rambler is beautiful, its temperature retention was better than average. After testing the YETI's insulation, I saw that the vacuum only held heat for an hour and a half before becoming lukewarm. And this is because the heat was escaping through the lid that was not fully closed, but it improves if you buy the optional MagSlider lid.
According to the tag that comes with the mug, YETI claimed that "hot beverages stay hot for several hours". But the test proved it came short with the basic lid that comes with the mug, but after I used the MagSlider Lid, the heat retention doubled to over 3 hours of retention.
Cleaning: Can be cleaned in seconds
The YETI Rambler is really easy to clean. It has only two parts: the lid and the mug which makes it easy to clean up in your sink. It is also dishwasher safe which makes cleaning simple.
What I Like About YETI
The 18 percent chromium/8 percent nickel food-grade steel makes Yeti Very  super durable
It has a modern design with different cool are available
It is very easy to clean up.
The insulated vacuum insulation keeps it warm or cold
The MagSlider™ Lid adds an additional layer of insulation with less spillage.
What I Do Not Like About YETI Rambler Mug
It keeps coffee hot for only an hour w/o the MagSlider™ Lid
Lid of the mug cannot fully close and its not spill-proof
Because its solid grade steel it's a little heavier
These aren't your everyday run-of-the-mill coffee mugs or tumblers. They're shatterproof, superior insulation, and can be used for more than just a classic cup of Joe. The 14 oz. Mug is sized for coffee, ice cream sundaes, soup, and my favorite, mom's chili. As for the 24 oz. and the 30 oz., you can use them as Beer Mugs, it's great for keeping ice-cold ale as fresh as when it was poured.
Conclusion
The Rambler® 20oz or 30 oz. is the tumbler that will serve you well. Your morning nectar stays hot as you like it for a while. Kitchen-grade stainless steel with double-wall vacuum insulation will protect your gourmet coffee at all costs. While the magnet on the included MagSlider™ Lid adds one more layer layer of protection for keeping that nectar of the goods contained and preventing heat from escaping.
To make this clear, the magnet component is not leak-proof and will not prevent small drips. The mugs and tumblers come in stainless and DuraCoat™ colors that won't peel, fade, or crack. As coffee lovers you will not be disappointed with the Yeti carrying your valuable cup of Joe. I would recommend it to campers and cubicle dwellers as well.
If you have any comments, please leave them below, I'd love to hear from you!

If you have any comments, please leave them below, I'd love to hear from you. If you're a coffee lover and a dog lover check this lovely dog feeder out.